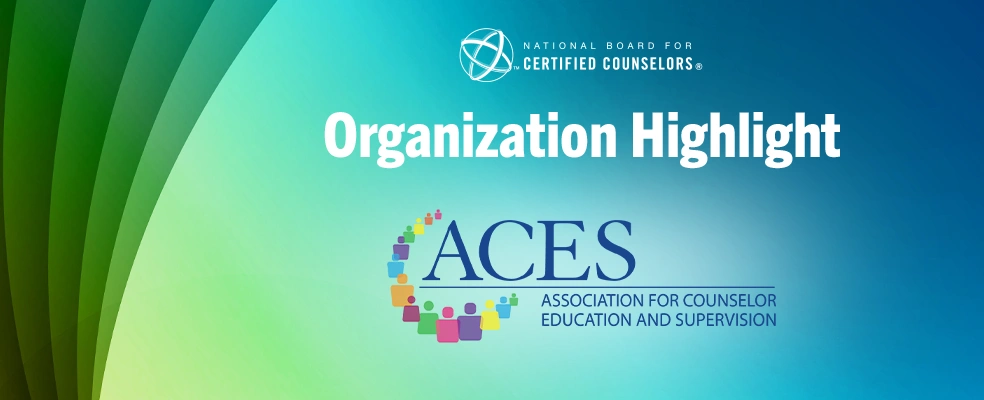 The Association for Counselor Education and Supervision (ACES) works to advance counselor education and supervision to improve the provision of counseling services in all settings. ACES members include practicing counselors, counselor educators, supervisors, and graduate students. Originally known as the National Association of Guidance and Counselor Trainers, ACES was a founding association of the American Counseling Association (ACA) in 1952.
Each year, ACES or its regional divisions host conferences to highlight research and best practices in counselor supervision and training. ACES hosts a national conference in odd-numbered years, while each region holds a conference during even-numbered years. This year's conference will be held Oct. 11–15 in Denver, Colorado.
NBCC is a longtime supporter of ACES and its mission. In 2022, NBCC provided financial sponsorship to the ACES regional conferences, with the bulk of the funding allocated to provide support for typically underrepresented professionals.
"A lot of regional conferences tend to be really focused on doctoral students and faculty," says ACES President Margaret Lamar, PhD, NCC, LPC, LPCC. "And I know in the western region, where I was the planner, we had a lot of master's students and clinicians who were able to attend, many thanks to the support of NBCC. Some of those master's students will probably go to doctoral programs and move into leadership positions because of their ability to attend regional conferences across the U.S."
Most counselors know ACES for these national and regional conferences, but the organization offers many additional resources and opportunities for members. We spoke with Lamar about some of the latest developments.
"One thing I'm really excited about that's starting this year is our ACES Leadership Academy," says Lamar. "This is building on the legacy of our Emerging Leaders Program, which was designed to support the development of leaders, especially leaders from traditionally minoritized populations."
ACES conferences offer an ideal opportunity to introduce new initiatives or programs. These often deal with current or emerging issues in mental health. This year's conference will include a climate change summit, which looks at the mental health issues around climate change. This is just a starting point, Lamar explains.
"There's a group of folks working to create an interest network so that we can start thinking about climate, mental health and how that's impacting folks in our communities. And we can be training counselors to have more awareness of that."
ACES interest networks help members with shared professional interests to communicate, collaborate, and share ideas throughout the year. There are a number of existing interest networks, and participation is open to all ACES members.
ACES also has resources available anytime on the ACES website, such as the Teaching Practice Briefs, which were introduced earlier this year. These take the form of a peer-reviewed journal presenting concise scholarly summaries and practical guides that describe teaching innovations and instructional strategies for counselor education.
"They are really fantastic and giving people an opportunity to learn specifically how to incorporate a set of skills or develop a set of skills for their classroom or supervision or for their research," says Lamar.
ACES is working to create additional learning opportunities on the topics of research, supervision, and education. Lamar observes that after earning their degrees, counselors may not often have such learning opportunities.
"We have the ACES Research Academy, and we have some other webinar programming that's happening that's really going to allow people to do a deep dive into a particular topic, maybe a research area methodology that you've not done before or a specific approach to supervision or teaching."
Previously recorded webinars are available to view on the ACES website, and Lamar encourages counselors to give them a watch.
"I'm just really impressed by our webinar programming," says Lamar. "There's a whole group of folks working on that, and they've just done some really fantastic stuff this last year, so that's exciting."
ACES also helps members to obtain research funding. In addition to its yearly research grant awards for professionals and its Graduate Student Award Grants, this year ACES is introducing a Grant Academy that prepares counselors with the skills to apply for government grants, organizational grants, and other large research grants.
"We haven't had a lot of focus on that in our profession," says Lamar. "I'm excited to see where that goes and people really getting funding for research that's focused on counseling."
ACES publishes the scholarly journal Counselor Education and Supervision, which focuses on research, theory development, and program applications related to counselor education and supervision. This year sees a new editor assuming the position.
"It's always exciting to see the direction a new editor will take," says Lamar. "Dr. Casey Barrio Minton has a lot of really cool vision and ideas for how to move our profession forward through research, and even just having professional dialogues in the journal. "
Some benefits of ACES membership are less obvious, but no less important. ACES engages in advocacy work for the counseling profession, which often happens behind the scenes.
"There are a lot of professional threats out there right now to the counseling profession," says Lamar. "We're seeing threats to LGBTQ folks and we're seeing threats to teaching around DEI practices. We're seeing threats to school counselors and concepts like social-emotional learning. ACES, along with some other organizations, is doing a lot of advocacy around that, supporting members to advocate within their state or university. I think that's a huge reason to join a professional organization."
ACES offers other benefits as well, including supervision resources and conference diversity scholarships. More resources are coming in the near future, with an emphasis on supervision.
"We're really trying to focus more on the supervision resources that we're offering members," says Lamar. "We have a group working on some supervision best practices and updating those. They're also working on developing a guide for state-by-state supervision requirements, which is so important now that we're seeing so much telehealth being done."
These resources are part of a renewed effort to meet the needs of supervisors, explains Lamar.
"Our membership team has really been working on not only making sure that we have solid member resources for supervisors, but also recruiting more supervisors," says Lamar. "There's been some extra support that they've gotten to provide memberships to supervisors. We really want to know what supervisors out in the field need and understand how our organization can support them."
Lamar sees another reason to join ACES: community.
"Being able to go to an ACES conference and reconnect with all of your colleagues and meet new folks and learn new things—I think all of that is just really huge," she says. "I honestly can't imagine my professional life without having the community I've built within the ACES organization. It does very, very much feel like a home to me, and we hope that others who join feel like it can be their home too."
Lamar encourages members to consider becoming involved in ACES leadership positions, and not to discount their personal qualifications.
"I don't think you have to have a specific personality or set of skills to get involved in leadership," says Lamar. "For myself, there was a need and I stepped in. I didn't have any treasurer experience, but I said, 'I can learn how to do that.'"
In Lamar's experience, leadership involvement can enhance that sense of community that comes with participation in the organization.
"For me professionally and personally, I think it's been really valuable, the community that I've built," she says. "We think about that in the way that we structure and schedule our meetings and the kinds of things that we do, because I want people to feel like they've made a friend or they've built a community when they come to our leadership meetings. But also, it's just a lot of fun. There are a lot of opportunities to get involved and develop an area of passion around something you maybe didn't have before."