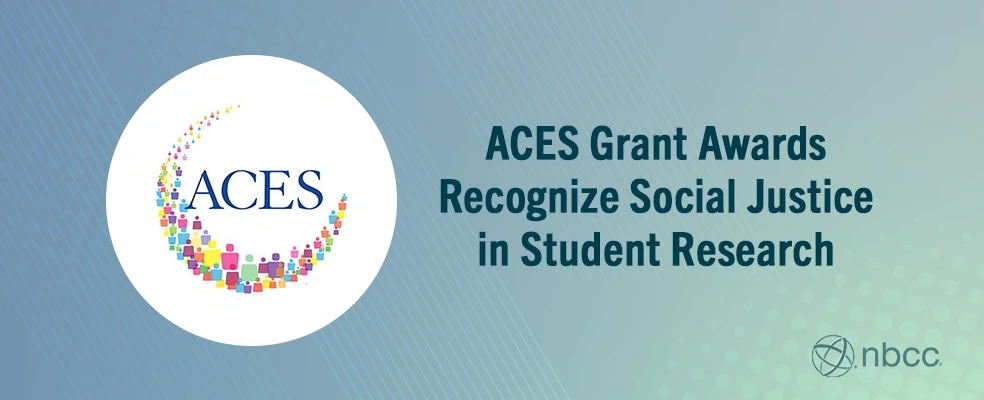 In February, the Association for Counselor Education and Supervision (ACES) announced the recipients of the 2023 ACES Graduate Student Award Grants. These grants awarded $15,000 in research funding to student members of ACES.
The grants were awarded to research on the topic of counselor education or supervision, specifically focusing on areas of advocacy, social justice, diversity and inclusion, and anti-racist counseling practices in counselor education and clinical practice.
Applicants must be an active member of ACES. They were required to submit a proposal for a conference presentation and to submit a proposal for publication in a refereed journal.
The grant program came about thanks to the input of ACES graduate student representatives, who saw the need for more support for doctoral students. The graduate student committee put forth the initiative, and the governing council voted to approve it.
"Over the years on governing council, even before I took on the role of president, one of my key initiatives was to support graduate students," says ACES President Natoya Haskins, PhD, NCC, LPC. "A part of that is addressing issues of access and making sure that students are able to get the financial support they need, whether it be completing dissertation or even attending conferences."
The grant program fills an important void, according to Haskins: "We know that students often don't have a lot of funding to conduct research, and for many of them, they're not at a point where they even have the skill set to apply for foundation, federal, or state funding."
"This gives them an opportunity to have access to funding and helps them to develop introductory grant-writing skills," continues Haskins. "They're not competing with our members who are faculty or supervisors to get the resources they might need to conduct research that's meaningful for them."
"The governing council at ACES is really committed to helping graduate students," says Fatma Salem, MA, NCC, LCMHC, LMHC. Salem is ACES's active graduate student representative, who chairs the graduate student committee.
"We recognize that about a third of our membership is graduate students, so we want to cater to the needs of graduate students and make sure that their needs are taken care of and they're supported," says Salem.
"I also think there's a need for more research in our field, especially with the areas of advocacy, social justice, diversity, equity, inclusion, and anti-racism," continues Salem. "And that's what ACES is also committed to doing: increasing research in those specific areas."
As active graduate student representative, Salem oversaw the entire grant application process, which used a blind review.
"There were a variety of topics, and I really enjoyed reading the proposals," says Salem. "They have a focus on multicultural competence and social justice, and I think that definitely speaks to who we are as counselors and counselor educators. There were a whole lot of really interesting, really useful, timely topics."
Salem was pleased with the application submissions, which embraced the required social justice component.
"The grants are grounded in professional identity as counselor educators and supervisors," says Salem. "Within the categories of advocacy; social justice; diversity, equity, and inclusion; and anti-racism, the focus also has to be on counselor education and supervision or specific clinical practice. The purpose is honing in on our professional identity as an association and encouraging members to produce more research, which I think all goes hand in hand."
Salem encourages students to follow ACES on social media to keep up on future opportunities.
"This year, one of my initiatives was getting us out on social media," says Salem. "I was wondering about how many students actually hear about the opportunities that we have at ACES—and we do have a lot of opportunities, whether it's grants, other scholarships, getting involved in conferences, presentations, different roles, and the governing council. So we started using social media more intentionally. We have a graduate student page on Facebook, Instagram, and Twitter."
The application period for next year's Graduate Student Award Grants will open in the fall. Salem notes that qualifying research does not have to be related to a dissertation and does not have to be individual research: "I strongly encourage PhD students that are interested in doing other, non-dissertation research to apply, and even to team up."
Congratulations to the 18 grant recipients:
Sheldon Aaron, University of Central Florida
Amanda Arnold, Idaho State University
Amy Biang, University of North Carolina – Charlotte
Laura Dunson Caputo, Kent State University
Caitlin Frawley, University of Central Florida
Darita Grays, Northern Illinois University
Jennifer Guffin, Auburn University
Sheree Harper, University of North Carolina – Charlotte
Chelsea Hilliard, Old Dominion University
Sabrina Johnson, University of South Carolina
Sailee Karkhanis, University of Iowa
Kayla Kemp, University of Iowa
Hana Meshesha, University of Montana
Racheal D. Nuwagaba-K, Indiana University of Pennsylvania
Tianka Pharaoh, University of Central Florida
Byeolbee Um; University of Iowa
LaToya C. Waddell, North Carolina Agricultural and Technical State University
Ivette Acevedo Weatherholtz, University of New Mexico
NBCC appreciates ACES's leadership and commitment to this important initiative. Additional funding opportunities are available. ACES is now accepting applications for its Professional Research Grants. ACES will open submissions for its Diversity Scholarships in early summer. Visit the ACES website for more information.