tpc-editorial-review-board-provides-valuable-insight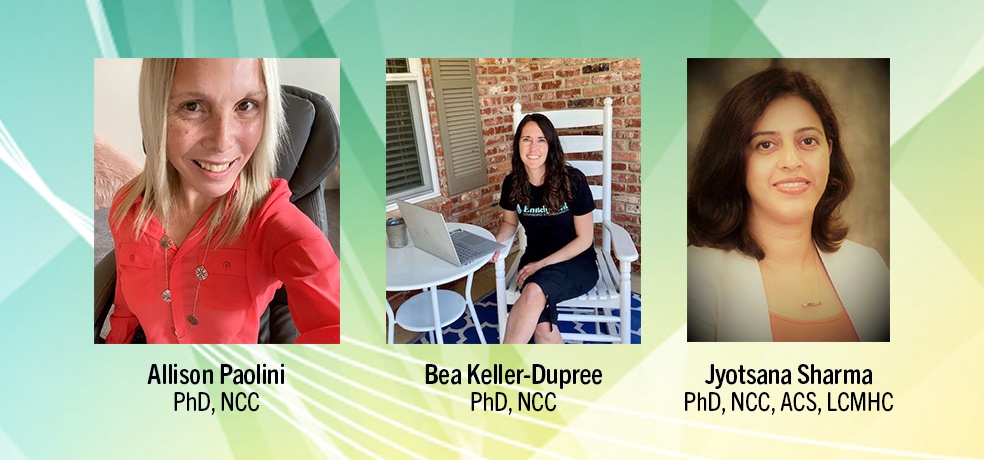 Allison Paolini, PhD, NCC, is an assistant professor of counselor education at Winthrop University, Rock Hill, South Carolina. Paolini has enjoyed the process of moving all her courses online. Although modifying class content was challenging at times, Paolini says, "In order to maintain consistency and rapport, I believe that having open communication with students is key. It is vital for student success to create a virtual class climate that is accepting; patient; and promotes inclusivity, interaction, and rigor. Based upon feedback, students also appear to appreciate having the video component, as that helps them to feel more present, productive, proactive, and engaged in their learning."
Paolini describes what best practices made her transition as seamless as possible:
I utilize Zoom for a portion of my classes in order to have face-to-face interaction as well as to promote connectivity, engagement, higher-order thinking, and discussion amongst students.
I utilize Google Docs as a discussion forum for students to record their responses as well as to provide responses to their peer's work.
I integrate Blackboard, a learning management system, and upload weekly quizzes to ensure students are completing readings and reviewing major PowerPoints.
I respond to student's emails immediately to promote open discourse and communication.
Having had her first child in January, Bea Keller-Dupree, PhD, NCC, was already in the process of teaching all online courses in the spring semester. She is an associate professor of psychology and counseling at Northeastern State University, Tahlequah, Oklahoma, and owns and operates a private practice in Tulsa, which has now been completely facilitated through telehealth since the end of March.
"For me," says Keller-Dupree, "outer order equals inner calm. What is happening around me in my physical space greatly impacts my presence in my work. I have worked to intentionally create a therapeutic space in an area of my home that feels inviting to me, thus translating to better engagement with my work, my students, and my clients. Even if that space is only a dedicated corner of a room, I highly recommend carving out a physical space for the mind and body to connect to the task at hand—whether that is telehealth counseling or teaching online."
Jyotsana Sharma, PhD, NCC, ACS, LCMHC, is an assistant professor in the counseling psychology department at Oklahoma State University, Stillwater, Oklahoma. She shares, "I appreciate the resiliency students have shown during these strange times. As a counselor educator, I am amazed at how quickly students adapt. Even though there have been struggles with moving courses that were intended as face-to-face to be virtual, with the help of thoughtful questions and adaptability of the students, I have been successful in managing this transition. For example, one of my classes did a synchronous online group presentation/discussion via Canvas as the presenting group was communicating via Zoom with me and each other. Another one of my courses has advanced to edited movies/video Powerpoint presentations that students watched on their own and then joined a discussion via Zoom with their classmates."
Sharma also notes that "I like that I can be creative and flexible and make things 'fun' for students. I miss the face-to-face interactions and safety with ambiguity built into counseling courses that comes with face-to-face, rather than dealing with the anxiety that comes with the ambiguity of non–face-to-face." Her tips and tricks for successful online teaching include:
Keep communicating with your students virtually through announcements or emails.
Be innovative and creative—include play in learning.
Be flexible with assignment due dates.
Be compassionate and kind toward yourself as well as students.
NBCC commends our board certified counselors, counselor educators, and students for their adaptability during this time of uncertainty and change. With every challenge that COVID-19 has presented, you've come up with innovative ways to maintain meaningful contact with clients and students and continue in your educational pursuits. Now and moving forward, the work that you do is greatly appreciated.
---
Share On Social Media:
---
Read more articles