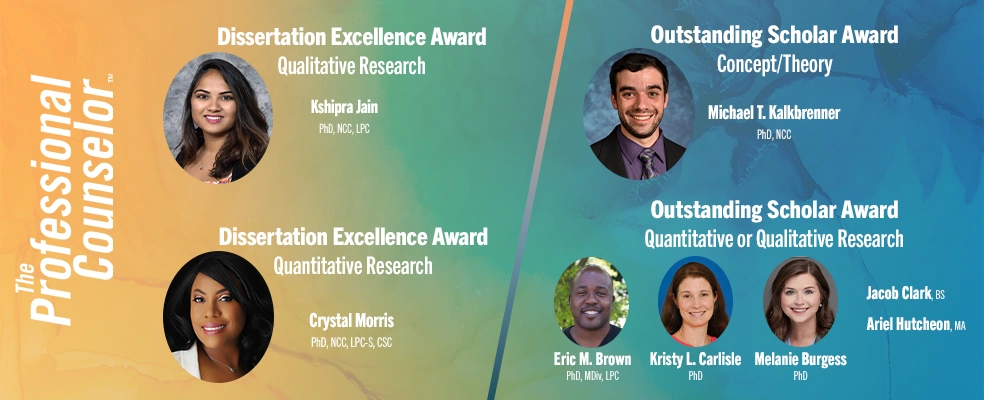 The Professional Counselor (TPC) recently recognized the winners of its annual awards, the Dissertation Excellence Awards and the Outstanding Scholar Awards.
Dissertation Excellence Awards
The Dissertation Excellence Awards recognize original research that significantly contributes to the counseling profession and are judged according to presentation and clarity of ideas, sound methodology and interpretation of findings, innovative quality, and overall utility to the future of the counseling profession. In this 10th year of the award program, TPC conferred two Dissertation Excellence Awards, one for quantitative research and one for qualitative research.
The winner of TPC's 2023 Dissertation Excellence Award in the Quantitative category is Crystal Morris, for her dissertation entitled Silent No More: Exploring the Effects of Mindfulness-Based Strengths Practice on Relationship Satisfaction, Mindfulness, and Well-Being in Female Survivors of Military Sexual Trauma.
Morris (she, her, hers), PhD, NCC, LPC-S, CSC, earned a Bachelor of Science in chemistry with a minor in psychology from the University of Mary Hardin-Baylor, a Master of Education in counseling psychology from Texas A&M University-Central Texas, and her PhD in counselor education and supervision from the University of Texas at San Antonio. She is currently a visiting assistant professor of counseling at St. Edward's University in Austin, Texas, and an adjunct faculty member in the counseling, health, and kinesiology department at Texas A&M University-San Antonio. She teaches various courses, such as crisis and trauma, group counseling, and counseling theories.
Dr. Morris has worked as a professional school counselor, educator, graduate research assistant, military family life counselor, and private practice therapist. She is a Licensed Professional Counselor Supervisor, National Certified Counselor (NCC), Certified School Counselor (CSC), and owner and clinical director at Butterflies Prospering Wellness Co. She has a wealth of clinical experience that has informed her classwork, teaching, and research. Dr. Morris has experience in the counseling and education field, totaling over 10 years working with at-risk youth, young adults, and military service members and families.
Dr. Morris has advocated in the community through her work with Teach Them to Learn Outreach Ministries, a residential shelter for women and children who have escaped domestic violence. In her private practice, she currently counsels couples; active duty veterans; and adolescents with issues from PTSD/trauma, anxiety, depression, and much more. Beyond her clinical work, Dr. Morris examines the efficacy of mindfulness-based interventions and positive psychology as a trauma-informed protocol. She hopes to advance the theory and understanding of evidence-based treatments for the populations she has worked closely with.
In addition, she is the author of The Butterfly Affect: Living the Single Life Through God's Eyes, 21 Days of Positive Living, and the coming-soon book in the series, The Butterfly Affect: Establishing Healthy Relationships.
Dr. Morris's research interests focus on mindfulness-based strengths practices, character strengths and positive psychology as interventions, and exploring relationship satisfaction in female survivors of military sexual trauma. Her research interests also focus on holistic wellness; mental health in the Black and African American communities; multicultural competence and social justice advocacy in counseling; ethics in counseling; relationships (couples); sexual abuse/trauma in women, and PTSD/trauma. Dr. Morris has presented at local, state, and national conferences, and she has written a book chapter on integrative practices for adolescents and children and in a peer-reviewed journal on mindfulness-based strengths practice, with current publications in the works.
The winner of TPC's 2023 Dissertation Excellence Award in the Qualitative category is Kshipra Jain, for her dissertation entitled Experiences of South Asian LGBTQ+ Asylum Seeking Men in the US: A Qualitative Inquiry.
Jain (she, her, hers), PhD, NCC, LPC, is a Licensed Professional Counselor (LPC) and Supervisor in Washington, D.C., and a National Certified Counselor (NCC). She has a PhD in counseling (CES) from the George Washington University in Washington, D.C., and a master's in mental health counseling and behavioral medicine from Boston University School of Medicine. Dr. Jain is the founder of Saathi Counseling LLC and is currently practicing as a clinician in Washington, D.C. She is passionate about serving and advocating for individuals with marginalized intersectional identities, such as BIPOC, LGBTQ+, immigrants and children of immigrants, and women.
Dr. Jain has been a board member for Counselors for Social Justice (CSJ) since 2020 and served as the 2020–2021 president for Maryland Counselors for Social Justice (MCSJ). She is also a recipient of the 2018–2019 NBCC Minority Fellowship Program for Mental Health Counselors – Doctoral award. When not involved in professional pursuits, Dr. Jain enjoys immersing herself in nature, traveling across the globe, reading, cooking, and spending quality time with family and friends.
Outstanding Scholar Awards
The Outstanding Scholar Awards—one each in the categories of Concept/Theory and Quantitative or Qualitative Research—are selected each year from the articles published in that year's volume, and are chosen based on their scholarly style, innovative and inventive material, and relevance to the counseling profession.
Michael T. Kalkbrenner received the 2022 Outstanding Scholar Award for Concept/Theory for his article, "Guidelines and Recommendations for Writing a Rigorous Quantitative Methods Section in Counseling and Related Fields."
Kalkbrenner (he, him, his), PhD, NCC, is an associate professor of counseling and educational psychology at New Mexico State University. He received his doctorate in counselor education and supervision from Old Dominion University and his MS in mental health counseling from The College at Brockport, State University of New York. Dr. Kalkbrenner's research agenda is centered on two major themes—psychometrics and college student mental health, and measurement and evaluation of dimensions of integrated mental and physical wellness. He has utilized quantitative, qualitative, and mixed-methods research paradigms, with an emphasis on quantitative methodology in psychometrics and other multivariate statistical analyses. Dr. Kalkbrenner's teaching pedagogy is based on John Dewey's theory of experiential learning and the flipped classroom in which the instructor is responsible for the learning environment and students are responsible for their own learning. Dr. Kalkbrenner has clinical experience providing counseling to a variety of populations in an array of different settings, including medical residents, veterans, college students, and children.
Eric M. Brown, Kristy L. Carlisle, Melanie Burgess, Jacob Clark, and Ariel Hutcheon received the 2022 Outstanding Scholar Award for Quantitative or Qualitative Research for their article, "Adverse and Positive Childhood Experiences of Clinical Mental Health Counselors as Predictors of Compassion Satisfaction, Burnout, and Secondary Traumatic Stress."
Brown (he, him, his), PhD, MDiv, LPC, is a counselor educator, mental health counselor, and researcher. He is an assistant professor in the Mental Health Counseling and Behavioral Medicine program at Boston University Chobanian & Avedisian School of Medicine, where he teaches classes on trauma counseling, addiction counseling, and group therapy. His research is focused on issues related to the prevention of burnout in helping professionals. Currently, Dr. Brown researches burnout and the resilience of counselors, teachers, and pastors.
Carlisle (she, her, hers), PhD, is an associate professor in Old Dominion University's Counseling and Human Services Department, where she is the Human Services Program director. She also serves as the university's addictions education coordinator, as well as the chief editor of the Journal of Human Services Scholarship and Interprofessional Collaboration. She has work experience as a PK–12 teacher, school counselor, mental health counselor, and case manager/supervisor, and she has served child, adolescent, and adult populations in school, inpatient residential, and community mental health settings. Dr. Carlisle's research interests include addictions and addictions education, crisis and trauma education, and interprofessional collaboration and education (IPC/IPE).
Burgess (she, her, hers), PhD, is an assistant professor and the co-coordinator of the Counselor Education and Supervision PhD Program in the Department of Counseling, Educational Psychology, and Research at the University of Memphis. She earned both her PhD in counselor education and supervision and her MSEd in counseling with a concentration in school counseling from Old Dominion University. Dr. Burgess's research interests include school counselor preparation and clinical supervision; data-driven, evidence-based practices in PK–12 settings; and assessment. She has presented at national and state conferences, received federal and regional grant funding, and published qualitative and quantitative articles in peer-reviewed journals.
Clark, BS, is a graduate student at Old Dominion University. Hutcheon, MA, is a doctoral student at Old Dominion University.
Read more about TPC's scholarship awards here.