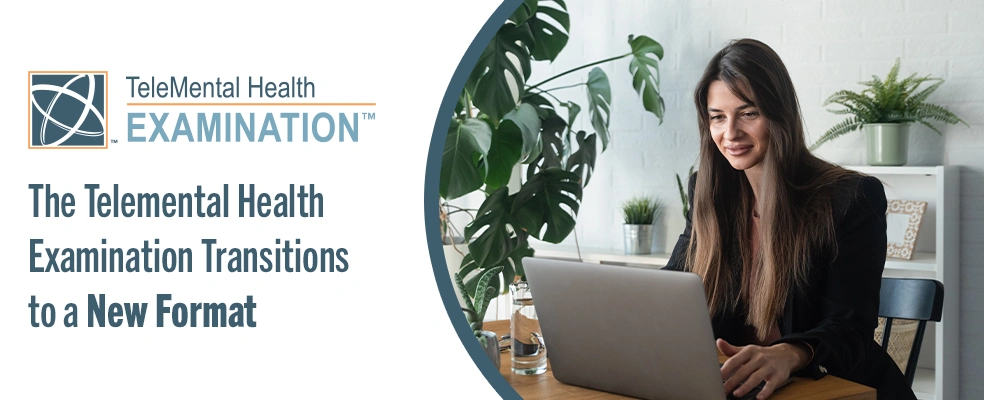 Beginning Nov. 2, 2023, the TeleMental Health Examination (TMHE) is transitioning to a new format. This format was developed by telemental health subject matter experts following a comprehensive job analysis survey in spring 2023. The examination will now utilize vignette-based case studies, followed by a series of multiple-choice questions.
In the rapidly growing world of telemental health, acquiring the Board Certified-TeleMental Health Provider (BC-TMH) credential, offered by NBCC's affiliate the Center for Credentialing & Education, is a logical course of action in displaying commitment to providing the highest quality telemental health services. Experienced counselors and supervisors, or those just beginning their journeys, can enhance their clinical skills and marketability with the BC-TMH. Registering for the TMHE is a crucial step toward obtaining the BC-TMH.
Candidates for the BC-TMH must have a qualifying academic degree, hold a qualifying license or certification, and have successfully completed an approved telemental health training course. Candidates who satisfy these requirements will then be eligible to register for the TMHE. Through this process, candidates will garner critical knowledge in ethics, technology and security, crisis protocols, and best overall practices in telemental health, thus becoming a trusted resource for their clients while also expanding their practice reach.
Candidates who register to take the newly formatted TMHE between Nov. 2–30, 2023, have the exciting opportunity to be included in an essential examination development component. These candidates will help make a lasting impact on the counseling profession by testing as a part of the TMHE standard-setting cohort. Standard-setting cohorts are vital in the ongoing examination development and data examination processes, as they are used to help determine the validity of examination items and the examination's cut (passing) score. The TMHE standard-setting cohort will help ensure that the quality of the examination is aligned with the high standards already in place for the BC-TMH certification.
To learn more about the new TMHE and becoming a BC-TMH, visit https://www.cce-global.org/credentialing/bctmh/exam.