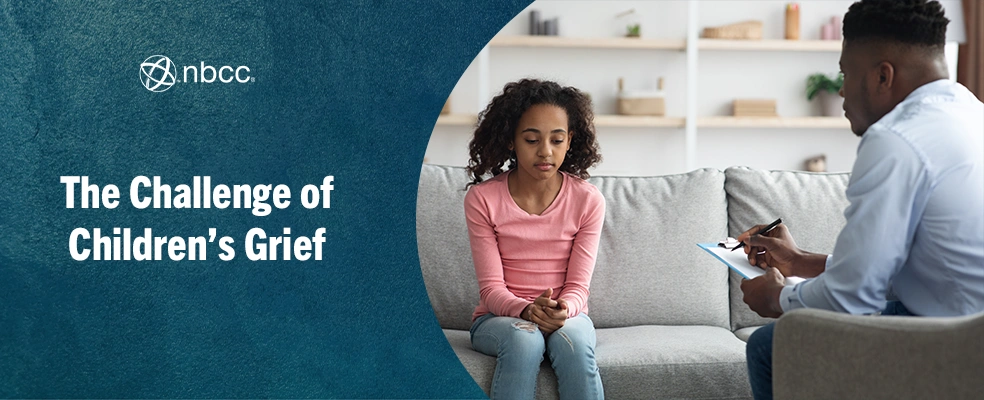 Children experience grief due to the loss of a loved one just as adults do, but it may look very different. Providing comfort to a grieving child can pose a unique challenge for caregivers at an already difficult time. Children may have difficulty understanding what has happened, and may lack experience regulating their emotions.
We spoke with Kirsten Goard, a bereavement counselor with the Kids Path program, about how to best comfort a grieving child.
Can you tell us a bit about Kids Path services?
Kids Path, a program of Hospice of the Piedmont and Hospice of Randolph, provides grief counseling for kids. It is designed to meet the special needs of children and teens who have experienced the death of a loved one.
Grief counseling includes short-term individual, family, and group counseling for children and adolescents between the ages of 5–18. Counseling sessions take place in local schools, at our office and occasionally in the home setting. In addition, special workshops and other activities are scheduled throughout the year to provide education and support.
What are some unique considerations for grief when comforting children?
Many parents worry about how to have a conversation with their child surrounding death. The following skills are important to utilize when having these difficult conversations.
Be open and truthful. When working with kids around grief, it is incredibly important to consider their capacity for understanding and processing. So many times, parents believe they need to protect their children from the truth, but kids are very observant and will pick up on something being wrong without ever being told. This is when age-appropriate language comes in. By having the conversation openly and honestly and using language the child can understand, the parent is inviting the child to ask questions and seek clarification. It additionally allows for the child to feel empowered and encouraged to come to the parent when they have emotions arise because of their grief. It is also critical, as adults, to admit when we do not know the answers to certain questions.
Be direct. Using phrases such as "died" and "dead" are important versus using ambiguous phrases such as "passed away," "is sleeping," or "is in a better place." These phrases, while often used to be more compassionate, leave children confused and uncertain. Concrete and direct language eliminates room for kids to draw their own conclusions on what has occurred. Allow the child to guide these conversations. They will tell you what they know and allow you to correct or add information where necessary.
Be patient. Dependent on their age, your child may need to be told more than once that their loved one has passed. Be realistic with their age and capacity to retain information. Your child may also not want to talk about how they are feeling right away. Open the floor for them to come to you to talk about the topic but leave room for them to take the time they need to process on their own terms.
Be consistent. We often feel like we should be lenient to outbursts of behavior when a child is grieving, but this is not the case. Children need consistency. Stick to routines, hold true to rules, and enforce consequences. Structure offers kids security.
Be an example. As adults, kids look to us for the proper way to grieve. Let your child know that it is ok to be emotional around death. Don't shy away from your own emotions. Mourn together, cry together, and share stories together about your loved one. Additionally, be aware that often kids try to be strong for the adults in their life and hide their emotions. Have conversations early in the grief process and let children know that it is ok to be sad, angry, scared, etc., but it is important to talk about these feelings when they come up.
For more on this important and challenging subject, check out the NBCC Foundation webinar "Adolescent Grief: Developmental and Cultural Considerations."