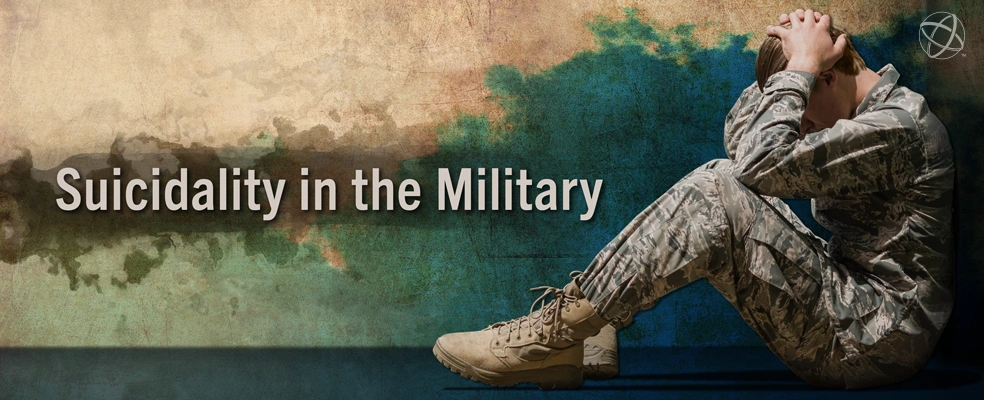 National suicide rates among active military members and veterans are of considerable concern. The Centers for Disease Control and Prevention reports suicide as the second leading cause of death in the U.S. military, trailing only unintentional injuries/accidents.
During the 20 years following 9/11, the United Service Organizations (USO) reports that 30,177 individuals who served in the military, combined between active members and veterans, died by suicide. This compares to 7,057 service members killed in combat during the same time, making military suicide rates four times greater than deaths that occurred during military operations.
Among the various active military branches, the Army has the highest suicide rate. In the first three months of 2023, the Military Times reports that 49 active Army service members died by suicide, compared to 37 in the first quarter of 2022. The Marine Corps soared from eight suicide deaths to 14 in the same period, with the Air Force also seeing a slight increase, rising from 16 to 17. On a positive note, this data, provided by the Defense Suicide Prevention Office, shares that the Space Force and Navy recorded no increases among their active service members.
Veteran suicide rates alone are also staggering. According to the 2022 National Veteran Suicide Annual Report, an average of 31.7 per 100,000 veterans die by suicide, compared to 16.1 per 100,000 civilians. This equates to 17 veterans dying by suicide every day.
With such concerning statistics, what can be done to quell these trends? First, we must understand the reasons they occur.
Avery Rosser, MS, NCC, LPC, CPCS, a PhD candidate in counselor education and supervision at the University of Georgia, and a 2022 NBCC MFP Doctoral Fellow, suggests, "There are several factors, including pre-existing mental health challenges such as PTSD and depression, easy accessibility to lethal means, stigma around seeking help, and barriers to accessing health care. These determinants, accentuated by the strains of exposure to combat and multiple deployments, have created a crisis that demands a multifaceted response."
Suicide is rarely caused by a singular issue, but a combination of stressors or problems that present themselves simultaneously. Relationship troubles, financial stress, traumatic experiences, legal woes, and disciplinary actions, all of which can be compounded while in the military, are often culprits. The Association for Behavioral and Cognitive Therapies further reports that combat exposure can increase the risk of post-traumatic stress disorder, depression, and substance abuse, all of which increase the risk of suicide as well. Combat veterans tend to struggle as their post-military years progress. They may feel disconnected from society and as though they do not belong, leading to self-loathing and loneliness. Others feel guilt or anger over situations that ended with grim outcomes, despite being out of their control. The magnitude of these factors can lead to helplessness, and available resources therefore often go unutilized.
"In response to this escalating issue, our suicide prevention telehealth program is deploying a series of nuanced approaches to address suicide behaviors among veterans," says Rosser. "Recognizing the pivotal role of specialized interventions, we employ a blend of treatment approaches, customized to meet the individual needs of our veteran community."
Rosser continues, "Our core intervention strategies are rooted in evidence-based therapies such as cognitive behavior therapy for suicide prevention (CBT-SP). Through this, we work closely with veterans, assisting them to identify and manage their thoughts and behaviors that are linked to suicidal tendencies, fostering skills to cope with stressful situations more effectively. The aim is to reduce the recurrence of suicidal thoughts and behaviors, facilitating long-term recovery."
Furthermore, Rosser supports the Advanced Safety Planning Intervention, problem-solving therapy, and dialectical behavior therapy as effective suicide prevention techniques.
Family members can also be adversely impacted by the military lifestyle. Military spouses may not serve in actual combat, but they are subject to stressors brought on by it that can affect their own mental health. According to the Department of Defense, 133 military spouses died by suicide in 2020. An article in The Professional Counselor (TPC) highlighted that frequent moving (oftentimes every 2–3 years) creates difficulties for military spouses, including the ability to form solid social networks and establish careers. Furthermore, isolation is magnified when their partners deploy, in conjunction with the general anxiety of having a partner overseas. Mental health wellness recommendations for spouses (and other dependents) include limiting social media and news outlets, journaling, attending therapy, and seeking out other military spouses for support, all of which can be achieved whether stationary or on the move.
Though continued therapy with a professional, credentialed counselor for all the aforementioned military groups is crucial, the Department of Defense's 24/7 program, Military OneSource, also provides information and resources to help them thrive. Services provided include relocation assistance, spousal employment consultations, financial and relationship help, tax support, and educational opportunities.
Rosser also identifies the importance of educating the public and postvention techniques. "Our initiatives also extend to the broader community, fostering public awareness campaigns to diminish stigma and encourage individuals to reach out for help. Through an amalgamation of these efforts, we aspire to create a safety net that not only addresses the current crisis but works proactively to prevent future occurrences, steering towards a healthier and safer community for our veterans."