spotlight-erik-mansager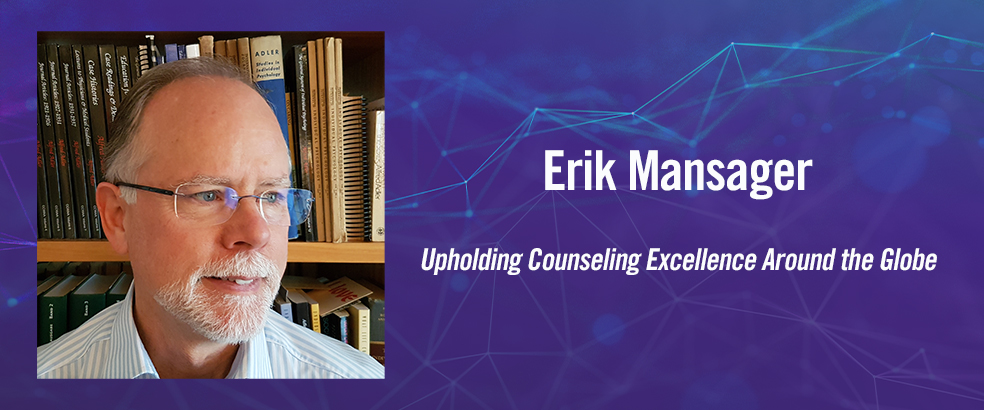 Editor's Note: Spotlight is an occasional feature on board certified counselors with a story to share. Feel free to send your ideas for Spotlight candidates to newsletter@nbcc.org.


Licensure portability is a challenge for many counselors wanting to expand their practice. Erik Mansager, PhD, NCC, CCMHC, MAC, LCPC, CADP, has met the challenge and is now successfully using his NBCC certifications to counsel individuals all the way over in Switzerland.
Like most of our NCCs, Mansager began his journey in the United States. After having the opportunity to work at a children's home following his junior year of college in Colorado, Mansager knew he wanted to devote his life to this rewarding work. His passion for Adlerian counseling techniques would eventually lead him to serve in high-need areas across the globe.
Mansager completed his degree in humanities from St. Thomas Theological Seminary in Denver, Colorado, and sought out higher education at the University of Arizona. He was drawn to the counseling program there because of its reputation and because it was under the direction of Dr. Oscar Christensen, a leader in Adlerian family guidance.
"With my master's in hand, I got to do the counseling I felt called to do," says Mansager. He began working with social services, eventually running a private practice in his spare time. He later served as the residential director of a children's home, Casa de los Niños, in Tucson, Arizona. Although he enjoyed being able to implement Adlerian techniques in his approach with clients, he wanted to do even more.
"My enjoyment of Adlerian counseling grew in the direction of teaching. I knew I would need a doctorate to teach at the graduate level and decided to study abroad where I could combine Adler's theory with practical theology."
Mansager was offered an opportunity to counsel adolescent children of American military members in Germany. This put him closer to the Catholic University of Louvain, Belgium, where he later completed his doctoral studies on depth psychology and wrote his dissertation, "A Psychological Critique of Hans Küng's References to Psychology."
Mansager returned to the states and started his teaching career as the psychological services director at St. John's Seminary College in Camarillo, California, where he also opened a private practice.
His continued interest in Adlerian technique included years as core faculty at Adler University in Chicago, which served as the conduit to settling in Switzerland. After presenting a summer session on Adlerian counseling at Webster University in Geneva, Mansager became aware of a faculty opening at the Collège du Léman International School in Versoix, an international boarding school in the Suisse Romande (French-speaking Switzerland).
Currently, he is working at Family Counselling Services in Geneva and provides much-needed counseling to the English speakers in the area.
"The international health agencies, multinational corporations, and United Nations governance include many English-speaking expats who look for support," says Mansager. "Their occupational settings include many disruptions due to promotions and relocations. This has given rise to the issues surrounding 'third culture kids'—those children who have lived more abroad than in their birth country—and their attendant difficulties."
For Mansager, the major difference between working in the United States and working abroad is the difficulty of qualifying to be billed under Swiss insurance coverage. This means a broader outreach is needed to build a clientele base—one that is willing and able to pay for services out-of-pocket and await reimbursement.
"Dozens of certified or licensed American counselors and social workers have petitioned to become recognized here as psychotherapists, but efforts have been unsuccessful unless their undergraduate degree matches the Swiss bachelor's degree in psychology," explains Mansager.
Despite the initial hassle of trying to qualify as a Swiss psychotherapist, Mansager has found that English speakers seeking help search long and hard to find native English-speaking counselors. A local network of counselors works together to connect clients who want an English-speaking counselor.
"My own licensure (licensed clinical professional counselor; Illinois) and certifications (NCC, CCMHC, and MAC) have allowed clients who work with American-based multinational corporations to receive insurance coverage," he explains. "This has amounted to roughly a quarter of my clients over the dozen years I have been in practice here. Our website sports our NCC badges and when asked, I provide a letter delineating my full credentials. As this includes a certificate in classical Adlerian depth psychotherapy, it allows non-Swiss insurance companies to determine whether they will cover treatment or not."
Despite the additional effort that it takes to complete the work that he is so passionate about, Mansager continues to advocate both for himself and for his clients, ensuring that they are getting the best possible care he can give. The work that he has done throughout his career has provided him with a unique perspective on the importance of his board certifications and the continued push for licensure portability.
"None of the European countries are as well organized as NBCC," says Mansager. "Many of them are very protective of their native education and training, so we expats find ourselves shut out of many opportunities. I keep my license and certifications up to date because I know if there are any questions about the quality of the training and credential, NBCC will stand up very well in the face of what is required here."
---
Share On Social Media:
---
Read more articles