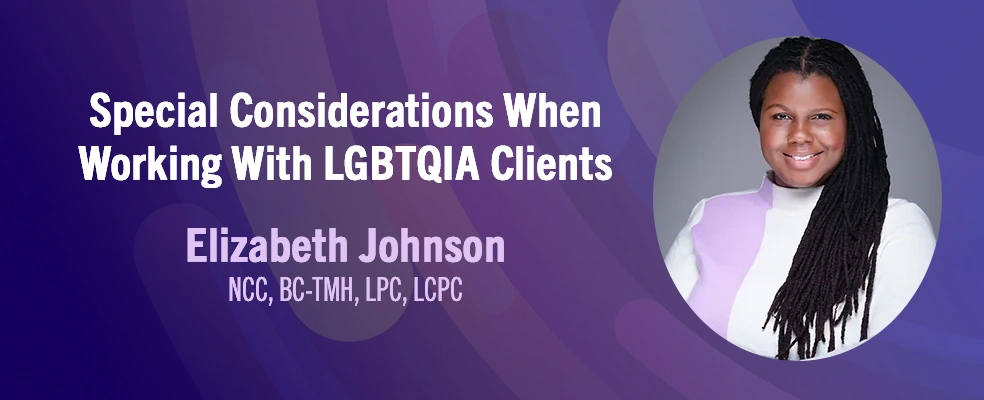 Members of the LGBTQIA community experience unique challenges and for many, discrimination and bias are a part of daily life. They may need to create "chosen" families as support systems apart from their families of origin; face legal obstacles to adopting children; experience discrimination when accessing health care; struggle with issues related to gender identity and sexual orientation; experience workplace discrimination; and do not have the same experience of safety that is felt by others.
These circumstances and others can negatively impact the health and well-being of LGBTQIA individuals and couples. In order to help them as clients, counselors need to develop cultural sensitivity, set aside biases, gain a better understanding of their experiences, and provide a safe space for growth and healing.
Elizabeth Johnson, NCC, BC-TMH, LPC, LCPC, provides services for individuals and couples, including those who are married, preparing for marriage, polyamorous, or contemplating polyamory or ethical nonmonogamy. She also works with couples in which one partner may be exploring their gender identity or sexual identity, and those seeking to navigate multiple identities.
She recognizes many unique challenges that the LGBTQIA population faces.
"Living in Washington, D.C., I see many couples who have found some measure of a safe haven to love themselves and their partner(s), but they struggle with building community and navigating unaccepting families," she says. "Some folks feel like they are living multiple lives—the one they have here and they one they have back home. Lack of community is as negative a health factor as is poor nutrition or lack of access to health care. I help couples navigate ways to find and integrate themselves both as a couple and individually into a supportive, safe community."
An individual's sexual orientation or gender identity can have an impact on them as part of a couple, and Johnson notes that those characteristics are not static parts of our identities.
"They are complex and dynamic, meaning they often change and continue to develop as we go through our life span. Additionally, couples often take on an identity such as 'lesbian couple' or 'gay couple.' If one partner, for example, embraces a new gender identity, this can affect not only the individual who is increasing their self-awareness, but the couple's identity as well.
"While this list is not exclusive, another way I've seen sexual orientation or gender identity impact a couple is when connecting with others," she continues. "For many reasons, a partner within a couple may find it difficult to express their identity to the world, which can impact a couple's ability to integrate into their community or engage with their families."
These challenges can have a tremendous impact on a person's mental health and well-being throughout their life.
"We need people," Johnson says. "Humans are social beings, and not because we simply enjoy socialization. Our ability to develop the skills to take care of ourselves is dependent on the relationships we have with our caregivers. Insecure attachment during our developmental years can be traumatic and creates a risk factor for a host of psychological, social, and physiological illnesses. This need does not change as we age. Social isolation continues to threaten a person's health and well-being as development takes place across the life span."
When one partner wants or feels obligated to meet an isolated partner's social needs, they may feel an enormous amount of pressure, Johnson says, adding that "As much as we care about the people we partner with, we cannot be their entire community."
Anti-LGBTQIA bias and discrimination routinely affect the mental health of these individuals. A recent study by the Center for American Progress reports that 68.5% responded that discrimination negatively affected their psychological well-being.
"Most of my clients experience the most anti-LGBTQIA bias and discrimination from people they know," Johnson says. "None of us can avoid the hateful attitudes displayed on social media or on national news outlets; however, what seems to hurt the most is when it comes from people we are supposed to be able to trust—our families, colleagues, or neighbors.
"Some of the ways I help people navigate bias and discrimination is by first helping them grieve," she continues. "We often think of grief as a loss of relationship, but discrimination creates many other types of loss. We lose plans for the future, feelings of safety, and the capacity to trust, to name a few."
While a client is experiencing this type of grief, Johnson helps them to be aware of what's happening during their interactions with others, which is empowering.
"I call out discrimination and challenge my clients to slow down and acknowledge the microaggressions, biases, and unsavory exchanges from those around them," she says. "I assist them in learning to trust their instincts by validating who they are in this world. As they learn and grow, they can build the necessary tools to stand tall, which over time creates resilience."
Johnson offers several suggestions to help counselors increase their competency in working with LGBTQIA couples, adding that the 2017 ACA ILLUMINATE Symposium, which focused exclusively on issues related to the LGBTQIA community, was one of the most informative counseling events she has attended.
"Opportunities like this not only create avenues for learning, but they connect people with lived experience and can bring theories and facts to life," she says. "I would suggest seeking out reputable organizations and researching events, workshops, and books offered."
She also stresses the importance of self-awareness as part of a counselor's training and professional development.
"All counselors should explore their sexual and gender identities. People in the LGBTQIA community often have not had a choice in whether to explore how they arrived at their identities," she says. "When you feel that you are different, you naturally begin to be curious about why. However, people not on the LGBTQIA spectrum can miss this exploration if their identities fall within what is socially acceptable. Increasing self-awareness about who you are and how you came to be this way can create empathy. Counselors can learn that we all are trying to find our way through life."
Because understanding our own cultural identities and how they were formed helps counselors to learn how their skills may impact clients, Johnson recommends utilizing peer supervision, support from colleagues, and evaluations and other feedback instruments to learn about themselves and their work.
She offers the following advice for creating a safe and welcoming therapeutic space for LGBTQIA couples.
"Counselors can start by seeing the humanity of the individuals before them, not only one aspect of their identity," she says. "Be open and curious, but not intrusive. Allow your clients to unfold who they are as they feel safe. Understand that couples' issues are manifold and may or may not be centered around their sexual or gender identity. Offer gentle reflections and be mindful that trust and respect are built over time."
To better understand the many social challenges, including safety risks and other special considerations when working with LGBTQIA clients, Johnson says counselors should always seek new information, continue learning, and strive to improve their skills and knowledge.
"One of the best things counselors can do is to know the world around them," she says. "Pay attention to what you see and ask questions. Also, there are many stories, memoirs, documentaries, social media posts, etc., that detail the experiences of people who are on the LGBTQIA spectrum. Seek them out. Thankfully, we live in a world where most counselors have access to the internet. Use your search engine to research topics related to LGBTQIA issues. There are books, articles, films, and other content just a fingertip away."
Elizabeth Johnson, NCC, BC-TMH, LPC, LCPC, received her bachelor's in psychology from the University of Central Arkansas and her master's in mental health counseling from Capella University. She is a Licensed Professional Counselor, Licensed Clinical Professional Counselor, National Certified Counselor, and Board Certified-TeleMental Health Provider.