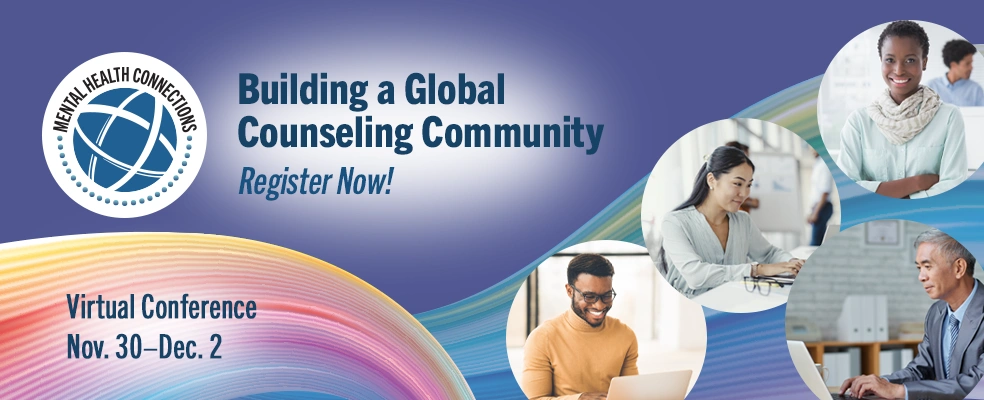 The National Board for Certified Counselors and the NBCC Foundation will host their third international virtual conference, Mental Health Connections: Building a Global Counseling Community, from Nov. 30–Dec. 2, and NBCC credential holders and students are eligible for a 20% discount on the registration fee. The conference is focused on education, training, practice, and research geared toward building a global mental health community.
In addition, we are offering up to 33 hours of continuing education (CE). All sessions will be recorded, and registrants will have access to the recordings for 6 weeks after the conference. Learn more about how to earn CE credits here.
Presenters will share insights from an international perspective and represent more than 20 countries. Participants will learn about the state of mental health outside of the United States and the mental health needs of and responses to international students and immigrants in the United States as well as the challenges faced by helping professionals in other countries.
"Having the opportunity to collaborate with leaders across a variety of different cultures provides a unique opportunity for individuals to learn how to effectively advocate for equitable access to mental health services within their own communities," says Dr. Kylie Dotson-Blake, President and CEO of NBCC and Affiliates. "We are looking forward to engaging in these dynamic discussions regarding mental health and counseling across the globe." Keynote presentations are as follows:
International Mental Health Education, Services, and Research: Working Across Cultural Boundaries With Humility, Creativity, and Perseverance, by Maha Y. See, founder and program director, Myanmar Clinical Psychology Consortium, Burma; Dr. Yun Shi, LMFT, Portland State University; and Dr. Zachary Pietrantoni, assistant professor of counselor education, Florida International University. The presenters will discuss times and places where mental health services have been emerging and growing strong, from China since 2008, to Myanmar since 2017, during the coup in Fiji in 2021, to other international communities.


Canadian Counselling and Psychotherapy Association (CCPA) Celebrates Diversity and Inclusion: Building, Supporting, and Enhancing Counselling and Psychotherapy Across and Within Cultures, by Kathy Offet-Gartner, president, CCPA; Dr. Kim Hollihan, CEO, CCPA; Dr. Jen Rowett, past president, CCPA; Carrie Foster, president-elect, CCPA; and George Maringapasi, treasurer, CCPA. CCPA is a bilingual association of counselors and psychotherapists across Canada who have provided leadership in the promotion of counseling since 1965. The association has more than 11,000 members from professional mental health settings, including private and public health services, education, business, and government.


A Day in the Life of a Counselor will feature six counselors from around the world discussing their experiences as counselors and educators; local mental health challenges; and strengths, traditions, and coping mechanisms that help people in their communities and countries meet those challenges. Participating counselors are Deki Choden, Bhutan; Dr. Lorenzo Barbagli, Italy; Diana Nyirenda, Malawi; Dr. Cristina Esquivel-Saldivar, the Philippines; Dra. Ramonita de Lourdes Díaz Jiménez, Puerto Rico; and Euodia Kapuwamba Nakwenda, Zambia.
Registration fees are based on research by the United Nations Development Programme and vary by country. The deadline to register is Nov. 21 at 11:59 pm EST, and all proceeds will support NBCC's Mental Health Facilitator program.
Students, NCCs, and holders of select CCE credentials enjoy a 20% discount on conference registration.  
We hope you'll learn more about the conference and join us here.