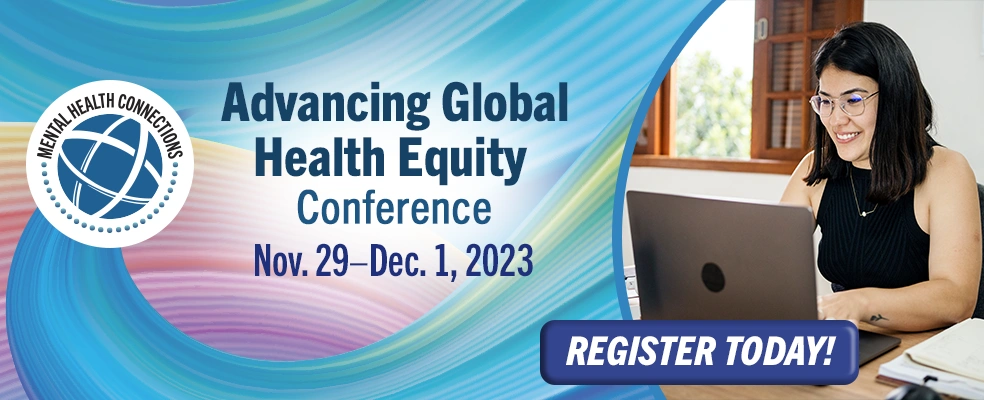 The National Board for Certified Counselors and the NBCC Foundation will host their annual global virtual conference, Mental Health Connections: Advancing Global Health Equity, from Nov. 29–Dec. 1, 2023. The conference is focused on education, training, practice, and research geared toward building a global counseling and mental health professional community, and students, NCCs, and holders of select credentials from the Center for Credentialing & Education are eligible for a 20% discount on the registration fee. In addition, group registrations for a minimum of five people are being offered a discount of 30% per person.
Up to 33 hours of continuing education (CE) will be available to attendees. All sessions will be recorded, and registrants will have access to the recordings for 6 weeks after the conference. 
Presenters representing perspectives from more than 20 countries will share insights on the state of mental health outside the United States and the challenges faced by helping professionals in other countries. They will also discuss best practices to meet the mental health needs of international students and immigrants in the United States.
Participants will learn about counseling and mental health initiatives and progress toward counseling professionalization around the world. They will also see presentations on education, training, practice, research, and partnerships that are helping to increase international mental health equity.
The following are this year's keynote presentations:
Six Years of Collaboration in Belize: Successes, Challenges, and Outcomes, by Monica Manzur, a doctoral student and residence hall director at Texas Christian University; Onando St. Bernard, counseling coordinator for the Community Counseling Center, Community Rehabilitation Department of the Belize Ministry of Human Development, Families, and Indigenous Peoples' Affairs; and Dr. Guy Ilagan, associate professor of counselor education in the Zucker Family School of Education at The Citadel. In 2016, Dr. Eve Aird, a university provost in Belize, noticed a surge in suicide attempts and deaths among adolescents and young adults. Dr. Aird consulted with a peer at a U.S. university and arranged for U.S. trainers to cofacilitate a series of trainings on suicide assessment and intervention skills with her staff. Today, the trainings have taught more than 400 social workers, counselors, teachers, and other human services professionals.
Conducting Transnational Mental Health Training: Planning and Executing Sustainable Initiatives, by Dr. Mehmet N. Akkurt, assistant professor and program coordinator, Counseling Department, Lamar University. The lack of mental health equity around the world has become more apparent since the increased need for mental health services caused by the COVID-19 pandemic. By training lay professionals who are already providing support to their communities, their impact can become stronger. Learn how efforts to increase access to mental health care around the world have focused on empowering local resources rather than temporary solutions.

A Day in the Life of a Counselor is a continuation of a series of presentations first recorded during the 2022 Mental Health Connections conference. This year's recorded interviews will feature counselors from six countries who are studying counseling in the United States. Shabari Battacharyya from India, Dr. Hana Meshesha from Ethiopia, Sabina Sabyrkulova from Kyrgyzstan, Laetitia Tokplo from Benin, Mihee Woo from South Korea, and Lindai Xie from China discuss local mental health challenges in their home countries and strengths, traditions, and coping mechanisms that help people meet those challenges as well as observations about how to contextualize what they are learning in the United States to best provide services to clients from their home countries.
In a new development, NBCC has named Global Livingston Institute (GLI) its first microfunding recipient of the conference. GLI is a nonprofit organization based in Denver, Colorado, that conducts work in East Africa, specifically Uganda and Rwanda. Its mission "is to educate students and community leaders on innovative approaches to international development and empower awareness, collaboration, conversations and personal growth."
Dr. Jamie Van Leeuwen, GLI's founder and CEO, and his team began partnering with NBCC though the Mental Health Facilitator (MHF)-Uganda program in February 2014. Since then, GLI has held nine trainings and registered 171 MHFs. The organization also held service-learning institutes in collaboration with NBCC in 2017 and 2018, presented in the 2020 and 2021 Mental Health Connections conference, and was a sponsor of the 2022 conference.
GLI finds ways to support communities through job creation, model farming, destigmatizing public and mental health, and more. By collaborating with colleges and universities, GLI also executes programs in Eastern Africa, including the Global Scholars Fellowship Program, immersion trips, internship programs, and youth summits. Together, NBCC and GLI are working to gain a better understanding of the efficacy of the MHF program in Uganda and make a more positive impact.
Dr. Wendi Schweiger-Moore, Director of NBCC's Global Capacity Building Department, emphasized NBCC's intention to engage conference participants in a variety of ways with efforts toward equity building in global counseling and mental health.
"GLI is a longtime partner of NBCC and engages in thoughtful and deliberate capacity building within the communities they engage with. This microfunding opportunity allows registrants to learn about these types of efforts and contribute, if desired, at whatever level is meaningful to that person."
Registration fees for the conference support NBCC's MHF program. Learn more about the conference here.