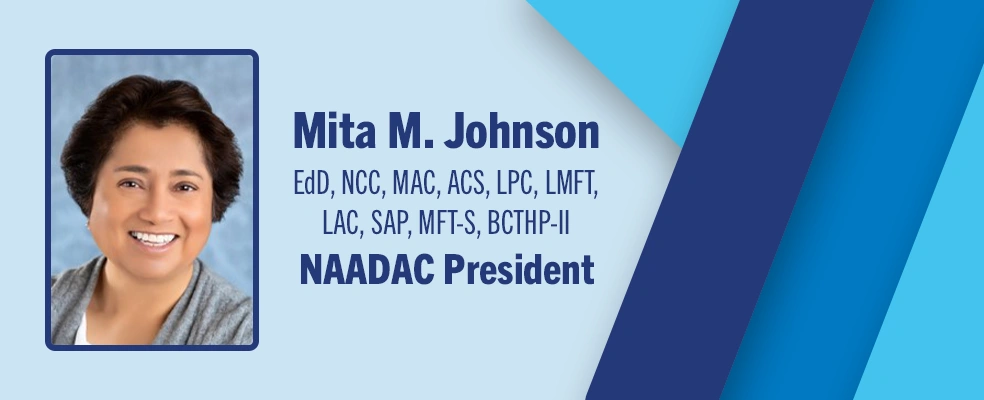 In 2021, drug overdose deaths in the United States topped 100,000, according to research by the Centers for Disease Control and Prevention (CDC), and that number continues to grow. Addictions counselors are at the ready and poised to help, and there are many useful resources available to them.
NAADAC, the Association for Addiction Professionals, is the premier global organization of addiction-focused professionals, representing the interests of more than 100,000 addiction counselors, educators, and other addiction-focused health care professionals in the United States, Canada, and abroad. The association has a longstanding connection with NBCC as an Approved Continuing Education Provider (ACEP). The NBCC Foundation in collaboration with NAADAC and the Substance Abuse and Mental Health Services Administration (SAMHSA) funds the NBCC Foundation's annual Minority Fellowship Program for Addictions Counselors (MFP-AC) grant. Each year this program provides up to 40 master's degree-level counseling fellowships of $15,000 for addictions counseling students. This year's deadline to apply is Dec. 31, 2022.
This month we spoke with NAADAC President Mita M. Johnson, EdD, NCC, MAC, ACS, LPC, LMFT, LAC, SAP, MFT-S, BCTHP-II, who shared her views on addictions counselors and their work.
What are your thoughts on the state of addictions counseling today?
Substance use and addictive behavior disorders are consistent and persistent health care issues that continue to relentlessly stalk our communities, families, and individual members. Many in our country suffer from a mild, moderate, or severe substance use disorder (SUD). Though we have had much focus over the last decade on opioid use disorders, alcohol, marijuana, and cocaine/methamphetamine use disorders are longstanding and significant concerns for most communities. The entire continuum of care (prevention—intervention—treatment—recovery support) is needed to address this relentless epidemic.
Today, we have evidence-based, outcome-driven options available for treatment and recovery support that truly can assist individuals struggling with addictions. We have excellent technologies available to meet the client where they are at, and we have promising practices on the horizon that will tackle addiction from a more penetrating and targeted framework. As a profession, we have seen firsthand that prevention works, treatment works, recovery support works, and harm reduction practices work.
What are the biggest challenges that addictions counselors face?
Addiction counselors, with equivalent education as mental health counselors and medical providers, are underpaid in all arenas. In addition, they do not have the time needed for self-care in the face of greater work demands, greater numbers of clients, and more intense presenting and co-occurring concerns. Peer mentors and recovery coaches are also underpaid for the services that they provide. Employers need help developing strategies for counselor retention alongside counselor recruitment.
Many counselors need help with burnout and compassion fatigue. Addiction counselors worked overtime throughout COVID-19 to help clients thrust into a very difficult situation while struggling with a substance use disorder.
How do we determine where the need for care is greatest and improve access to it?
There are numerous monitoring systems that determine where the need for care is greatest (CDC, NIDA, SAMHSA, HRSA, DOC, etc.). Our state single-state authorities (SSAs) that receive money from SAMHSA and HRSA should be working with SAMHSA and HRSA and state governments and state professional associations to determine where the need for care is greatest and improve access to it.
We need to bring quality addiction counseling and peer recovery support to our jails and prisons—we are missing the mark within one of the greatest places of need. We need to offer treatment first rather than incarceration first. We need to improve our funding of prevention efforts. Prevention works in all age groups and educational environments. Yet, we do not fund prevention efforts. The best place to start in terms of preventing an SUD from developing is through prevention efforts.
Educating our community leaders, our health care leaders, and our elected officials would improve access to care; however, without adequate compensation for providers, we will not be able to care for those most in need and vulnerable to SUD. We need to assess for complex trauma, health disparities, co-occurring mental health and physiological health disorders, and other barriers to access.
How do we begin to eliminate the stigma associated with addiction and advocate for clients?
Education, education, education. Public service announcements. Town hall meetings. Professional association community outreach. We need to educate about health care disparities, systemic racism, social determinants of health.
According to Surgeon General Vice Admiral Vivek H. Murthy: "For far too long, too many in our country have viewed addiction as a moral failing. This unfortunate stigma has created an added burden of shame that has made people with substance use disorders less likely to come forward and seek help. . . . We must help everyone see that addiction is not a character flaw—it is a chronic illness that we must approach with the same skill and compassion with which we approach heart disease, diabetes, and cancer. . . . Above all, we can never forget that the faces of substance use disorders are real people. They are a beloved family member, a friend, a colleague, and ourselves."
Mita Johnson, EdD, NCC, MAC, ACS, LPC, LMFT, LAC, SAP, MFT-S, BCTHP-II, has been practicing mental health, marriage and family, and addictions counseling for the past 30 years. She earned her doctorate in counselor education and supervision and is a core faculty member in the School of Counseling at Walden University. Dr. Johnson also has a thriving private practice where she provides telebehavioral health services, clinical supervision, counseling to our military, and addiction-specific training and education. She has been an active member of NAADAC for the past 15 years and served as NAADAC's ethics chair before beginning her current term as president.