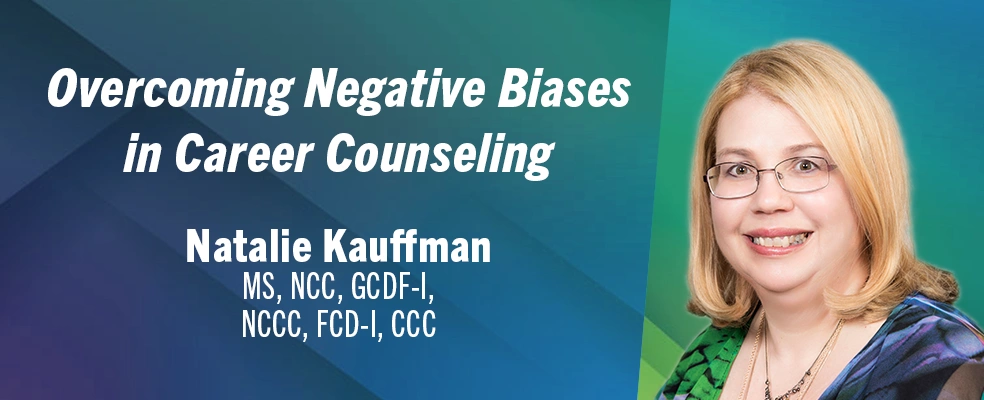 Biases perpetuating the negative stereotypes and generalizations they typically bring to mind are an unfortunate part of our society. When we fail to recognize our own cognitive and cultural biases, we limit our ability to relate to others as counselors and as individuals.
In the realm of career counseling, inequitable beliefs and subjective attitudes toward clients may lead to missed opportunities, job dissatisfaction, underemployment, a lack of engagement, and other concerns. Furthermore, research has shown many links between a person's job satisfaction and their mental health and well-being.
To work with clients fairly and effectively, self-awareness and cultural sensitivity are imperative, says Natalie Kauffman, MS, NCC, GCDF-I, NCCC, FCD-I, CCC, a career counselor in Towson, Maryland.
"Because career counseling incorporates being able to research and integrate both the current and potential future workplace needs in general, and for specific career fields, a career counselor needs to be able to think critically to better understand the complexity of each client being served.
"It's also important to keep in mind that career counselors provide services to both the currently employed as well as the soon-to-be employed," Kauffman continues, "so once again, current and future workplace reality always needs to be integrated with a career counselor's identified cognitive and cultural biases."
Common biases may pertain to a person's race, nationality, age, language, gender identity, name, education level, disability, size, and multiple other characteristics. A counselor may, for example, consciously or unconsciously discourage certain populations from pursuing work in a field in S.T.E.M., underestimate the abilities of a client without a college degree, or show favoritism to a client more like themselves.
To better understand the broad scope of bias, Kauffman references the Cognitive Bias Codex, an eye-opening and regularly updated resource that currently estimates 180 biases that may affect our memory, perception, and decision-making. This circular chart divides them into four quadrants:
What should we remember? Biases that affect our memory for people, events, and information
Too much information: Biases that affect how we perceive certain events and people
Not enough meaning: Biases that we use when we have too little information and need to fill in the gaps
Need to act fast: Biases that affect how we make decisions
Ongoing education is essential to broadening our horizons, Kauffman says, adding that there are many easily accessible resources available.
"We 'retrain our brains' with lifelong learning through reading counseling, career development-related, human resource-related, and other professional-related publications such as newsletters, magazines, and social media postings; reviewing multifield-related research studies and journals; and participating in virtual and/or in-person, multifield-related activities such as conferences, roundtables, seminars, webinars, white paper development, and workshops" Kauffman says. "Professional association servant leadership activities and advocacy efforts at the local, state, regional, national, and global levels are excellent, lifelong learning opportunities, too, and provide real, hands-on brain retraining."
Kauffman explains that on a more granular level, cultural biases that may affect career counselor/client interactions are based upon the premises that we all:
are multicultural individuals.
possess a personal, political, and historical culture.
are affected by sociocultural political environmental and historical events.
interact with multiple factors of individual diversity, including how the weight of each difference affects a specific client. "For example, for some clients, family plays a strong role in career decision-making, while for others, a career direction is all about the complete salary package, including educational benefits, of a given employment field," she says.
She offers some recommendations for career counselors.
"When spending professional development dollars, look for offerings that include hands-on or experiential learning opportunities.
"Today's world operates globally," Kauffman continues. "This means incorporating the use of global cultural competence and interculturalism, too. Take the time to include global interactions in your career development work. Consider joining and/or virtually or in-person participating in a meeting, webinar, or conference of the National Career Development Association (NCDA) Global Connections Committee, the Asia Pacific Career Development Association (APCDA), the currently forming Arab Career Development Association (ACDA), the Canadian Education and Research Institute for Counselling (CERIC), or the International Association for Educational and Vocational Guidance (IAEVG), to name a few."
Natalie Kauffman, MS, NCC, GCDF-I, NCCC, FCD-I, CCC, has been a career counselor for more than 35 years. She received her bachelor's degree in animal behavior from Bucknell University and a master's in applied behavioral counseling with a concentration in career counseling from The Johns Hopkins University.