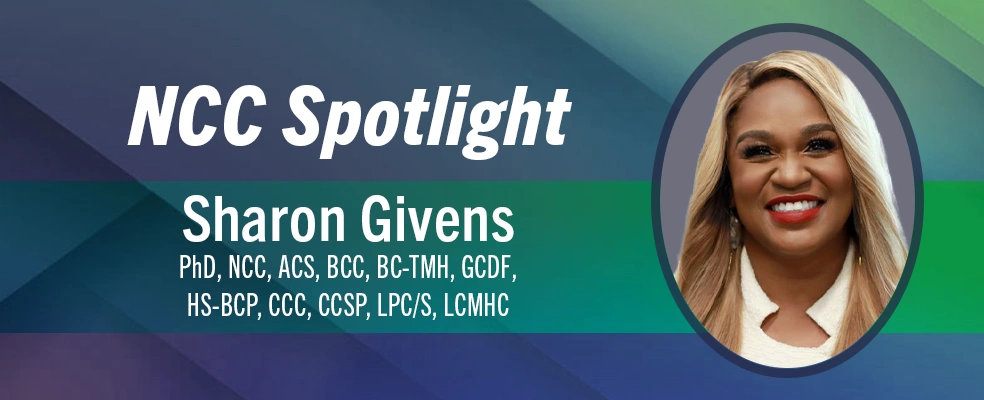 When she enrolled at Winthrop University, Sharon Givens, PhD, NCC, ACS, BCC, BC-TMH, GCDF, HS-BCP, CCC, CCSP, LPC/S, LCMHC, planned to study computer science. It didn't take long for her to realize she'd be much happier helping others to navigate their career paths and discover their passions, and she decided to pursue a career in counseling.
Today, she maintains a private practice focused on the intersection of career development and mental health, and she also teaches career-related courses.
"My ultimate goals for my clients are to help them reach their potential, engage in work they love, and remain mentally fit," she says. She recently shared her thoughts about her work as a career counselor and why she finds it rewarding.
What made you decide to become a counselor and later, a career development facilitator?
I did not know early in life what I wanted to do. There were several careers that I found interesting as a child, but I certainly did not know what they entailed. I believe I am a prime product of happenstance, and it all worked out in the end. I have always enjoyed helping people in some capacity and was told that I had an empathetic soul. I originally majored in computer science when I went to undergrad. My only reason for doing so was because my older brother received a degree in computer science. I quickly realized that I had no real interest or connection to the major. I was enrolled in a psychology class, and my professor recognized my passion for the concepts and encouraged me to pursue a major in a helping profession.
What made you decide to obtain the Global Career Development Facilitator (GCDF) credential in addition to the NCC?
Upon completion of the Facilitating Career Development Program, I wanted to take the next step and obtain the GCDF credential. I thought it was necessary to have the credibility as I worked to brand myself as a career development professional and national thought leader. Preparation is the key to effective career development services. Helping others make important decisions regarding the trajectory of their work life requires a unique skillset, competencies, and resources.
What are some of the benefits of having both the NCC and the GCDF?
I believe it is important for clients and potential clients to know that the practitioner has met a certain level of standards to support others with mental health and career development issues.
What would you say to someone who is considering earning the GCDF?
Earning the GCDF is essential if you would like to help others make career and life decisions. This credential signifies that you have the knowledge and the tools needed to assist students and adults with vocational and educational planning to compete in today's global economy.
What do you enjoy most about your work?
I enjoy helping clients reach their transformational goals. It is very rewarding to play a role in others' long-term success. Ultimately it is a gratifying experience to enable clients to become more self-aware, discover their purpose, and create and carry out a plan for a career transition.
What are your biggest challenges?
My biggest challenges are getting people to recognize the value of career development services across the lifespan. Many individuals believe that career counseling is just assisting others with job searching, résumé writing, and mock interviewing. These services may be a part of the process, but the greater facet of the work is establishing the notion that people can form a career identity based on their self-concept and environmental factors.
It can also be a challenge to disturb the client's origin of beliefs regarding work and career. Some clients find it difficult to see new perspectives and expand their options. In many cases this stems from lack of self-confidence, exposure, and/or ingrained thinking.
Any final thoughts about your work as a career counselor?
I absolutely love what I do. It is important to continue to advocate for career services across the lifespan. Career counseling is undeniably a process that can help individuals get to know and understand themselves and the world of work in order to make the most informed career, educational, and life decisions.


Sharon Givens, PhD, NCC, ACS, BCC, BC-TMH, GCDF, HS-BCP, CCC, CCSP, LPC/S, LCMHC, is Chief Executive Director of Visions Counseling and Career Center, CEO of Training Visions, and a past president of the National Career Development Association. She received a bachelor's degree in social work and psychology from Winthrop University, master's degrees in counseling psychology and adult education and training from North Carolina A&T State University, a doctoral degree in curriculum studies and counseling from the University of South Carolina-Columbia, and a graduate certificate in psychiatric rehabilitation from the University of South Carolina School of Medicine. She is currently completing the leadership and coaching program at Harvard University.