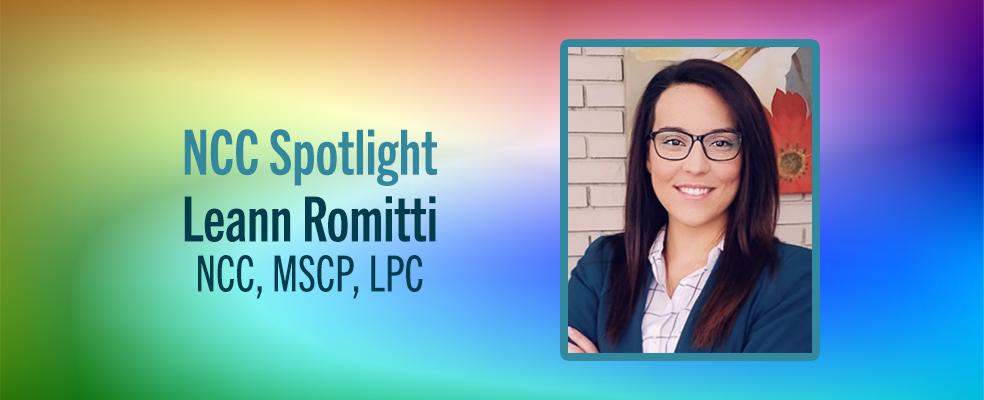 When Leann Romitti, NCC, MSCP, LPC, opened her counseling practice in Pennsylvania in October of 2018, her mission was to create a safe space to help women, BIPOC, and the LGBTQIA+ community to break free from trauma, find their voices, learn about wellness, and make lasting changes in their lives.
As the owner of Empowered by Counseling in the Bethel Park area, Romitti continues her work with clients every day. Her life experience has not only informed her career, it has also affirmed her conviction that her work is more than just a call to serve.
As a young person growing up in a small town in West Virginia, Romitti felt different and out of place as a member of the LGBT community. "I didn't know any other gay people. I just always knew that I didn't fit in, and I really struggled with that," Romitti says. "Whenever I realized who I was and went through the coming out process, my whole life made sense."
After graduating from high school, she was anxious about going off to college and meeting people, so she began seeing a counselor who helped to push her beyond her comfort zone. At the time, Romitti worked at a local concert venue, and her counselor encouraged her to introduce herself to a coworker and have lunch together. What happened next was an eye-opening coincidence.
"I ended up meeting another young woman who was also heading to Bethany College and would be living in the same dorm, on the same floor," she says. "I created a friend out of that experience, and it was wonderful. My therapist had me doing all these things I never thought I could do. Counseling gave that to me, and that's when I decided I wanted to help other people."
Romitti earned her bachelor's degree in psychology in 2010 from Bethany College in West Virginia, where she also minored in women's studies. She then moved to Pittsburgh, earning her Master of Science in Counseling Psychology (MSCP) from Chatham University in 2012, and began an internship at Persad Center, a community mental health clinic for LGBTQ and HIV-positive clients. As part of her training there, she provided therapy and assessments, coordinated support groups, took calls on a 24-hour crisis line, and worked closely with psychiatrists and medical doctors to help clients.
Soon afterward, Romitti became a youth specialist at Persad Center, where she developed and implemented a suicide prevention program and later became a clinical therapist, working with the LGBTQ and HIV-positive/AIDS populations while also serving as an adjunct professor at Bethany College. She next worked as a clinical therapist at a drug and alcohol intensive outpatient program before pursuing her PhD in counselor education and supervision, which she is on track to receive from Waynesburg University in 2022.
Members of the LGBT community experience another level of difficulty when seeking mental health treatment, Romitti says.
"When you grow up and you're different and you don't know why, as an adult, it brings with it a whole host of issues that you may have never realized," she says. "When working with LGBT clients, there is a level of development that they typically don't go through until they're in that moment, whereas cis-heteronormative people usually go through these identified stages of development. Things can become stunted and lead to someone not feeling good enough, experiencing a loss of identity, a lack of confidence—all these things that typical children and teens inherently experience. There's something that is always missing until you come out and discover who you are."
Romitti recognizes the importance of having a space for clients to just be themselves and acknowledges how difficult it is for clients to put themselves in front of someone who doesn't understand or isn't trained in understanding what they are going through.
Though the COVID-19 pandemic has afforded telehealth opportunities to many clinicians and their clients, Romitti says that accessibility to mental health care remains a major concern as society returns to normal.
"People have had access to care that they may have never had before," she says. "There are so many populations now that are able to be cared for, and as clinicians, overnight we innovated, because we are called to serve, and we were not going to let a client fall behind. I would hate for us to go back to a world where people are locked out with limited or no access to care, especially when they've been given a taste of creating change in their lives and being able to take better care of themselves."
Telehealth has provided people in the LGBT community with an additional level of safety and security, Romitti says. "If you're someone who is not OK with being out, right now you don't have to walk into a therapy practice that specializes in LGBT issues. You don't have to out yourself, or fear outing yourself, or be somewhere you don't feel comfortable."
As a doctoral candidate, Romitti also supervises graduate students and people working toward state licensure in Pennsylvania.
"Supervision is vital to our work and our development as clinicians," she says. "I find it to be one of the most important things that we can do as clinicians in order to do the work appropriately," Romitti says. "It is extremely important that supervisors are trained, that they understand the role that they play and the responsibility that they hold, and that they approach supervision as importantly as it is to the development of the clinician. Even if you've been in the field 25 years, there's still something to learn and gain from, either about yourself, or a topic, or a client, and we need a community of counselors that we can lean on, consult with, and supervise with. As clinicians, we're never done developing and learning."
After she receives her PhD, Romitti hopes to teach.
"It is so important that we have passionate, competent clinicians in the field," she says. "I don't feel like anyone can do this work well if they don't like doing it. And even with all the standards we have established, we're still going to have people who don't do things the way they're supposed to. When clients tell me about these negative experiences, I think, 'I wish I were in a classroom where I could build a generation of counselors who are passionate, competent, and want to do the work—counselors who understand their responsibility to the client and to themselves.' Sometimes we forget that clinicians are human beings."
LGBT allies should make their voices heard and show their support, Romitti says.
"Ethics are extremely important," she says. "My being a visible representation of the LGBT community is important, too. I think that leaders in the community need to be out or 'out allies.' Clients see that, they are searching for that, and they need that support. We are looking for symbols of safety such as rainbows and visible statements, so we know who we can share ourselves with. LGBT people are out and vulnerable all the time, and if you're an ally, being able to stand out in solidarity with them is extremely important."
Editor's Note: Spotlight is an occasional feature on board certified counselors with a story to share. Feel free to send your ideas for Spotlight candidates to newsletter@nbcc.org.