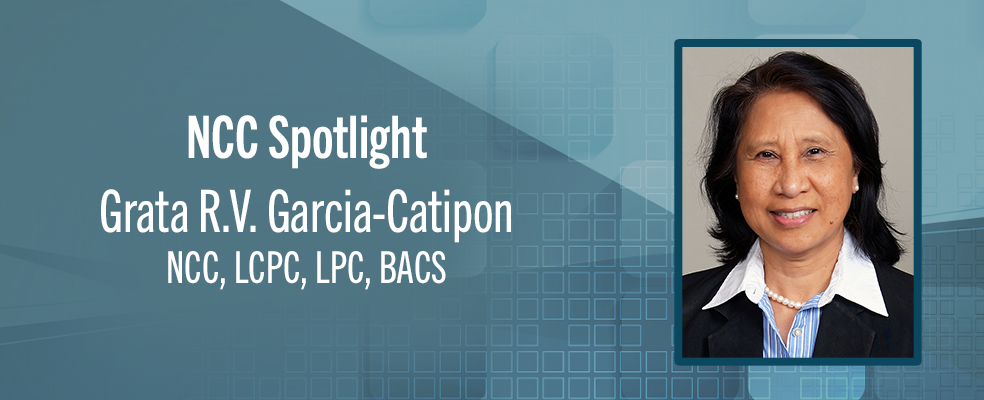 As the granddaughter of a regional military commander, Grata R.V. Garcia-Catipon, NCC, LCPC, LPC, PSC, BACS, has understood the value of a structured environment since she was a young girl growing up in Luzon, the largest island in the Philippines.
"I was too young to understand the military culture, but I internalized the self-discipline and structured environment, which still serves me today," she says.
Today, Garcia-Catipon is a contract military and family life counselor for the United States Department of Defense, where she has worked since 2015. She currently provides family counseling in southern Tokyo, Japan.
Her family background and life experiences as a military spouse have shaped her approach to her work, she says.
"I understood what it meant to serve this country, just as my grandfather and husband did—country first, before self and family."
While earning a bachelor's in education with an emphasis on English and theology from the Divine Word College in the Philippines, she lost a good friend and classmate from suicide and decided to pursue a master's degree in psychology from Manuel Luis Quezon University while working full time.
She received training from the Veteran's Administration and worked in several positions before having the opportunity to pursue her dream at a social services agency.
"There, I became more compassionate with the disadvantaged groups of out-of-school youth, unwed mothers, and unemployed women," she says. "I also learned to serve victims of natural disasters, such as typhoons and earthquakes. I became an advocate for civil rights and social justice when I established a nonprofit organization and worked with many humanitarian international agencies in the midst of political unrest in the country."
She then reached a turning point after some major life changes.
"I left everything behind and immigrated to the United States, where I started another reality of life," she says. "I became a displaced homemaker when I married a service member and we started a family. I experienced several and frequent military moves, relocation adjustments, transitions, and other military life matters while away from my homeland and family."
While supporting her husband in his career transition after his time in the military, she held two jobs and balanced family, work, schooling, and community activities, which made her determined and resilient, she says.
"During my training at a challenging high school, I encountered cases of suicides, sexual assaults, and rape. That led me to pursue further my studies in clinical counseling, and I started volunteer work for a suicide hotline and accepted pro bono cases while obtaining additional training in substance abuse, domestic violence, and at-risk behaviors. I built my own practice outside my profession as a secondary school counselor in the county but continued to provide pro bono services."
She received a second master's degree, a Master of Education in school counseling, from Bowie State University and completed postgraduate studies at Hood College and Trinity University Washington.
In addition to her private practice, Garcia-Catipon has worked as a secondary school counselor and a visiting counselor for at-risk students and English speakers of other languages in Maryland. She has served as a co-facilitator for the Rainbow Youth Alliance of Rockville and a sponsor for the Gay and Straight Alliance and Asian Pacific Student Association. She has also been affiliated with the American Mental Health Counseling Association, the American Psychological Association, and the Maryland School Counseling Association.
Garcia-Catipon has had several notable accomplishments and received recognition here and abroad for her work.
She was chosen by a garrison commander's wife in Germany to facilitate a COVID-19 presentation during their first meeting with military spouses in the midst of the pandemic lockdown. She was also honored by military children and spouses from Walter Reed National Medical Research Center, who presented her with hats from different branch services that are usually only given to the installation command. She fondly remembers when for the first time, a military command from Fort Detrick in Frederick, Maryland, traveled to meet military children at the school where she was assigned during Military Child Month in April 2016, and when her advocacy efforts resulted in former President Barack Obama writing letters back to military children several times.
Garcia-Catipon enjoys helping people from all walks of life and different cultures, advocating for human rights, and providing free counseling services to economically disadvantaged groups. The garrison chaplain has appointed her to lead their team in partnering with community health providers, and her colleagues have extended their appreciation for their work. Working with military families and children will always be her passion, she says.
"As someone who comes from a military family, I have a special interest in those who are serving and protecting our country. Military life is complex, and it is less understood as compared to civilian life. Military families face unique challenges. There are issues related to stress and pressures identified with adjustment: frequent moves, deployment, transition, reintegration, separation, financial management, relationships within the family and workplace, and more."
Now that her children are independent adults, there's not a dull moment in her life when she's not working or volunteering, and she's often on the go, she says.
"I love traveling. I have traveled to 18 countries; some are related to my overseas work, and some are for pleasure. I also love spending time doing outdoor activities like hiking and gardening, and lately, I have been getting into water activities like kayaking and paddle boarding."