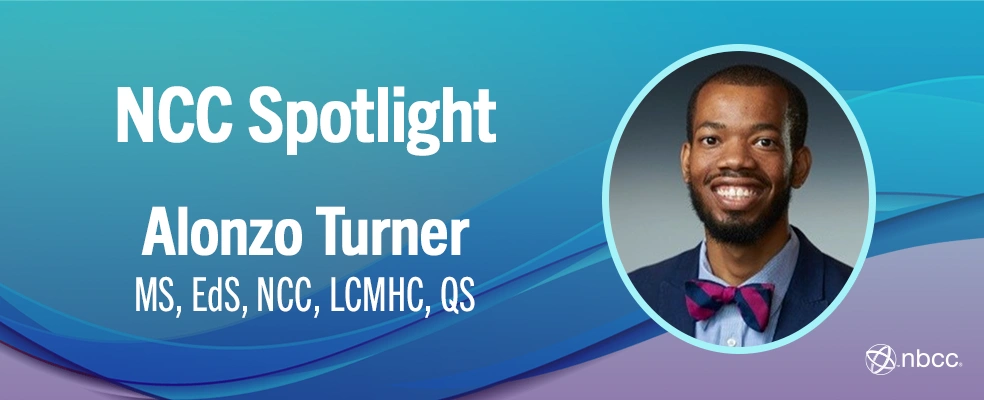 Alonzo Turner, EdS, MS, NCC, LCMHC, QS, is a doctoral student at Syracuse University pursuing a PhD in counseling and counselor education. Originally from Raleigh, North Carolina, Turner's journey toward a career in the counseling profession was not a planned one, but rather an epiphany of sorts.
Turner received his Bachelor of Arts in mass communications with a concentration in radio/television broadcasting from Winston-Salem State University (WSSU). He credits meeting Dr. David J. Ford Jr., a resident advisor at the time pursuing his Master of Science in counseling at Wake Forest University in Winston-Salem, North Carolina, with this realization. "He is undoubtedly the first branch in my counseling genogram," says Turner. "While working in the radio/television industry, I felt a yearning to do more than broadcasting and discussing music and sports. I had an innate desire to impact the lives of people on a more personal level, and this led me to the counseling field."
Upon graduating from WSSU, Turner forged his new path to the University of North Carolina at Greensboro (UNCG), where he received a Master of Science in mental health counseling, and then to Syracuse. When asked what he finds to be the most rewarding aspect of the counseling profession, Turner states, "I love being entrusted to support people as they strive to achieve their goals. It is a privilege to see students and clients grow while fostering an environment that is conducive to their respective journeys."
Though Turner's commitment to the counseling field remains steadfast, it has not been without its challenges. As a first-generation Black student at UNCG and Syracuse, which are primarily White institutions, his cultural experiences vastly differed from those at WSSU, which is one of 107 Historically Black Colleges and Universities (HBCUs) in the United States. From the classroom to community and beyond, HBCUs are intentional in how they center and honor Black scholars. Turner once again credits peer and professional support in helping establish his own identity as a counselor educator at UNCG and Syracuse. "Those support systems are crucial," states Turner, "especially at the graduate level where the coursework and academic autonomy is more rigorous."
Turner is currently approaching the dissertation phase of his doctoral program at Syracuse, where he is a 2022 recipient of NBCC's Minority Fellowship Program (MFP) in doctoral mental health counseling. Speaking to his MFP experience, Turner coins it as "FIRE" (fruitful, inspiring, reciprocal, evolutionary). His research interests include intersectional feminism, womanist theology, multiculturalism, and examining how the experiences of Black millennials in Black church culture impact their religiosity and spirituality. Turner's current study, The Preyers of the Righteous, consists of interviews with Black millennial women who have shared their lived experiences of encountering spiritual abuse and spiritual bypass in Black church settings. This phenomenological study examines how such instances are causing Black millennials to decolonialize their religious beliefs and spiritual practices. Thus far, participants have shared how anti-Blackness has been perpetuated in Black church settings through personal encounters with misogyny, sexual violence, homophobia, and xenophobia. At the NBCC Foundation's Bridging the Gap Symposium: Eliminating Mental Health Disparities and the Association for Spiritual, Ethical, and Religious Values in Counseling (ASERVIC) conference, both held in June, Turner presented this study and plans to submit it to the American Counseling Association (ACA) conference and other conferences and journals as well.
As Turner continues to pave his own path, the entire counseling profession benefits. "As I use this research to finish my dissertation, I plan to support advocacy efforts to prioritize spirituality as an essential component in counselor education curriculum," states Turner.
Turner encourages counselors-in-training and individuals considering entering the profession to take time to explore their own identities and values. He believes this will shape their personal and professional development and impact "the seats in which you sit and how you structure, educate, advocate, teach, and serve the profession in the classroom and community."