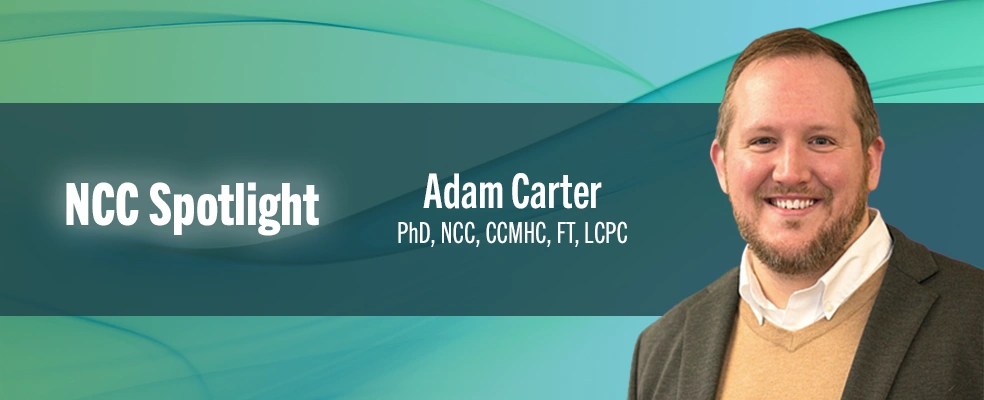 After working as a preschool teacher, Adam Carter, PhD, NCC, CCMHC, FT, LCPC, saw a need and decided to become a counselor for children and adolescents. Today, he is the National Clinical Director of the National Alliance for Children's Grief (NACG). He discussed his work as a counselor and counselor educator, and the importance of self-care for counselors.
What do you enjoy most about your work?
I get to help create and hold space for children and adolescents during a time when they may be experiencing thoughts and feelings that they're not sure what to do with. Through grief work, we get to enter that sacred space with their invitation, and we get to be present as they navigate their thoughts and feelings, their reactions and responses, and their new life after a loss and during their grief.
What are your biggest challenges?
Hearing children's grief stories has not been the part that really got me; it is the lack of support that young folks have around their grief, or sometimes the weaponizing of their grief that is hard for me. It's hard because you want to be present and advocate for the child, but sometimes the adult caregivers in the system don't know how, or maybe are not capable at the time of supporting the child, and that's a hard thing to experience.
In what ways is counseling children experiencing grief different than counseling grieving adults? Do children grieve differently?
It is different, because children do not have as much autonomy over their lives as adults do. When a child is experiencing grief, they don't have as many faculties to be able have their needs met. For example, if we need to take a day off work, we can call in. We get to make that decision within the context of a system as adults. If children want to take a day off school, that decision ultimately is not up to them; it's up to the adult caregivers in that system. The way that children experience grief and the way they process and live with it is largely influenced by the adults or caregivers in their system.
How can counseling children in grief affect us as counselors?
Working with folks who are experiencing grief is a heart song, a calling. There is something unique inside of you that is seeking to be with, hold space for, and support individuals who are grieving. I don't think every counselor can do grief work, but those who do often describe it as a calling. I think the same thing is true with children. Not everyone can work with children, and not everyone chooses to do so.
If you are called to this work, make sure you receive consultation and supervision from someone who can support you with the grief aspect of things, because, again, it weighs very heavily on a clinician. It's very similar to trauma work. Grief and trauma are not synonyms, but in this way, they're very similar. Another key factor is to make sure that you have a good support system around you socially so that when you do not want to talk about your work, you have support to help you reconnect to the world.
What other self-care measures do you recommend for counselors to prevent compassion fatigue?
If you're not doing this work at a grief center where it is your exclusive clientele, make sure you're spacing out sessions with clients who are experiencing grief throughout the week, as opposed to seeing them all in one day. It's extremely taxing and can lead to burnout. You can end up dreading that day, so make sure that it's scheduled to where you, as a clinician, have the head and heart space to be with those clients. A big part of self-care is making a plan and then doing it with and on purpose.
Are there any resources you'd recommend for counselors who would like to gain a better understanding of counseling children who are experiencing grief?
I recommend the National Alliance for Children's Grief. There are a lot of free resources there that clinicians can use, and there are also good materials there that we can share with families and clients, or even in school districts and with teachers.
And finally, what do you like to do when you aren't working?
I love to go camping. I love to be out there and disconnect, because what you do when you're not working is an important thing for grief counselors to consider. There are some of us in the field who may use our time off to read and study about grief. If we're still using our free time to put ourselves in those grief spheres, it doesn't charge our battery as quickly. During our free time, we need to make sure that the energy is going back into us. That is very, very important to our work.
Adam W. Carter, PhD, NCC, CCMHC, FT, LCPC, received his doctoral degree in counselor education and supervision with an emphasis in multicultural counseling from the University of North Carolina at Charlotte. He served as the Trauma-Informed Counseling Graduate Certificate coordinator at Northern Illinois University, where he founded the Center for Grief and Loss at the Community Counseling and Training Center. In 2020, the Association for Death Education and Counseling recognized him as a Fellow in Thanatology, Death, Dying, and Bereavement.