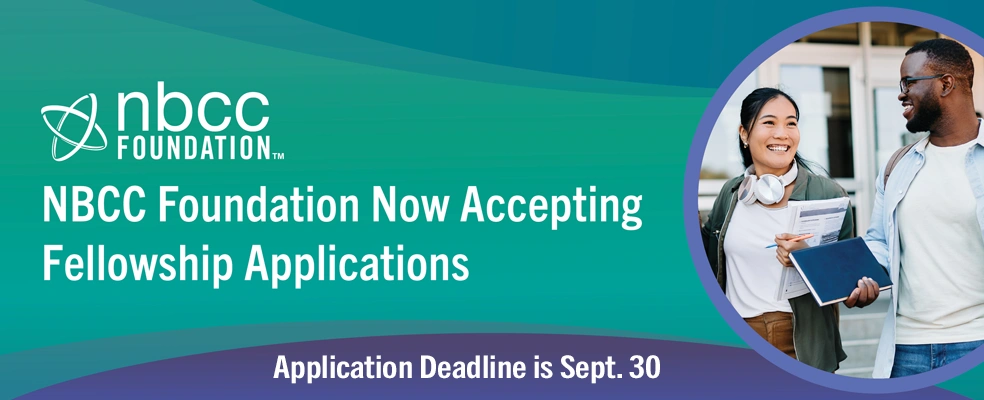 The NBCC Foundation is now accepting applications for the 2024 National Board for Certified Counselors Minority Fellowship Program (NBCC MFP). This unique opportunity is open to current counseling students committed to providing counseling services to underserved and underrepresented communities.
The application deadline for all awards is Sept. 30, 2023. The MFP application process is entirely online. You can find complete details, the application, an FAQ, and other useful resources on the NBCC Foundation website.
Up to 20 doctoral-level fellowships are available to current mental health counseling students. Up to 70 master's-level fellowships are available to current addictions counseling and mental health counseling students.
Fellowship awards range from $10,000 to $20,000. Each fellowship award also includes access to mentors, professional resources, trainings, the NBCC Foundation Bridging the Gap Symposium, and more.
The NBCC MFP is made possible by a federal grant from the Substance Abuse and Mental Health Services Administration (SAMHSA).
NBCC first received the federally funded MFP grant award from SAMHSA in 2012, allowing for the doctoral-level NBCC MFP. Fellowship awards enable fellows to provide leadership to the profession through education, research, and practice benefiting vulnerable underserved communities.
In 2014, SAMHSA awarded NBCC two additional federally funded MFP grants that allow the Foundation to distribute master's-level fellowships on a yearly basis. These fellowships increase the number of culturally competent addictions counselors and mental health counselors available to underserved marginalized populations, with a specific focus on transition-age youth (ages 16–25).
Guiding the NBCC MFP are the mental health counseling and addictions counseling Advisory Councils. Members promote and support the mission of the NBCC MFP. Advisory Council members have demonstrated experience providing mental health or substance abuse services to underserved and underrepresented populations. They help ensure the program and its participants receive the highest level of support and training.