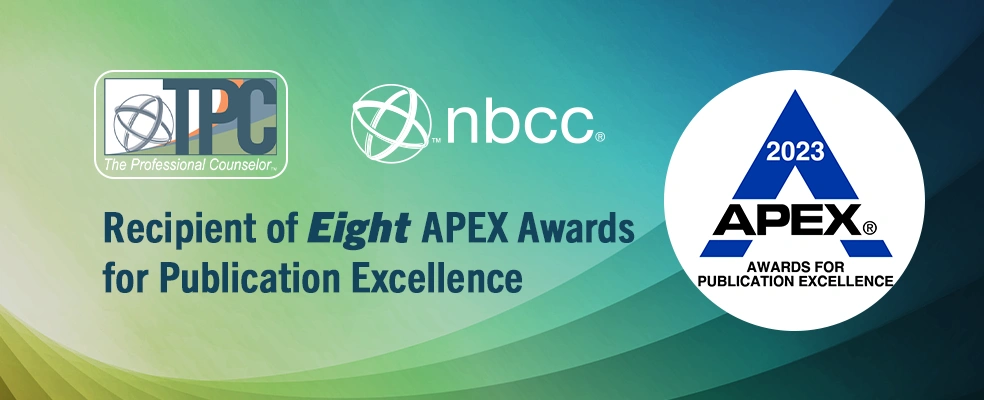 The 2023 APEX Awards for Publication Excellence have been announced, and members of the NBCC Communications Department and the editorial staff of TPC, NBCC's peer-reviewed journal, received multiple awards again this year.
To truly advance and support the counseling profession, NBCC must promote and sustain community and connection. At the heart of community and connection are stories–stories of successes and challenges, stories of experiences and opportunities, stories of counselors. Thus, to foster community, NBCC must share the stories of the stakeholders and propel the lessons learned by the professionals into the spotlight. To propel the stories that connect the people, we must have storytellers and artists.
Kylie Dotson-Blake, President and CEO, notes, "At NBCC and Affiliates, we are beyond blessed to work with a team of storytellers and artists whose creative vision is equally matched by their heart for advancing counseling and global health equity." The work of this amazing team was recently honored with multiple APEX Awards for Publication Excellence and NBCC and Affiliates celebrates their success. Dotson-Blake asserted that the recognition is well-deserved, sharing that "the Communications Department team and Editorial Staff and authors of The Professional Counselor (TPC) bring a creative energy and focus to the work that draws people in and brings the stories to life for readers."
"These awards validate what I have known for a long time—that this team is absolutely remarkable," says Nikki Yannone, MS, EdS, NCC, LCMHCA, Director of Communications. "Each person brings such unique skills to the table that blend together beautifully. The balance between informative and creative has truly elevated our work and I love seeing them learn and grow together as a team and as individuals."
This year marks the 35th year that APEX has recognized excellence in publishing. The competition is sponsored by Communications Concepts, Inc., a company that helps professionals in the fields of publishing, public relations, and marketing improve their publications and communications programs through business writing and communications consulting services and reports. Awards are based on superior graphic design, editorial content, and the ability to achieve overall communications excellence. APEX Grand Awards honor the outstanding works in each category, while APEX Awards of Excellence recognize exceptional entries in each of the subcategories.
NBCC's Communications Department was awarded the following:
Grand Award, Newsletters: NBCC Visions August 2022, Headed Into the Schoolyear With Counselors Leading the Way

Grand Award, Electronic Media: Mental Health Connections: Building a Global Counseling Community Keynote

Award of Excellence, Newsletters: NBCC Visions November 2022, Counseling Military and Veteran Populations

Award of Excellence, Virtual Communications, Corporate Communications, Education & Training, Conference & Meeting Planning: NBCC Certification Program Updates and NBCC Global Conference

Award of Excellence, Writing, Diversity, Equity, & Inclusion: NCCs at Work: Advocating for Equitable Access to Mental Health Care
The editorial staff of The Professional Counselor (TPC) was awarded the following:
Grand Award, Design & Illustration: The Professional Counselor DIGEST, Volume 12, Issue 1

Award of Excellence, Electronic Media, Special Purpose: The Professional Counselor DIGEST, Volume 12, Issue 1

Award of Excellence, One-of-a-Kind Publications, Electronic: The Professional Counselor DIGEST, Volume 12, Issue 3
"It is so exciting to receive multiple APEX Awards for the 11th year in a row!" said Catherine Clifton, TPC Managing Editor and NBCC Director of Professional Resources. "Our communications and publication staff are incredibly talented and passionate about their work, and I'm thrilled that they are being recognized once again."
This year there were more than 1,100 entries from across the United States. One hundred Grand Awards were given in 14 major categories, and 453 Awards of Excellence were given in 100 subcategories.
"We have enjoyed reflecting on all that we have done in the past year and are motivated to raise the bar even higher moving forward," says Yannone. "There is nothing that we can't do."