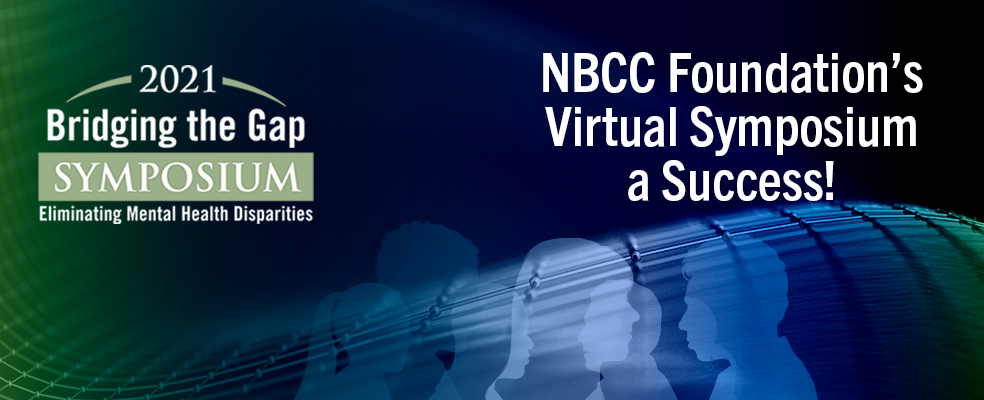 The NBCC Foundation is delighted with the success of its 2021 Bridging the Gap Symposium: Eliminating Mental Health Disparities, which was held virtually Sept. 23–24. This year's theme was "Making Spaces for Unseen Faces," with an emphasis on counseling skills, research, and resources that can improve, strengthen, or enrich the lives of individuals who represent BIPOC, LGBTGEQIAP+, and other typically underserved communities.
"This year's theme was intended to challenge counselors, counselors-in-training, and all mental health professionals in attendance to continue to advocate for clients, communities, and themselves so all underserved and marginalized communities are seen, heard, and ultimately gain better access to the services they need," says Isabel Gomez, Vice President, NBCC Foundation and Professional Services Division.
"Though we were unable to gather in person again this year, we are happy that we were still able to give virtual space for over 400 attendees, including our current 186 Minority Fellowship Program Fellows and Scholars, to connect, learn, and grow in order to better bridge the gap in services for the communities and spaces where they serve," Gomez says.
NBCC Foundation Program Director Dr. Amber Khan says participants were able to connect and cultivate a safe space to build a sense of community and learning.
"That is incredibly difficult to do in an online space, and our fellows, scholars, attendees, and presenters all worked hard to make it a space where growth and connection could thrive," Dr. Kahn says. "We are continually striving to provide opportunities for scholarly research to be shared and for discussions around topics that are often overlooked in larger spaces can take place. The Symposium continues to offer a unique perspective and the chance for students and professionals alike to hear innovative ideas and encourage and challenge all of us as we grow as clinicians, educators, and advocates for those we serve."
First-time participant and presenter Daniel Van Winkle, MSEd, NCC, a school counselor in Rochester, Minnesota, feels that the Symposium made a positive impact on the participants.
"I really enjoyed how engaged and enthusiastic my attendees were," he says. "It felt much more like an applicable workshop than a presentation."
Van Winkle's presentation was titled "MENtal Breakdown: The Stigma of Mental Health for Men."
"I chose to present about the stigma of seeking mental health support for men due to the impact it is having in our communities," he says. "Men and young men alike are afraid to seek help when they are struggling, and it is having a negative effect on the men themselves, and a ripple effect on our country."
This year's keynote speakers were D.J. Eagle Bear Vanas, an internationally acclaimed motivational storyteller whose expertise is in leadership and personal development, and Kiaundra Jackson, LMFT, an award-winning speaker, TV personality, and best-selling author named one of the "10 Black Female Therapists You Should Know" by The Huffington Post.
The Foundation is thankful for everyone's hard work toward making this event a success.
"We are grateful to our many talented presenters and speakers who were able to pivot at the last minute and still deliver dynamic trainings and powerful calls to action to all of us," Gomez says.