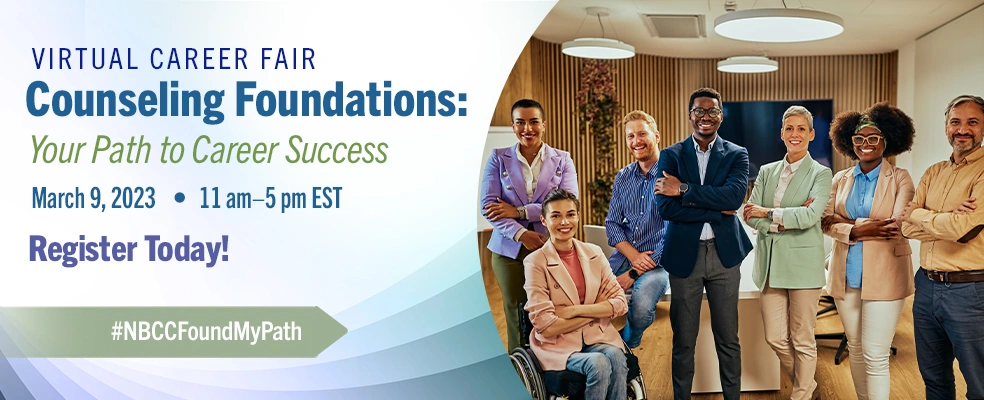 The NBCC Foundation (NBCCF) is proud to host the virtual career fair Counseling Foundations: Your Path to Career Success on March 9, 2023, from 11 am to 5 pm EST. The event brings together skilled counselors and employers from across the country. As a career fair focused solely on counseling, this features only relevant jobs for recent graduates from master's and doctoral counseling programs and for seasoned counseling professionals.
This event is particularly focused on connecting nonprofit organizations, especially those in underserved and never-served areas, with counselors dedicated to and trained for that specific environment, including current and alumni Minority Fellowship Program Fellows and Foundation scholars. In this way, the event supports the Foundation's mission of providing equitable and accessible mental health services to those in need and NBCC's mission of advancing the profession of counseling.
This virtual career fair is free for job seekers. Register online as a job seeker to access on-demand professional development webinars to help you prepare. You can also share your résumé when you register, which allows employers to seek attendees out and schedule chats prior to the start of the event. The career fair offers one-on-one text and video chats with participating employers.
For employers and sponsors, multiple packages are available at different price points, including a special price for nonprofits. Register online to promote your organization and find qualified candidates. The registration deadline for employers and sponsors is Monday, Feb. 27. The sooner a sponsor registers, the longer they will receive the corresponding visibility and marketing.
"We are so excited to offer the Counseling Foundations virtual career fair again in 2023," says NBCC Director of Professional Resources Catherine Clifton. "Even as the world has been opening back up to travel and in-person events, we have heard time and time again how convenient and cost-effective this event is for employers and jobseekers alike."
The convenience of an online event allows job seekers and employers to connect without any travel necessary. NBCCF has listened to participant feedback from last year's event and extended the length of the career fair.
For more information or to register, visit the event webpage.