nbcc-foundation-minority-fellows-physically-distant-deeply-connected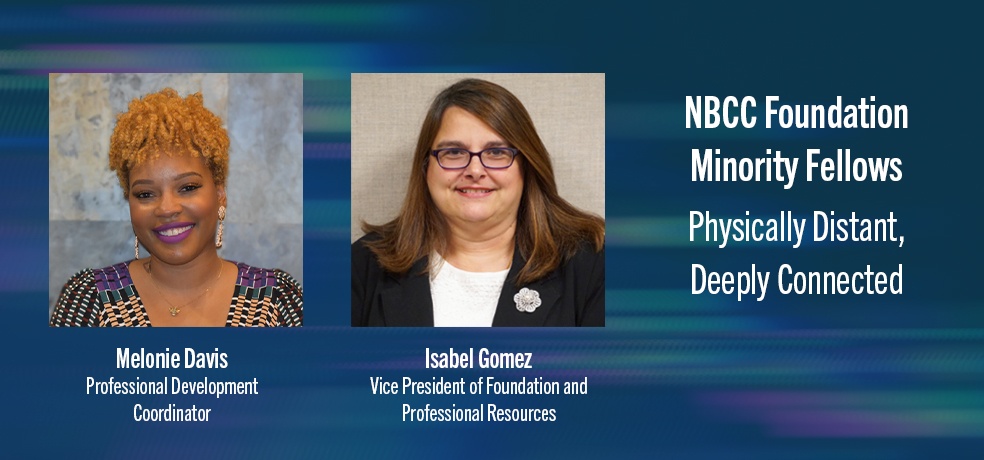 The job of onboarding 91 new Minority Fellowship Program (MFP) fellowship recipients is no small task—and doing so during a global pandemic changes the normal process drastically.
Isabel Gomez, Vice President of Foundation and Professional Resources, says "finding ways to ensure the networking, bonding, and learning from each other that occurs during the in-person events has been a challenge that we have embraced. Thankfully, technology provides us with many avenues to connect our fellows to our staff and to each other."
The goals of the MFP are to strengthen the infrastructure that engages diverse individuals in counseling and increase the number of professional counselors providing effective, culturally competent services to underserved and never-served populations. Learning how to adapt practices, be flexible, and make connections utilizing alternative methods is an asset to this group, and this is precisely what they have been learning in their short time in the program.
"Many of our new fellows have already connected with their cohorts via our Basecamp project portal, a private MFP Fellows Facebook group, as well as a private LinkedIn page," says Melonie Davis, Professional Development Coordinator. "These social media platforms also allow them to connect and network with MFP Alumni. As we onboard our newest cohort, we are giving special attention to ensuring they are engaged with the Foundation and with one another."
Next week, the Foundation is hosting an Introduction and Orientation for the 2020 MFP Fellows. This event would normally be hosted as a part of the annual Bridging the Gap Symposium; however, this year, it will be done virtually. The Orientation will give them a deeper look into the program, their program deliverables, as well as what resources will be provided to them from the Foundation and NAADAC, the Association for Addiction Professionals, who is a collaborative partner for the MFP Addictions Counseling cohort. Foundation staff is working hard to plan engaging icebreaker activities to facilitate the connections fellows would have made with one another as they would have in person.
"We understand that now more than ever we need to remain connected to our fellows, even as we observe physical distancing," says Davis. "The hope is that as we remain physically distant, we use this time to make deep connections with our team and our fellows. We have made a conscious effort to help support our current fellows by extending deadlines for final projects as well as offering to extend our mentorship program with the assistance of Foundation volunteers who are committed to helping us offer our support to the fellows as they complete their fellowship year."
During June 16–19, the Foundation will be hosting their Symposium event as a newly designed Bridging the Gap Digital Experience, which all new 2020 MFP Fellows will attend, as well as the outgoing 2019 MFP Fellows. This event will provide fellows with trainings presented from a diverse group of field experts on the overall theme of "Family Matters," with an emphasis on counseling skills, research, and resources that can improve, strengthen, or enrich families that represent minority and other underserved communities.
"Many of our Digital Experience presenters are MFP Fellow Alumni themselves, and this is a great event to showcase the wonderful work and research our MFP Fellow Alumni are contributing to the counseling profession," says Davis.
Overall, the transitions have been positive for the Foundation. "These changes have allowed us to get creative in how we communicate with each other and our constituents," says Gomez. "We have been challenged to think outside of the box and push ourselves to find creative solutions. I believe that, in the end, this experience will be successful and rewarding for this cohort of fellows and will help us develop our future programming into an even more enriching experience."
---
Share On Social Media:
---
Read more articles