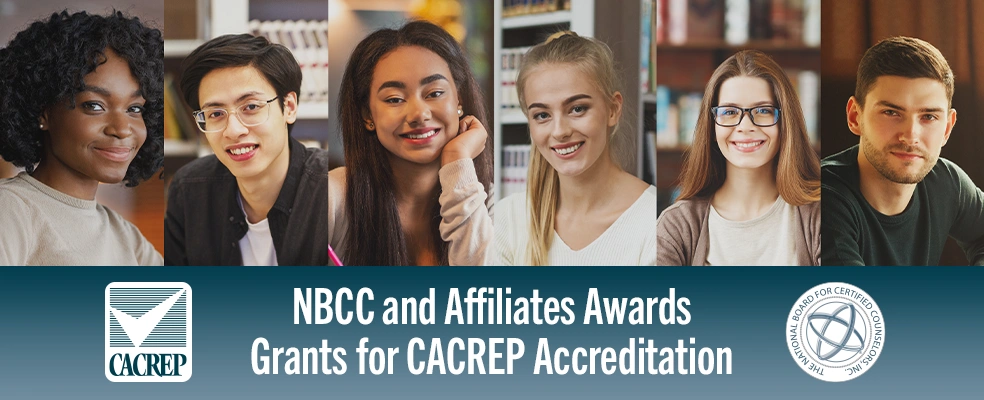 In 2014, NBCC made a significant decision to revise its educational standards for applicants seeking to become National Certified Counselors (NCCs) and will at some point require NCC applicants to have a master's degree or higher from a CACREP-accredited program. NBCC also made the commitment to support programs in obtaining this important accreditation by providing grants to assist with the associated costs. Since its inception in July 2014, the NBCC and Affiliates Grant for Initial CACREP Accreditation has assisted 44 graduate counseling programs by providing funds throughout the accreditation process. Funds are awarded in three phases: $2,500 for the preapplication phase, $2,500 for the application phase, and $4,000 for the site visit phase.
Of those 44 programs, 23 have obtained CACREP accreditation and several others have submitted applications or have planned site visits. Congratulations to those counseling programs for achieving this important milestone!
Four new grants were announced for the 2022–2023 grant period:
The Clinical Mental Health Counseling and School Counseling programs at Bluefield University in Bluefield, Virginia
The Clinical Mental Health Counseling program at Faulkner University in Montgomery, Alabama
The Clinical Mental Health Counseling program at Grand View University in Des Moines, Iowa
The Clinical Mental Health Counseling programs at Saint Joseph's University in Philadelphia, Pennsylvania
On hearing the news, Challen Mabry, assistant professor of counselor education at Bluefield University, responded, "Bluefield University's Counselor Education Program is honored to be selected as a recipient for the 2022 NBCC CACREP grant award. As a start-up hybrid instruction program, we are passionate about preparing exceptional clinical mental health and school counselors, predominately in Southwest Virginia. This grant positions the program to acquire CACREP accreditation, providing the program with the profession's gold standard of excellence and licensure portability for students in other states that require degrees from CACREP-accredited institutions. We are immensely grateful for this opportunity to advance the program and increase access to quality counselor education programs for those residing in underserved communities and prepare trauma-responsive leaders for the counseling profession."
Dr. Heath Willingham, graduate counseling department chair at Faulkner University, says, "Receipt of the CACREP grant award gives Faulkner University's Clinical Mental Health Counseling program the opportunity to better manage costs associated with accreditation, as well as providing improved resources and learning opportunities for our students."
Counseling Department Chair for Grand View University, Dr. Treye Rosenberger, responded that "Quality education in counseling is essential. We are proud to have built a program to help accomplish this goal for our graduate students and the individuals they will soon serve within the community. Our program receiving this grant through NBCC means that our stresses tied to covering our accreditation costs no longer exist and that our funds that would have gone to accreditation costs can be put back into other initiatives to support the student body at Grand View University."
To celebrate the CACREP grant awarded to the Clinical Mental Health Counseling Program at Saint Joseph's University, the faculty hosted a meet-and-greet for students at the close of the fall semester. The leadership team was thrilled to receive an award of such merit to support their commitment to building a program that aligns with the highest distinction of counselor education programs, CACREP.
"Receiving the grant has allowed us the opportunity to identify a CACREP consultant in addition to provide programmatic support during our pre-application phase of accreditation," says Dr. Shenika Jones, Program Director at Saint Joseph's University. "Being awarded the grant has positioned Saint Joseph's University with momentum and a significant step toward joining the rankings of several of the schools within the Association of Jesuit Colleges and Universities who have achieved and maintained CACREP accreditation. Thank you to the NBCC board for recognizing the commitment of Saint Joseph's University to exceptional counselor preparation and training."
Applications for the 2023–2024 grant are currently being accepted, and the application cycle will close on May 31, 2023. Information on the application process can be found on the NBCC website.