nbcc-and-medicare-mental-health-week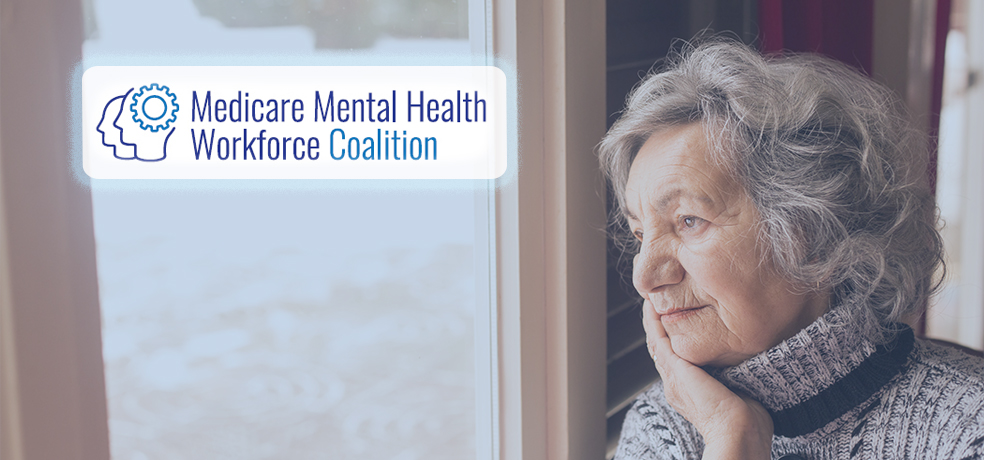 As part of Medicare Mental Health Week that kicked off on March 9, NBCC and Affiliates, a member of the Medicare Mental Health Workforce Coalition, has connected with our board certified counselors and the NBCC Foundation's Rural Scholars to help craft messages in an effort to reach our representatives in Congress. We are urging our representatives to pass the Mental Health Access Improvement Act, which would recognize mental health counselors and marriage and family therapists as covered Medicare providers.
Many Medicare beneficiaries have serious mental health challenges and experience mental disorders that are not part of normal aging, including anxiety, severe cognitive impairment, and mood disorders. The rate of suicide is highest among older adults compared to any other age group, and the suicide rate for individuals 85 years and older is the highest of all—twice the overall national rate. Access to a mental health professional is one of the primary impediments to good mental health care.
NBCC recently conducted a survey to gather information to assist NCCs in writing op-eds in support of the Mental Health Access Improvement Act. The results further highlight the need to expand Medicare and shed a broader light on the struggles counselors and therapists continue to face.
We asked if counselors ever had to turn away clients who were seeking services because they were on Medicare. Unsurprisingly, we saw that a whopping 87% of respondents did in fact have to turn away clients. Of those who did turn away clients, some reported that they have personally turned down upwards of 100 clients. Some were losing as many as 10 clients a month to lack of access, which was attributed to intake processes not being standardized in their clinic, while others addressed the lack of access geographically.
One respondent explained that she lives in an area where there are no providers locally. In her community, clients have to drive 15–25 miles to a larger community via interstate to see a therapist. For the elderly, that can be very stressful.
Additionally, 70% reported they have provided counseling services pro bono or at a reduced rate to clients covered by Medicare, while other professions are being overwhelmed with Medicare clients.
Another respondent stated that she continues pro bono with existing clients and has lost thousands of dollars as clients get approved for SSDI (Social Security Disability Insurance) and backdated Medicare. She stated that she has to pay thousands back to Medicare when that happens.
Passing of the Mental Health Access Improvement Act, which would add approximately 200,000 mental health counselors and marriage and family therapists to the Medicare network, would significantly alleviate the access crisis.
"I don't feel that we should have to turn away anyone because of their insurance carrier," Melissa Lecik writes. "Counseling services are important, especially for older individuals who are transitioning into a new life stage. I have gone to college for six years, am currently obtaining my PhD, and am licensed in the state that I practice. I should be able to provide services to these folks. In many cases, clients have been coming to therapy for years and suddenly they cannot afford services simply because they got older. It is not conducive to healing for either the client or the therapist to just abruptly end that relationship."
Our survey showed many counselors across America could see as many as 10 more clients a month, even up to 250 more annually, if the bill were to be approved. Many reported they could see many more geriatric clients living in nearby assisted living and retirement communities.
"I know a lot of seniors through my husband's work at a retirement community who are depressed," Rosemary Via writes, "but I cannot reach out to them to offer assistance because I know I can't serve them unless they pay out of pocket."
While some counselors are able to offer reduced rates or even pro bono sessions, 37% of our survey participants reported they had to end services with a client because they transitioned to Medicare coverage.
The Medicare Mental Health Workforce Coalition is currently in the middle of its Medicare Mental Health Week, a multiorganizational communications effort to message, tweet, tag, call, and meet with our representatives in Congress to urge them to pass the Mental Health Access Improvement Act.
You can join us by visiting our coalition page and choosing the option(s) available for you to make a lasting impact. We have outlined a variety of ways to engage and advocate for legislative change.
It is crucial for the health of our aging Americans that they continue to receive quality care, no matter what insurance they carry. Another participant of our survey stated that counselors are not able to service a population that is in dire need of services because of lack of mental health access for people covered by Medicare. This person currently has a waitlist of over 100 people. She elaborated, stating that licensed professional counselors are more than qualified to provide these services through their education and the continuing education clock hours required for board certification. She feels as though this vulnerable population is being put on hold for treatment based on an outdated policy.
---
Share On Social Media:
---
Read more articles