nbcc-and-affiliates-welcomes-new-coo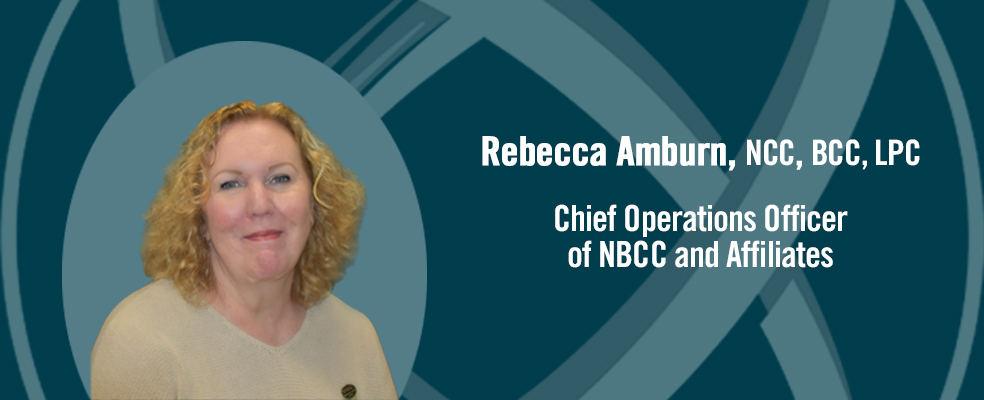 Please join us in welcoming our new Chief Operations Officer (COO), Rebecca Amburn. She is a familiar face to NBCC and Affiliates, as she has served for the past three years on the CCE Board of Directors. Familiarity with our organization and business operations will be extremely beneficial as she transitions into the position of COO.

"We have so many people here that are dedicated to the profession and to our mission," says Amburn. "I am excited to be working with such an enthusiastic team. It's my job to do everything I can to support the great work they are doing, making their job easier and more efficient so they can better serve our credential holders."

Amburn's experience is a unique blend of clinical practice and corporate management. She joins our organization following a 30-year career in the hospitality industry, a career marked by successive promotions through the highest levels of leadership in the industry. Since 2013, in addition to continuing to provide consultation within the hospitality industry, she has operated a private practice as a licensed professional counselor in Atlanta, Georgia. Having served as Senior Vice President for Homewood Suites Brand Management and as Senior Vice President, eDistribution & Customer Relationship Management for the Hilton Hotels Corporation, Amburn's extensive history in leadership allowed her to develop a wealth of professional experience and deep business acumen.

"My career has never been a trajectory toward any one thing," says Amburn. "I am always looking toward new challenges and opportunities to help myself and others grow. I have been able to bring this into my clinical practice, where I specialize in transitional issues. I believe that this experience will serve me well in my new role here at NBCC and Affiliates."

Earlier in her career with Hilton, Amburn served as Vice President, Brand Integration and in Senior Director roles in Central Marketing Services, Full-Service Hotel Performance Support, and Hotel Performance Support. Under her leadership, the work of her team garnered awards from Business Travel News and Travel Weekly and earned multiple mentions in publications such as USA Today and the Wall Street Journal. Through her work in successive leadership roles, Amburn gained extensive experience in revenue management, electronic marketing, brand integration and management, and strategic business development.

"I come to this role with the understanding that I am working with many layers," says Amburn. "I will be serving my team, credential holders, and the public. In pursuit of continued work toward our mission and vision, all of these layers come together. I am excited to be a part of that experience."

As COO of NBCC and Affiliates, Amburn will utilize her expertise to lead the business operations forward, leveraging the resources of the organization to advance the business strategy. We are thrilled to welcome such an informed, respected expert in business operations into the leadership of our organization.
---
Share On Social Media:
---
Read more articles