nbcc-african-union-southern-africa-regional-office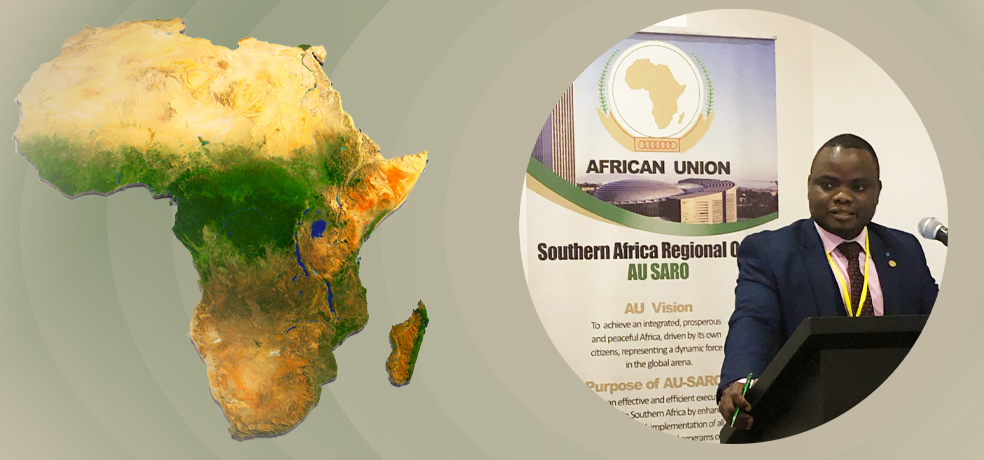 Pictured above is Evansie Lucious Nkotima, FCCA, CPA, MBA, Finance and Administration Officer of the AU-SARO

In late 2019, NBCC and the African Union Southern Africa Regional Office (AU-SARO) jointly sponsored the Conference on Improvement of Mental Health Services in SADC and COMESA Regions. Representatives from universities and ministries in Botswana, Malawi, Mauritius, Mozambique, Namibia, and South Africa attended. Representatives from AU-SARO; COMESA (Common Market for Eastern and Southern Africa); the World Health Organization; the United Nations Development Programme; UNICEF; and the Guidance, Counselling, and Youth Development Centre for Africa were also represented at this inaugural conference.

NBCC was represented by Ms. Victoria Torres, Chair of the NBCC Board of Directors; Dr. Camille Humes, member of the NBCC Board of Directors Executive Committee; Dr. Kylie Dotson-Blake, Interim President and CEO; and Dr. Wendi Schweiger, Director of International Capacity Building.

"It is an honor to work with our partners in the African Union Southern Africa Region to seek solutions for expanding mental health service capacity," said Dotson-Blake. "The need for increased access to mental health services is crucial across the globe and the work with our partners in this vibrant and important region can serve as a model for other global efforts. Assisting in finding attainable solutions to address this need aligns perfectly with NBCC's vision, and we are proud to be able to work collaboratively with this group."

The conference focused on the challenges related to the treatment of mental health and resource allocation toward this issue in Africa. Emphasis was placed on how mental health intersects with the United Nations' Sustainable Development Goals and the African Union's Agenda 2063.

"AU-SARO is a strategic partner between donors and member states in identifying the programs and donors to fund," said Evansie Lucious Nkotima, the Finance and Administration Officer of the AU-SARO. "This has been an effective workshop where member states understood what role they have to play regarding improvement of mental health services in their respective countries. AU-SARO has been and will be there to assist strategically to coordinate the activities and donor funding search. We are delighted and thankful that NBCC is our strategic partner in our programs and hope that they will continue supporting our activities in the near future."

NBCC presented its Mental Health Facilitator (MHF) program as one potential solution to increase mental health service capacity in member countries. AU-SARO and NBCC, partners in increasing capacity, will continue to discuss ways to work together toward meeting mental health needs in Africa with cultural appropriateness and sustainability as long-term goals.
---
Share On Social Media:
---
Read more articles