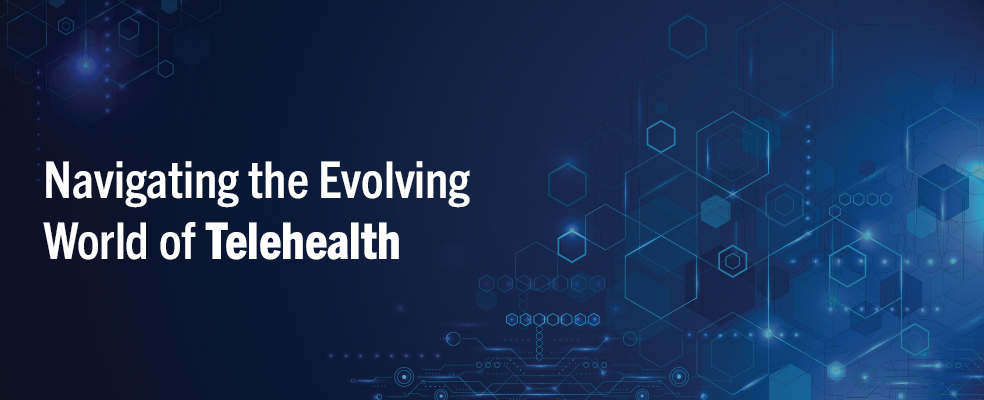 While most of us were on lockdown, COVID-19 drove the need for telehealth services to the forefront. Two years later, they're clearly here to stay. Telehealth services are burgeoning, and easy access has removed barriers to care for underserved communities. As technology advances and more clients request virtual visits, telehealth is evolving to meet needs around the world.
During the onset of the virus in the spring of 2020, many counselors scrambled to provide telehealth care as state licensure boards adopted emergency policies. Today, the field has been expanded and refined, and much has changed over the past 2 years. Even experienced counselors have questions about telehealth's best practices, rules and regulations, and other issues.
To meet this need, the Center for Credentialing & Education (CCE), an NBCC affiliate, has developed the Board Certified-Telemental Health Provider (BC-TMH). This credential allows counselors to expand their professional expertise in telemental health services. Trainings offered by one of our partners, the Telehealth Certification Institute or the New College Institute STAR Telehealth program, provide a solid foundation in best practices, and both of these training programs meet the educational eligibility requirements for the BC-TMH credential.
Because telehealth is a complex topic with laws that vary from state to state, rather than delving into specifics, we've compiled an initial overview of how the field is changing, along with some common considerations for those providing telehealth services. Be sure to check with your licensing board(s) for rules specific to your state.
Platforms
As telehealth has grown in popularity, so have the means to facilitate it. Many of us are familiar with videoconferencing platforms that we've used in classrooms or when working from home; however, these types of platforms may not meet minimum security requirements for telehealth service delivery. That being said, there are a staggering number of platforms that do. Some platforms have features designed specifically for telehealth such as built-in scheduling, waiting rooms, and online client portals. Some offer free trials or are free with limited features; others require contracts and paid subscriptions. A basic web search of telehealth platforms turns up myriad results including paid content. Having a plan for analyzing and evaluating platform options is an important first step.
When gathering information to map out a telehealth plan, it helps to make a list of questions. Is the platform HIPAA compliant? Is it user-friendly enough for clients? Does it integrate billing and payment options? What measures are in place to provide security? Will it support devices other than a computer, such as smartphones or tablets? Is it capable of providing analytics? Is it compatible with other applications used for filing insurance claims and processing payments securely? Counselor educators may also need additional features like the ability to record calls or share their screens with students during class.
Security and Privacy
It's a counselor's responsibility to make sure that clients' private information is secure, but how can you be sure when providing services online? Always read the fine print when researching provider platforms. A reputable vendor will provide a business agreement explaining how a student or client's personal identifiable information is protected. All policies and procedures should be clearly defined.
Telehealth platforms should disclose whether information stored on their servers is encrypted and if they are compliant with the Health Insurance Portability and Accountability Act (HIPAA), both of which are absolute musts. Ask for a detailed explanation of how private information is protected from cyberattacks and what actions are taken if data is breached.
It goes without saying that telehealth clients should be afforded the same discretion as they would during an in-office visit. When setting expectations for clients, determine whether others should be allowed in the room during a call, or what settings are appropriate, for example. It is good practice to verify your client's physical location before each session, in case there is a need to contact emergency services. If a potential client does not have a reliable, private location to meet, they may not be a good candidate to receive telemental health services. If you are not able to provide services in person, be sure to have a referral list.
Portability and Regulations
Great strides in portability are being made where telehealth is concerned. In March 2022, the Consolidated Appropriations Act (H.R. 2471) was signed into law, providing a 5-month extension for Medicare telehealth waivers and approval to receive telehealth services from anywhere in the United States rather than only from specific locations. In addition, the new law provides $62.5 million from the federal budget to fund telemedicine and distance learning in rural areas.
States are also gaining ground by working together to support counselors. Section 7 of the Counseling Compact requires that member states recognize the right of licensed counselors in other member states to practice professional counseling via telehealth under the privilege to practice afforded by the Compact. Nine states have passed the Compact, and many others are pending. After 10 states have joined the Compact, it will go into effect, supporting telehealth services by counselors in member states.
Additionally, the Telemental Health Care Access Act of 2021 seeks to eliminate Medicare coverage restrictions, and Congress has recently designated funding to improve access and equity as part of several new initiatives.
It is imperative that you verify the laws in your state and the state in which the client is currently residing in and physically in (in the case that your client is traveling) before providing telehealth services.
HIPAA Compliance
When the pandemic was declared a national emergency, some HIPAA regulations were temporarily relaxed by the Department of Health and Human Services, enabling counselors to provide immediate care. For example, at the time, some counselors met with clients via audio-only conferences, and some insurance carriers waived copays and reimbursed out-of-network providers.
The public health crisis informed the state of telehealth on a large scale. The provisional period declared an emergency is drawing to a close, and after the aforementioned 5-month extension (H.R. 2471), telehealth will transition to a more definitive phase. Prevention of data breaches and protection of private information will take center stage.
As counselors adapt to these changes and telemental health continues to evolve, NBCC will provide updates on related legislation and ways to help transform the profession of counseling. If you're interested in reading more about telehealth initiatives and newly enacted laws, you'll find a wealth of information in our Grassroots Action Center.
To streamline your efforts to learn the best practices in telehealth, consider pursuing the BC-TMH credential after completing one of the approved comprehensive trainings from programs that provide a solid, professional telehealth foundation.