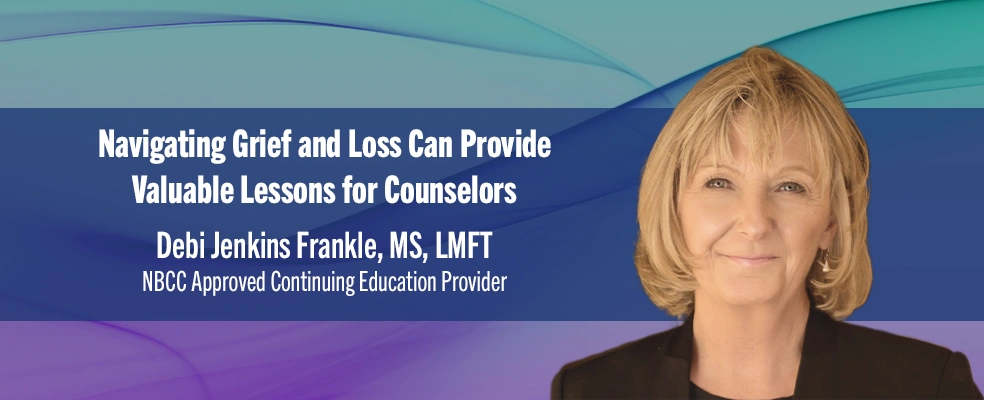 Debi Jenkins Frankle, LMFT, was only 7 years old when her infant sister passed away, a loss deeper than she could comprehend at such a young age. Her mother later died after a short illness when Frankle was 32 years old, and she remembers her world turning upside-down.
"At that point, I had just finished graduate school and started seeing grief everywhere," she says. "That is what spurred me to go beyond my own counseling and seek specific education in loss and grief."
She later founded Private Practice Grief Workshops and Trainings for Mental Health Clinicians in Calabasas, California, where she has trained other clinicians to counsel clients experiencing grief and loss for more than 20 years. Frankle recently shared her insights on grief and what counselors can learn from helping others who are struggling to overcome losses in their lives.
The Multiple Causes of Grief
Loss, transition, and change are what create grief, Frankle says, adding that the contributing scenarios are far more complex than what may initially be perceived by others.
"Some losses have more meaning than others to each person. There is the loss of or change in a relationship with a person—and pets count as people—which can be due to death, but can also be due to divorce, breakup, the last child moving out, adoption, being 'ghosted,' or estrangement," she says. "The loss can also be health-related, such as with dementia, disability, infertility, mental health, or aging."
One loss sometimes results in another, Frankle says.
"There is loss of identity that comes with job loss, retirement, financial changes, or gender transition," Frankle continues. "Loss of safety and trust experiences often include loss of freedom, justice, and the right to respect. There is grief with moving, perhaps due to a disaster, or foster care, or going into a board and care home. When someone experiences a primary significant loss, there can be many secondary losses that are created. When the primary loss is the death of a partner, there can also be financial loss, loss of confidence, loss of hopes and dreams, loss of co-parent, loss of identity, loss of friends, and loss for child's innocence, to name a few."
Types of Grief
In addition to understanding the causes of an individual's grief, it's important to understand the types of grief, Frankle says, offering the following insight.
Anticipatory grief about impending loss involves imagining a loss or death beforehand and attempting to adapt to the consequences when there is often no timeframe. It can feel like a rollercoaster of hopes and disappointments.
In 1989, Dr. Kenneth Doka defined disenfranchised grief as "when a person experiences a significant loss and the resultant grief is not openly acknowledged, socially validated, or publicly mourned." This occurs when a person doesn't receive social recognition that they have a right to grieve.
"Invisible losses are related to disenfranchised grief," Frankle says. "They are the losses that make people uncomfortable to acknowledge: suicide loss, overdose loss, abortion, violent death, and historical unresolved grief and trauma (i.e., genocide, slavery) are just a few examples."
The Center for Prolonged Grief describes complicated grief, or Prolonged Grief Disorder, as "a form of grief that is persistent and pervasive and interferes with functioning. It's characterized by persistent intense yearning, longing and/or preoccupation with thoughts and memories of the person who died, along with other symptoms such as identity disruption, a marked sense of disbelief, avoidance of reminders of the loss, intense emotional pain related to the death, difficulty engaging in ongoing life, emotional numbness as a result of the death, feeling life is meaningless because of the death, or intense loneliness as a result of the death." (See related feature in this issue.)
Ambiguous loss is more uncertain, Frankle says. "There are two primary types: 1, The loved one is physically absent but emotionally present, and 2, a loved one is physically present but psychologically absent," she explains. "Some examples are loved ones who have disappeared or are estranged. When the loved one is physically present, it may be a health condition that prevents them from being psychologically present, i.e., dementia, brain injury, or a mental health disorder."
Stages of Grief and Well-Known Theories
One of the best-known models of grief was developed by Dr. Elizabeth Kubler-Ross and features stages of denial, anger, bargaining, depression, and acceptance.
"In my experience over the last 30 years, this model tends to be passive, and dependent on time to move from one 'stage' to the next," Frankle says. "Often clients grieving a significant loss report feeling like they must be doing something wrong or say that they've 'accepted' it but are still having a hard time 'moving on.' Acceptance then becomes a goal, implying that grief will then end at a certain date in time."
Several grief theories have developed since then, and Frankle notes the following as examples.
William Worden's Tasks of Mourning
Task I: To accept the reality of the loss.
Task II: To process the pain of grief.
Task III: To adjust to a world without the deceased.
Task IV: To find an enduring connection with the deceased in the midst of embarking on a new life.
The tasks engage clients in an active process they can actively work through and help to normalize grief reactions, Frankle says.
The Dual Process Model of Coping With Bereavement by Stroebe and Schut
In this model, there are two types of stressors, loss- and restoration-oriented, and the individual sometimes confronts and other times avoids the tasks of grieving. It also identifies the need for a person to take a break from dealing with these stressors in order to cope.
Meaning Reconstruction Theory by Robert A. Neimeyer
Meaning Reconstruction Theory speaks to our need to create meaning from our experiences and make sense of them in order to grow, Frankle says.
Common Misconceptions
People often struggle with what to say to others experiencing grief. Frankle says it's imperative for counselors to realize that comments such as the following remarks, though intended to provide comfort, can do more harm than good.
"Grief just takes time." "How long does it take? (Hint: There is no formula or definitive timeframe)," she says. "Although time is one factor in learning to adapt, getting a different perspective, and growing, saying 'It just takes time' can be very frustrating for a griever to hear. And with time and isolation, it can get worse without support and help."
"You're so strong!" This may be a true statement; however, it shuts down grievers who are feeling the most vulnerable and fragile they've ever been, Frankle says. "It is, inadvertently, a dismissive statement to a person who has had their world turned upside-down. Now it has set up an expectation for that person to pretend to be strong while they are around you to take care of your discomfort."
"If you had a magic wand …" "Please don't ask the miracle question," Frankle stresses. "It will backfire, and your client will feel even more frustrated and isolated. They are already rehashing the 'if onlys.' If they had a magic wand, they wouldn't need to see you."
"You need a good cry and then you'll feel better." Crying can be cathartic; however, there are many grievers who aren't expressive through tears and are misunderstood as not being emotional about the death of their loved one, she says.
"Don't make any major decisions for a year." "366 days after the death of a loved one doesn't magically make you think better," Frankle says, "and many people have no other choice than to make major decisions, i.e., immediately selling a house, changing jobs, taking a child out of private school, etc. It's important that they not be made to feel wrong for these decisions."
"At least he/she/they lived a long life." Anything following "at least" is not going to help a grieving heart, Frankle says. "It becomes a rationale for why they shouldn't feel sad, and it doesn't acknowledge the emotions the person is expressing."
"You should really be grateful for …" "Gratitude can sit beside grief but not be the reason to negate the pain," she says. "Their gratitude is there. It's important for you to increase your capacity to witness their pain."
Debi Jenkins Frankle, MS, LMFT, is the founder of Private Practice Grief Workshops and Trainings for Mental Health Clinicians, an NBCC Approved Continuing Education Provider. She received her bachelor's degree in psychology from the University of South Carolina and her master's in educational psychology from California State University-Northridge. She is an adjunct professor at Pepperdine University in The Graduate School of Education and Psychology.
Private Practice Grief has been approved by NBCC as an Approved Continuing Education Provider No. 7071. Programs that do not qualify for NBCC credit are clearly identified. Private Practice Grief is solely responsible for all aspects of the programs.
https://privatepracticegrief.com • (818) 222-3895