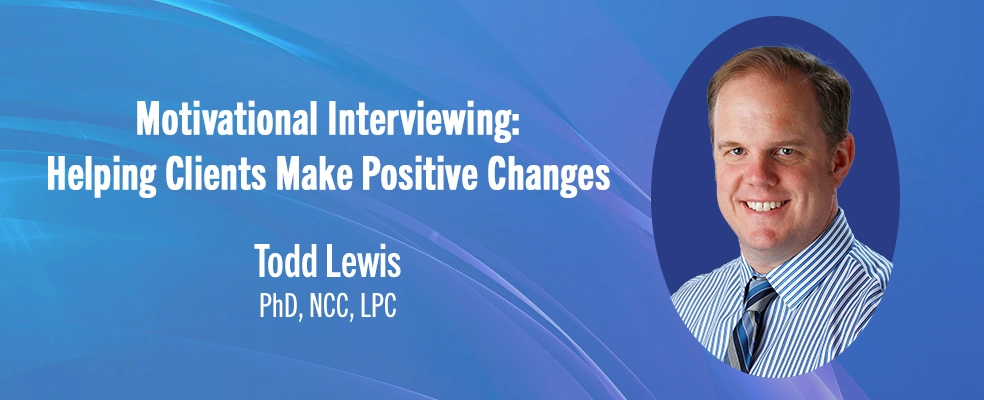 Motivational interviewing (MI) has been used for years by addictions counselors and others to help enhance a person's motivation to make positive changes. It is a "guiding style" in which the counselor leads the client by lowering discord, exploring and resolving ambivalence, and helping to increase a person's motivation to change.
As with any technique, a thorough understanding of its proper uses and methods is essential to making progress and creating a successful outcome.
"It has been said that MI is simple to grasp but not easy to do," says Todd Lewis, PhD, NCC, LPC, who has taught the process throughout his career and is a member of the Motivational Interviewing Network of Trainers (MINT). Motivational interviewing is similar to traditional interviewing in terms of the counseling skills that are utilized, he says.
"As with traditional interviewing, MI utilizes open questions and reflections; however, MI is much more intentional about using reflective listening. In addition, what makes it unique and different from traditional interviewing is (a), the intentional focus on the language of change, called 'change talk,' and (b), the MI spirit, which encompasses collaboration, evocation, acceptance, and compassion. MI spirit is akin to a clinical "stance" within a session. It is the philosophy upon which the skills are utilized."
Key skills for MI include asking open-ended questions, affirmations, reflections, and summaries (OARS). Though these skills aren't new, MI uses them in strategic ways to help people increase their intrinsic motivation to change.
"For example, a rule of thumb in MI is to aim for a 2:1 ratio of reflections to questions," Dr. Lewis says. "MI emphasizes reflections because they demonstrate empathy and help avoid 'interrogating' the client with too many questions, which engenders resistance."
MI is best suited for clients who are ambivalent about change and where behavior change is the key issue, Dr. Lewis says. Because MI was "born" out of the addictions field, it can be especially beneficial for addictions counselors and their clients, he says, noting that patience is necessary because client changes are subtle and may take time. "It is not typically suitable for clients in crisis (e.g., self-harm) who need more of a directive than guiding style," he says. "Clients who are in an emotional crisis may simply need someone to follow without providing guidance or direction."
MI can help addicted clients by strengthening the importance and confidence around change, and by helping to create a "change plan" that can be co-constructed with the counselor, he says. Addicted clients who experience MI may find that their internal motivation increases as they slowly make their own argument for change.
"MI was created as an alternative to 'old school' addiction counseling, where one must break down denial and the client must admit they are an 'addict.' The problem with this overly confrontational approach is that it engenders too much resistance from clients, which precludes change. MI was designed to lower resistance so that behavior change could be considered and explored."
Dr. Lewis believes that MI also is an excellent style and approach for building rapport and strengthening the counseling relationship.
"I start with MI with every client I see and suggest that my students do the same. It's gentle, person-centered perspective helps to lower resistance and discord and get your foot in the door. If client motivation is strong, counselors can move on to other techniques. If motivation continues to be an issue, the counselor can stick with MI."
Compared to other evidence-based approaches, MI can be utilized as a standalone intervention or on an as needed basis, Dr. Lewis says, adding that MI has well over 200 clinical trials that support either the entire approach or elements of the approach.
Though one- or two-day workshops can lay the foundation, he believes that the best way to learn MI is through both didactic instruction and supervised practice.
Not only can MI be helpful to addictions counselors, it is essential for them to learn, Dr. Lewis says.
"Resistance, discord, and ambivalence about change can be serious issues with addicted clients, and MI is specifically designed to address and work through these issues."
For more information about MI, Dr. Lewis recommends the MINT website, motivationalinterviewing.org, which features a compendium of resources.
Motivational Interviewing
Motivational interviewing is a goal-directed counseling technique intended to increase clients' motivation to change and to overcome ambivalence. For more about motivational interviewing, see the article "Integrating Motivational Interviewing into a Basic Counseling Skills Course to Enhance Counseling Self-Efficacy," published in The Professional Counselor.