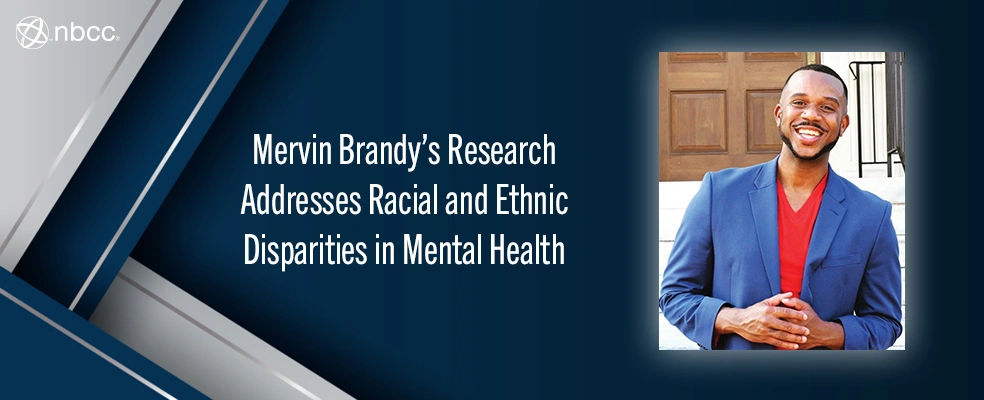 Mervin Brandy has many professional interests. Two of those interests, minority mental health and research, led to an article in the Journal of Racial and Ethnic Health Disparities.
"I have always had an interest in research that focuses on minority mental health and wanted to be part of a project that explores the part that intersectionality plays on mental health outcomes," says Brandy, one of four authors of the article "Contextualizing Black Women's Mental Health in the Twenty-First Century: Gendered Racism and Suicide-Related Behavior."
Brandy, who has a master's degree in clinical social work and is the director of State Licensure Operations at the Center for Credentialing & Education (CCE), notes while there is an increase in suicide rates for Black women and girls, this population is disproportionately excluded from the research.
"There is also limited research on the impact of mental health outcomes, or the concept of racialized stress experienced by Black women," he says. "To truly understand both gender and risk factors for negative mental health outcomes, our article examines the need to apply an intersectional framework when studying suicide and identifying treatment options among Black women and girls," he says.
Mental health challenges expressed by public figures like Olympic gold medalist Simone Biles, Olympic sprinter Sha'Carri Richardson, and actress Taraji P. Henson, and the suicide of Cheslie Kryst, Miss USA 2019, have garnered national attention and expanded the conversation on the topic.
"Our article highlights how the social stressors of Black women through both historical and cultural experiences slightly differ from the stressors identified among Black men (because of gender) and White women (because of race)," he says.
He hopes their research will support in some way the application of a framework that considers the intersection of mental health outcomes and suicide risks among diverse populations.
"Race and gender must also be considered when providing therapeutic interventions and tailoring treatment modalities. Essentially, understanding intersecting identities and their lived experiences should be assessed and treated simultaneously and considered when conducting assessments, facilitating case conceptualization, building rapport, and identifying evidence-based treatment."