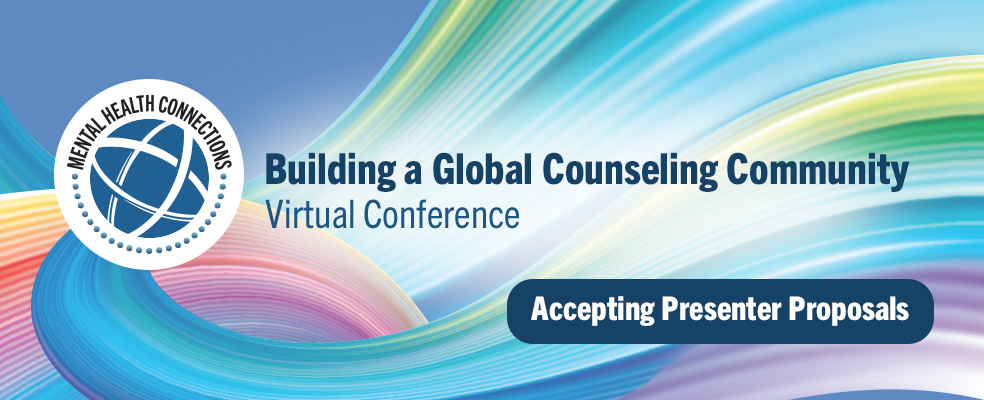 Are you a counselor or other mental health professional with international engagement experience and expertise? Our Global Capacity Building (GCB) Department is seeking presenters for Mental Health Connections: Building a Global Counseling Community, an international conference that will take place online Nov. 30–Dec. 2, 2022.
The conference is designed to share information about the state of counseling and mental health across the globe and initiatives in education or training, practice, and research that build community and mutual learning. Participants will also hear about challenges in the professionalization of counseling worldwide and have the opportunity to participate in informal networking sessions to get to know speakers and other participants.
Lead presenters must have a master's degree or higher in counseling or an advanced mental health degree within a specific country. GCB will consider applications from candidates who do not meet this requirement from countries where counseling or mental health services are still being developed. Lead presenters must also have expertise in applicable international mental health initiatives through research, training, and/or practice. Each presentation may include up to three presenters, and co-presenters may include students in counseling or other mental health fields. All lead presenters and co-presenters for accepted presentations will receive free registration to the entire conference with access to the associated continuing education.
The deadline to apply is May 20, 2022, at 11:59 pm EDT. Interested candidates can learn more about the proposal and policy guidelines and evaluation criteria on the proposal submission page of the NBCC Foundation's website. Applicants can create an account and submit their materials for consideration through our online portal.