meetyournbccteamfarzan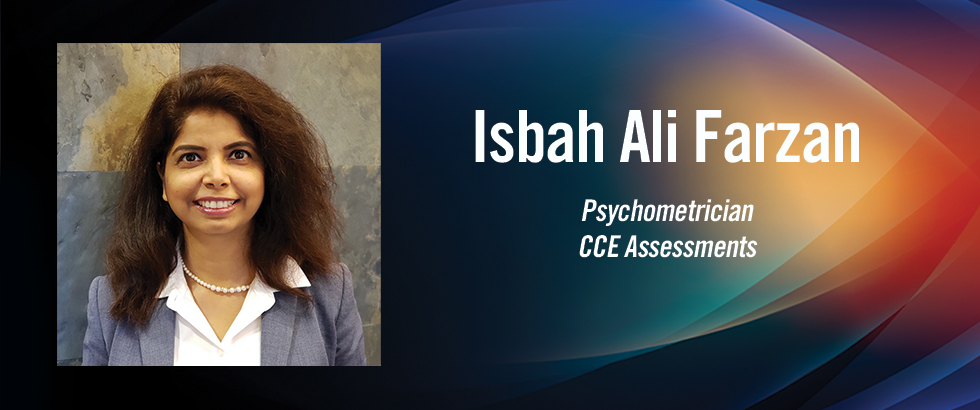 This is part of an NBCC Visions series introducing board certified counselors to NBCC employees and their work. Isbah Ali Farzan is a psychometrician with the Center for Credentialing & Education.

When did you begin working with NBCC, and how did you arrive?
I joined NBCC in 2018 after completing my PhD from the University of Memphis with a Fulbright Scholarship. I have been working in the testing industry since 2005 with American, British, Australian, and South Asian companies. I am very happy to contribute to the extensive testing services NBCC provides to counselors and related professionals.

What is your role with NBCC?
As a psychometrician, I am responsible for developing and maintaining the different examinations we offer. More than 30,000 candidates attempt these examinations every year. It is an honor to serve these counselors and related professionals by offering valid examinations.

What do you enjoy about your work with NBCC?
I like that NBCC leadership is open to new ideas and facilitates advancements. This approach helps bring the latest trends and technology of the assessment industry to our examinations. While making these upgrades to our certificate examinations, I feel that I am growing professionally.

What are your interests outside of NBCC?
My pastime is writing. I am a blogger; I use personal narrative to advocate for critical thinking. I am a family person. I enjoy the company of friends and family in the house and in the sun.

Who is someone you look up to in the field and why?
I look up to Dr. Thomas Christie, my mentor, and William Dylan in the testing industry. They both consider assessment as a tool for improving learning. With this inspiration, I strive to produce examinations at NBCC that support the progress of counselors, counselor educators, and the counseling profession.
---
Share On Social Media:
---
Read more articles