meet-your-nbcc-team-andreea-tiganus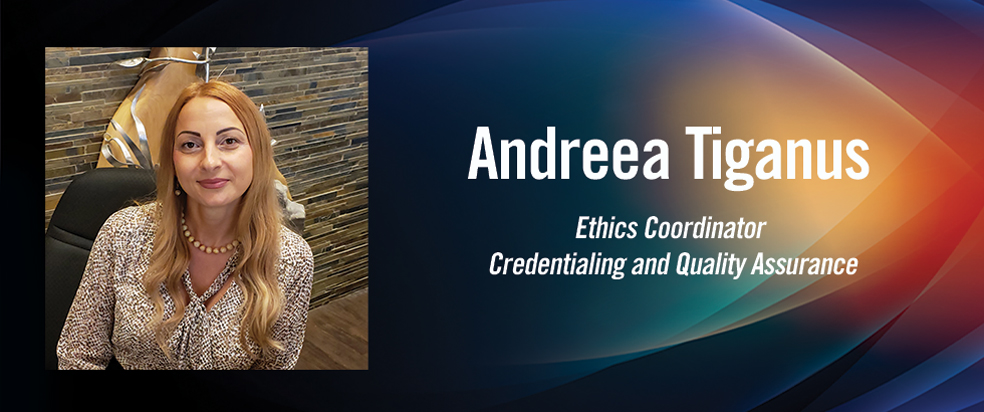 This is part of an NBCC Visions series introducing board certified counselors to NBCC employees and their work. Andreea Tiganus is an Ethics Coordinator with NBCC's Credentialing and Quality Assurance division.

When did you begin working with NBCC, and how did you arrive?

I started working with NBCC in October 2015 after I finished my Paralegal Certificate class at Guilford College. But my journey is more complicated. I am Romanian and had moved to the U.S. with my husband, Dan, and teenage daughter, Sara, in February 2014 via a government program called the Diversity Immigrant Visa, but known as the "green card lottery." The lottery is administered by the Department of State and conducted under the Immigration and Nationality Act (INA). It makes available 50,000 immigrant visas annually and aims to diversify the immigrant population in the U.S. by selecting applicants from countries with low numbers of immigrants in the previous five years. I am happy and honored that in July 2019, my husband, daughter, and I all became U.S. citizens. My parents and my brother live in Romania with their own families, and the same with my husband's family; however, we are trying to visit as much as we can.

I had a happy childhood filled with love, Christian beliefs, and simple ideas that taught me to recognize the most important things in this life: family and friends. In Romania, I walked in the footsteps of my father (he was my hero and a judge) and embraced a career in law. I finished the Faculty of Law in Arad, Romania, and became a lawyer in 2006, driven by a spirit of justice within myself. After I finished my internship, I opened my own law practice that specialized in civil, labor, and family law. Now I am happy to be able to share from my professional experience here at NBCC in the Ethics Department.

What is your role with NBCC?

As an Ethics Coordinator, I assist the Director of Ethics/Ethics Principal Investigator in the coordination of the Ethics office through research, investigation of facts, preparation of legal documents, and performance of day-to-day administrative tasks.

What do you enjoy about your work with NBCC?

There are several things that I enjoy about working with NBCC. First, I love my job, and I love what I am doing. I am a bookworm, and for me, sitting at a desk and reading is the best job in the world. I also love people, and I am blessed with having quality people around me; that's very important for me because I get my energy from the people that I have around me. I'm amazed about how different we are, but still so similar. Last but not least, I love this organization and its mission and vision. I firmly believe we were all created with a purpose, to serve others in different ways—by loving unconditionally, by showing respect, by talking when needed and listening when needed, by laughing or crying, by holding and giving hope in despair, and by making friends and even sometimes enemies.

What are your interests outside of NBCC?

My family is the most important thing in my life. I do my best to invest in my family all the love I am capable of, my knowledge, my joy, and my gratitude. I also love to travel and discover new cultures, meet people, taste different cuisines. I love spending time outdoors, and whether it is at the beach, in the mountains, or on the lake, it doesn't matter if I have my family with me.

Who is someone you look up to in the field and why?

I tend to look at the people I work with and see how they treat others. I do not have "idols" in this field, but I admire a lot of people who are devoting their life to building confidence and independent thinking in others, especially young people. If we lose the ability to exercise our own ability to think, then we are just instruments in other people's hands, easy to manipulate.
---
Share On Social Media:
---
Read more articles