medicare-at-the-crossroads-of-research-advocacy-and-policy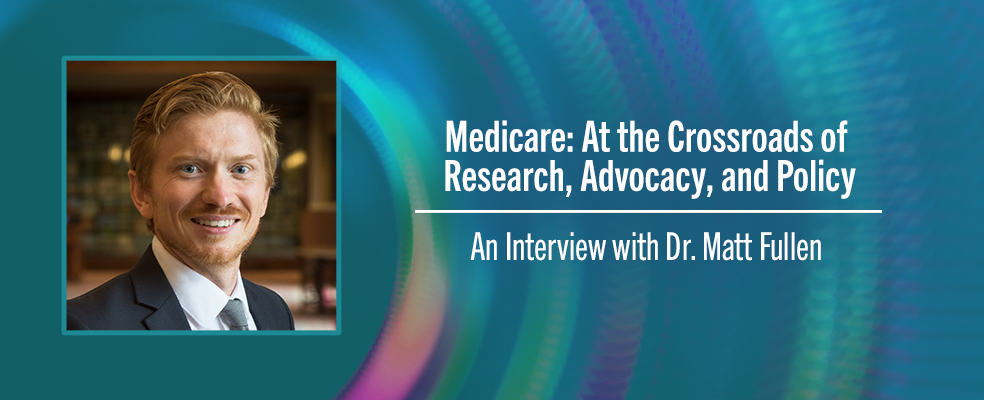 Matt Fullen, PhD, MDiv, LPCC, is a researcher and assistant professor of counselor education at Virginia Tech. Over the past several years, Dr. Fullen and his colleagues have conducted several studies that explore the mental health of older adults. He has been a leading voice in the counseling community for the passage of the Mental Health Access Improvement Act, which would allow mental health counselors to bill Medicare for counseling services. Much of his research has focused on the lack of mental health providers available to older adults and how that impacts health outcomes.
Shortly after becoming licensed, Dr. Fullen began providing counseling services in long-term care settings. It was there that he witnessed the real-world impacts of counselors being left out of the Medicare program. "I was treating a patient in a long-term care setting while she was on Medicaid," Dr. Fullen recounts. "Eventually, she was moved into hospice care, and my supervisor told me I could no longer treat her, as hospice services were paid for by Medicare. I had developed a good relationship with her over several months, and she was aware she was at the end of her life; however, I couldn't provide her with that continuity of care in a critical time." Dr. Fullen credits that and other similar experiences for motivating him to pursue a career path in working with older adults and researching older adult mental health.
"The overarching goal of much of my research is to improve the relationship between the counseling profession and older adults and make sure older adults have access to the skills mental health counselors have," Dr. Fullen says. "A very large barrier in the way of improving that relationship is the fact that Medicare doesn't cover mental health counselors." Although there are many counselors who work with older adults, Dr. Fullen highlights the fact that because the vast majority of them are Medicare beneficiaries, the profession is not as engaged with this population as it could be. "There are really two ways to attack the problem: by working to see this legislation passed and allowing counselors to treat Medicare beneficiaries and doing what we can in the meantime to make connections between the profession and this population." Dr. Fullen and his colleagues have been working on the latter, including partnering with a retirement home to have counselors teach some coaching skills to staff, which can then be used with the residents. "It's not perfect, but it's a step in the right direction," he says.
Recently, Dr. Fullen was interviewed for a New York Times article on older adult mental health that documented some of his recent work. He and his colleagues surveyed 5,000 mental health counselors and zeroed in on responses from about 3,500 practicing clinical counselors. Of that subset, 70% reported being directly impacted by Medicare's restriction on mental health counselors. While 50% said that they had to turn away clients who had Medicare, another 40% reported treating Medicare clients pro bono or at a reduced rate. "The fact that so many are having to turn away clients is a problem for counselors but an even bigger problem for patients in need of care," Dr. Fullen says. "If someone contacts a counselor looking for help and that counselor is forced to turn them away or refer them, the chances of that person actual following through with a referral or contacting multiple providers is very low."
Advocacy is a huge factor in breaking down the barriers that exist between counselors and older adults, according to Dr. Fullen. "Counselors are hardwired for advocacy, whether they know it or not," he says. "They are great communicators by nature and can speak with lawmakers and their staff about this real issue that affects their constituents." He encourages counselors to get involved in advocating for the Mental Health Access Improvement Act by getting in contact with their members of Congress and asking them to support the legislation. As Dr. Fullen emphasizes, "You absolutely do not have to have extensive policy knowledge to be a great advocate."
Dr. Fullen and his colleagues are working to drive more advocacy for the Mental Health Access Improvement Act as well as build bridges between the counseling profession and research surrounding older adults. NBCC, ACA, AMHCA, and AAMFT have all partnered with Dr. Fullen and his colleagues to pursue a grant that would aid advocacy work for the legislation in both the counseling community and older adult services community. "This is one way we can drive activity in a new and innovative way," he says.
---
Share On Social Media:
---
Read more articles