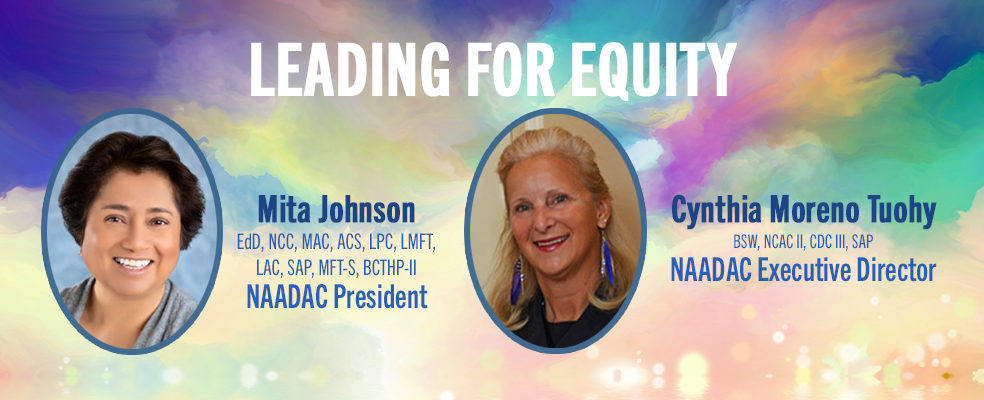 As we continue our conversation with leaders in the counseling profession about the importance of health equity and access to mental health care services, this month we are sharing insights from President Mita Johnson, EdD, NCC, MAC, ACS, LPC, LMFT, LAC, SAP, MFT-S, BCTHP-II, and Executive Director Cynthia Moreno Tuohy, BSW, NCAC II, CDC III, SAP, of The Association for Addiction Professionals (NAADAC).
NBCC's Creed states that "Everyone should have access to high-quality counseling by competent counselors; Access leads to Equity." How, if at all, does this statement resonate with the work of NAADAC?
This statement has significance and relevance to NAADAC, as it resonates with our mission and vision. No one woke up this morning and decided that they wanted to struggle with a substance use or addictive behavior disorder, and addictions are not a willpower issue to be resolved by just saying "no." It is rare for a client to overcome an addiction without high-quality, diverse treatment and recovery support. Addiction professionals are recognized specialists within health care, who within their scope of practice (as defined by education, training, and supervised experience) help individuals struggling with substance use and addictive behavior disorders. NAADAC strives daily to identify and address the barriers to equity in treatment and recovery support because we need high-quality, diverse, and inclusive services that empower clients to access services along the entire continuum of care. Within the addictions profession, we are rallying to increase the diversity of qualified addictions specialists while also rallying to decrease barriers to treatment that include stigma and discrimination. High-quality addiction counseling is built on a solid foundation that includes the science of addiction, theories of addiction, evidence-based practices, treatment of co-occurring mental health disorders, medication-assisted treatment, culturally responsive practices, trauma-sensitive practices, and recovery support services. NAADAC empowers addiction professionals to offer comprehensive services and experiences, which empower their clients to stabilize and rebuild themselves. High-quality counseling by competent counselors helps clients increase the wellness and functionality needed to be healthy. Access to services leads to equity.
Reflecting on your own legacy of leadership, what impacts do you hope to have on advancing equity and justice within the counseling profession, and why do you feel it is important for leaders to do so?
Equity and justice are not new concerns for the counseling profession; all mental health disciplines have an obligation to offer quality services that are just, impartial, and fair to everyone. As leaders, we have an ethical and professional responsibility to advance equity and justice within all the counseling disciplines, including the addictions discipline. NAADAC leadership recognizes that we are not only the torch bearers, but we also set the standards of practice. There are numerous injustices that are leveled against our clients, including lack of ongoing and/or adequate access to care, stigma, discrimination, substandard care, inappropriate treatment, etc.
One of NAADAC's key priorities is to find ways to address the significant challenges our workforce is struggling with, as those challenges trickle down into clinical and agency practice. Addiction professionals—in all settings—are among the lowest paid providers in the counseling disciplines. Not only is their pay not equitable compared to other health care providers, but their benefits packages are also shamefully deficient, even when their education, supervised experience, and credentials are commensurate with LPCs and LMFTs. Being underemployed can be as problematic to our families and communities as being unemployed and/or homeless. This is especially true for employees providing addiction-specific and co-occurring mental health and addiction services in community mental health centers, addiction treatment facilities, and rural/frontier agencies in every state. The number of providers, along with affordable and accessible treatment services, is severely deficient, and the unit rate paid is not an equitable wage due to reliance on public/governmental funding. NAADAC leadership is working to influence the unit rate paid for addiction services, which needs to increase to be commensurate with the work.
Another workforce-related focus centers on the potential, qualified employee who wants to work with those struggling with addictions—who has recovery in their history as well as legal entanglements such as misdemeanors or felonies. Everyone deserves a second chance, when their crimes have been nonviolent, especially when they have years or decades without incident. Everyone in our communities who wants to work should have opportunities available to them to work and succeed. NAADAC leadership envisions new opportunities in 2022 and beyond to recalibrate the way professionals are compensated for the work that they do every day on the front lines to help people heal, grow, and thrive. To provide more equitable services to our clients, we need to offer equitable compensation and benefits to our addiction and mental health professionals.
What final words would you leave with counselors about their role in increasing access to counseling services and advancing equity?
All professional counselors, including addiction counselors, have a role in increasing access to appropriate counseling services and advancing equity. Our first thought is that we all need to understand what it means, and what it takes, to increase access to services and advance equity in service delivery. When we look at the various equity wheels, we see that equity is holistic and all-encompassing. Counselors who are specifically trained to provide specialized addiction services can advance equity of services by advocating on behalf of clients during supervision and multidisciplinary care team meetings. Advocacy is multilayered, as it will need to target the following at the very least: ongoing stigma and discrimination amongst professionals and the public; telehealth infrastructure issues in our rural/frontier regions; substandard private insurance and Medicaid reimbursement rates, and limited "covered" categories; the needs of our aging population struggling with addictions that are not covered by Medicare; systemic barriers that impact our families and communities; the need for more wraparound services in our communities; the need for more scientific research into evidence-based practices; and the need for more treatment and recovery capital. NAADAC believes that we increase access to counseling service and advance equity by building bridges of collaboration and cooperation, like our collaboration with NBCC. We need to work together, with a unified voice, on behalf of our clients.
And finally, we want to speak out on behalf of the addiction professionals who are in recovery. There has been significant and disempowering stigma by mental health providers, health care professionals, and others toward addiction professionals—labeling them as "those" people who "were addicted" who help "those" people with addictive disorders. The stigma surrounding addictions that fuels barriers to accessing treatment and recovery support will not stop as long as it is perpetuated within the health care profession. Unfortunately, stigma is a genuine barrier that keeps clients from accessing the necessary specialty services from a qualified provider. One of the priorities for a counseling professional should be a focus on eradicating the stigma through advocacy and educational efforts. Education about addictions work is a priority, because we are not just treating people, we are treating entire systems. We envision new opportunities in 2022 and beyond to recalibrate the way addiction professionals are accepted by the public and other professionals. We appreciate the efforts of counselors who are striving to provide excellence in the delivery of inclusive and equitable services.
Mita Johnson, EdD, NCC, MAC, ACS, LPC, LMFT, LAC, SAP, MFT-S, BCTHP-II
Dr. Johnson has been practicing mental health, marriage and family, and addictions counseling for the past 30 years. She earned her doctorate in counselor education and supervision and is a core faculty member in the School of Counseling at Walden University. Dr. Johnson also has a thriving private practice where she provides tele-behavioral health services, clinical supervision, counseling to our military, and addiction-specific training and education. She has been an active member of NAADAC for the past 15 years and served as NAADAC's ethics chair before beginning her current term as president.
Cynthia Moreno Tuohy, BSW, NCAC II, CDC III, SAP
Moreno Tuohy previously served as executive director of the Danya Institute and the Central East Addiction Technology Transfer Center and was the program director for Volunteers of America Western Washington, serving homeless individuals and those with the co-occurrence of poverty and substance use and mental health disorders. For over 20 years she has been the administrator of multicounty, publicly funded alcohol/drug prevention/intervention/treatment centers with services ranging from prenatal care to serving the elderly. She has been a trainer in domestic violence and anger management and conflict resolution for over 35 years and is a curriculum writer in addiction screening and evaluation, treatment planning and documentation, ethics, counseling methods, conflict resolution, co-occurring disorders, and medication. Her book, "Rein in Your Brain; from Impulsivity to Thoughtful Living in Recovery," was released May 2014. For NAADAC, she has also served as president, Certification Board commissioner, international chair, treasurer, and legislative chair. Moreno Tuohy was awarded the "Friend of NASADAD" Award by the National Association of State Alcohol and Drug Abuse Directors in September 2021 for her national work with the association.