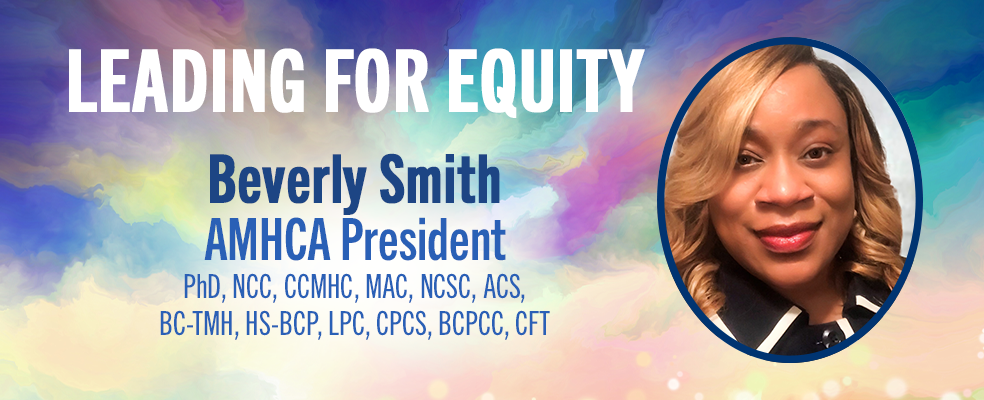 Earlier this year, NBCC's Board of Directors and leadership published the NBCC Creed, which shares the core beliefs of NBCC and asserts the need to improve access to mental health care and strengthen health equity as part of NBCC's capacity-building efforts. This month we are introducing a new column based on one of NBCC's long-standing truths and Creed tenets: Access leads to equity.
Each month we will feature key leaders of the counseling profession sharing their thoughts about their organizations' efforts to promote access and equity in mental health care. This month we interviewed the president of the American Mental Health Counselors Association (AMHCA), Beverly Smith, PhD, NCC, CCMHC, MAC, NCSC, ACS, BC-TMH, HS-BCP, LPC, CPCS, BCPCC, CFT.
Dr. Smith is the owner and principal therapist of BSmith Consulting Group, LLC. She also serves as an adjunct professor of clinical mental health counseling at Mercer University. She earned a bachelor's degree in biology and MEd in counseling and higher education from Tuskegee University, an EdS from Troy University, and a PhD from Amridge University. Dr. Smith has diverse professional experience, having worked in public education, corrections, community counseling, and higher education.
NBCC's Creed states that "Everyone should have access to high-quality counseling by competent counselors; Access leads to equity." How, if at all, does this statement resonate with the work of AMHCA?
NBCC's Creed states that everyone should have access to high-quality counseling by competent counselors and this access should lead to equity. Equity is often the end result of the real presence of diversity and inclusion. I use the words often because there is a correlation between equity, diversity, and inclusion. However, having access to equity is not always linear and automatically operational because of the presence of diversity and inclusion. In fact, pseudo-diversity and pseudo-inclusion prevent equity in accessing high-quality counseling. Subsequent sabotage becomes access points leading to invisible walls as barriers. This is similar to the glass ceiling experiences that hinder or void equitable access. Thus, the NBCC Creed is essential and aligned with the AMHCA Hippocratic Oath that states the following for clinical mental health counselors: "I will advocate for the betterment of others, for equality, inclusion, and the intrinsic dignity and the inherent rights of every person, and for the advancement of health and well-being." AMHCA promotes consistent equitable access to high-quality counseling by culturally competent counselors for all. As the President of AMHCA, part of my role is to advocate for equity, promote diversity, and to ensure the fidelity of inclusion within the organization and within the clinical mental health care profession.
Reflecting on your own legacy of leadership, what impacts do you hope to have on advancing equity and justice within the counseling profession, and why do you feel it is important for leaders to do so?
As I reflect on my legacy of leadership, I am advancing equity and justice within the clinical mental health care profession by first having the courage to show up as a professional representing diversity while giving voice to the challenges and celebrations of leading while Black/African American. In addition, I am advancing equity and justice within the counseling profession by developing avenues for (1) leadership, advocacy, and strategic support; (2) by providing systematic opportunities for the incorporation of multiculturalism and social justice practices consistent with our ethics, creeds, and oaths; and (3) by widening the margins for inclusion as part of my professional identity in a digitalized COVID-19 world. It is important to do all of the aforementioned as methods to help demonstrate the value, worth, and professional development of all counselors and to improve the delivery of services for improved quality of life for all people in the midst of a mental health crisis.
What final words would you leave with counselors about their role in increasing access to counseling services and advancing equity?
I want to encourage professionally licensed and certified counselors to participate in advocating for the dignity and worth of all people to have access to high-quality clinical mental health care counseling. I want us to embrace and accept the responsibility that there is no health care without mental health care. Thus, we are ethically obligated to increase equity access to clinical mental health counseling services for all people.