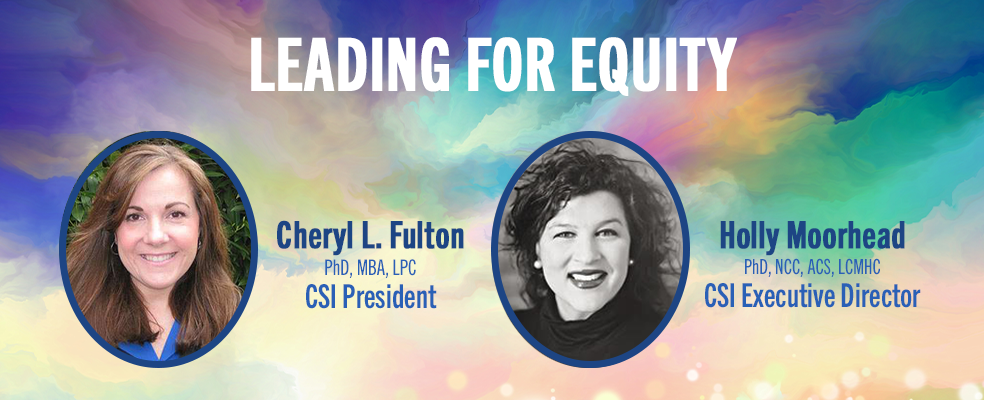 As we continue our conversation with leaders in the counseling profession about the importance of health equity and access to mental health care services, this month we are sharing insights from President Cheryl L. Fulton, PhD, MBA, LPC, and Executive Director Holly Moorhead, PhD, NCC, ACS, LCMHC, of Chi Sigma Iota Counseling Academic & Professional Honor Society International (CSI).
NBCC's Creed states that "Everyone should have access to high-quality counseling by competent counselors; Access leads to Equity." How, if at all, does this statement resonate with the work of CSI?
The mission of Chi Sigma Iota (CSI) is to "promote scholarship, research, professionalism, leadership, and excellence in counseling, and to recognize high attainment in the pursuit of academic and clinical excellence in the profession of counseling." Throughout the society's 36-plus-year history, CSI has remained committed to the inextricably linked goals of advocating for professional counselors and their clients. In 1998, CSI brought together counselors from many different counseling organizations to develop a national plan for professional advocacy. The first of the six advocacy themes is to "promote optimum human development across the life span through prevention and wellness" (Access a recent April 2021 webinar about CSI's Six Advocacy Themes here). This theme was born from the deep understanding that as counselors we are leaders who must work to promote and foster wellness and human dignity among community members. To do this, all community members must have access to quality services to achieve wellness.
This is why CSI is committed to 1.) promoting excellence in counseling so that we are best prepared to provide such quality services, and 2.) promoting servant leadership so that we are equipped to take the actions necessary to advocate at the national, state, and local levels to provide access and equity in a way that promotes the welfare of others over self. We do this in many different ways, including providing advocacy resources to our members, continuing to advocate for wellness for all clients, and funding many different pathways through which members engage with and serve their communities. Additionally, we encourage and celebrate the dedication of the people who are engaged in critical advocacy work (e.g., CSI's Advocacy Heroes and Heroines Project; CSI's Advocacy Agent Interviews). To see the many voices represented in CSI's ongoing discussions on this important issue, we welcome readers to access the latest issue of the CSI Exemplar (Fall 2021), Focus on Diversity and Equity in Professional Counseling.
Reflecting on your own legacy of leadership, what impacts do you hope to have on advancing equity and justice within the counseling profession, and why do you feel it is important for leaders to do so?
One challenge for our profession is expanding diversity from within so that leaders, educators, and counselors reflect the multitude of identities and respective needs of their communities. CSI is continually striving to attract, foster, and mentor increasingly diverse leaders so that a wider array of voices are included in the work we do. CSI developed our Leadership Fellow and Intern program many years ago specifically for this purpose—to help identify servant leaders among diverse and many different communities of counselors in master's and doctoral programs and provide them with encouragement and mentorship to hone their leadership skills and use them in various venues, including practice, administration, and organizational leadership. Keeping our tent wide and growing strong, diverse leaders who are committed to both providing and advocating for equal access to services for all members of their community is a leadership legacy we continue to invest in through various initiatives. Advocacy is at the center of CSI's funding priorities for students, faculty, and practitioners. Members use chapter rebate monies to hold professional development trainings, engage in advocacy programs, and facilitate counselor community engagement in local areas. Additionally, CSI's Chapter Grants and State and Regional Networking Grants provide funding for counselors engaged in counselor training and practice activities, as well as research to identify effective counseling practices to address currently unmet needs of communities and clients. CSI's webinar series brings affordable professional development and training to counselors on various topics to help them serve specific client populations, address challenging clinical issues, and work within unique circumstances.
What final words would you leave with counselors about their role in increasing access to counseling services and advancing equity?
Whether or not we name it as such, counselors are inherently leaders across many of their professional roles and activities, and good leadership is vital to promoting client wellness and human dignity. Needless suffering due to a lack of access to quality mental health services is a preventable outcome if all counselors work together to cultivate servant leaders and promote wellness for all. Servant leadership doesn't have to be holding a formal position; we can all lead from any position within our organizations and communities when we prioritize the needs of others. From leading creative efforts to attracting diverse students to your counseling program, to making an advocacy call to your legislative representative, to suggesting ways to reach out to community members to inform them about counseling in ways that are culturally relevant: Any counselor can take some small step to promote greater access to counseling services and be a servant leader who invites others to participate and lead with unique gifts.
Cheryl L. Fulton, PhD, MBA, LPC
Dr. Cheryl Fulton is a Licensed Professional Counselor and an associate professor in the Professional Counseling Program at Texas State University. She regularly publishes research and presents at national conferences and has twice been recognized with a Texas State scholarship award. She has also received two national awards for her research on the role of mindfulness and self-compassion in counseling and counselor training. She regularly contributes advice on mental health topics to media including the Huffington Post, The Atlantic, NBCnews.com, Yahoo! Life, and Psychology Today. She has served in many leadership roles, most notably as the current president of Chi Sigma Iota. Dr. Fulton has a long history of community service including 3 years as a volunteer suicide and crisis-line trainer and 2 years providing mental health education to newly resettled refugees. She believes counselors make a unique contribution to the world and that everyone should have access to this vital resource.
Holly Moorhead, PhD, NCC, ACS, LCMHC
Dr. Holly Moorhead is a Licensed Clinical Mental Health Counselor, a National Certified Counselor, an Approved Clinical Supervisor, and a Certified Investigator/Inspector through the Council on Licensure, Enforcement and Regulation (CLEAR). She has worked as a counselor educator, as an ethics officer, and as a case manager, as well as in university residence life, crisis mental health assessment and counseling, and within inpatient and outpatient, middle school, and community agency settings. Valuing service, Dr. Moorhead remains involved in both volunteer community work as well as national and state counseling organizations and other professional associations. Her scholarly presentations and publications have focused on topics that include professional identity, wellness, ethics, and spirituality in counseling.