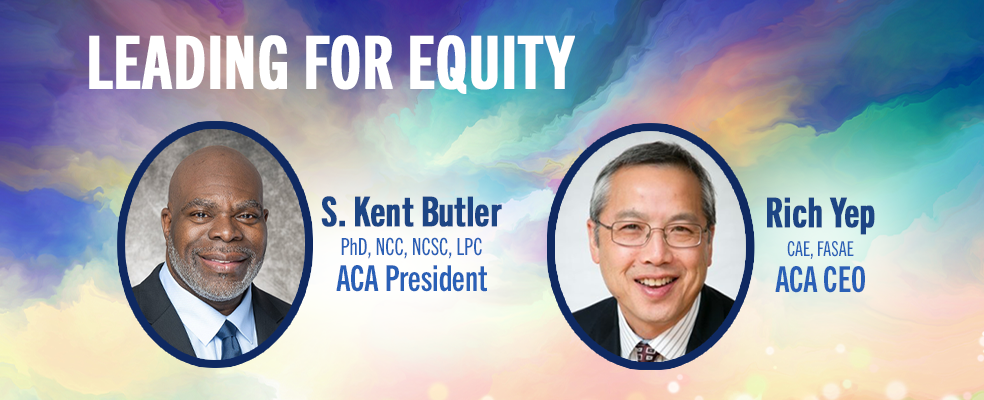 Earlier this year, NBCC's Board of Directors and leadership published the NBCC Creed, which shares the core beliefs of NBCC and asserts the need to improve access to mental health care and strengthen health equity as part of our capacity-building efforts. This month we interviewed American Counseling Association President S. Kent Butler Jr., PhD, NCC, NCSC, LPC, and ACA's CEO, Rich Yep, CAE, FASAE, about how access leads to equity.
NBCC's Creed states that "Everyone should have access to high-quality counseling by competent counselors; Access leads to Equity." How, if at all, does this statement resonate with the work of the ACA?
Butler: ACA has long taken a stand to support access. Like any major undertaking, change is slow. Fifty years ago, it was apparent when the creation of the Association for Non-White Concerns (ANWC) came into existence that it was time! As a division of ACA, ANWC, later known as the Association for Multicultural Counseling and Development (AMCD), was instrumental in the development of the Multicultural Counseling Competencies (MCC). These competencies were endorsed by ACA in 1992, along with the 2016 revisions.
The need for leadership and the counseling profession to resemble the communities that counselors serve was put on the docket. While change was always on the horizon, it took almost all of those 50 years to get to a point where individuals from marginalized and oppressed communities were able to break through the barriers and begin to find themselves at tables that were typically unavailable to them.
The richness of the intersectionalities that now are in leadership spaces has given credence to the ethical standards championed by counselors across the globe—do no harm. Counselors are providing access through their social justice advocacy and due diligence in ensuring that the world is meeting clients and everyday citizens where they are while embracing their worldviews and right to find their promise and true life's destiny.
Yep: Regarding ACA specifically, we continue to advocate for equitable access in mental health resources, especially for historically underrepresented communities. ACA is committed to breaking barriers that prevent equitable services to vulnerable populations.
Equity involves educating the public in understanding the need for critical mental health services that are affordable within communities across this nation. ACA remains committed to ensuring our members deliver competent, high-quality services that meet the needs of every cultural, racial, and ethnic group in this country.
Our mission is to promote the professional development of counselors, advocate for the profession, and ensure ethical, culturally inclusive practices that protect those using counseling services. To fulfill our mission, our advocacy efforts raise awareness, promote and protect the profession, and support policy and legislation that helps counselors serve their communities and client population. The ACA Code of Ethics requires that counselors practice in an ethical and culturally appropriate manner and only provide those services they are qualified to provide.
Reflecting on your own legacy of leadership, what impacts do you hope to have on advancing equity and justice within the counseling profession, and why do you feel it is important for leaders to do so?
Butler: As President of ACA, I have been provided opportunities to serve in a capacity that shows leadership from a different perspective. As only the second African American male to be in this leadership position in our 70-year history, I know that for a community of Black and Brown folks (males of color in particular) I am regarded as a role model and a voice that resonates on very important issues related to social justice and equity. It is important for me to utilize this leadership platform to expose the counseling community and beyond to the realities of life experienced by a myriad of intersectionalities, especially those who have been marginalized and oppressed.
I believe all leaders need to serve with humility and be culturally attuned and responsive with voices that speak to the heart of justice and a passion that ensures that every person is treated with respect and are seamlessly included, tapped in as it were, showcasing that authentic representation around the table matters.
Yep: ACA has a long history of diversity, equity, inclusion, and access, but we must not become complacent. We strive to create an environment of inclusivity in the counseling profession. All counselors should have a welcoming space where they can collectively share their thoughts on enhancing the profession and know that they are being heard on issues of advocacy, diversity, and justice. This means eviscerating the barriers that block counselors from effectively advocating for their clients.
It is important that those in leadership positions promote positive change and pave a way for future leaders to transform a path that continues to advance the profession. Advancing equity and justice in the profession must be part of what is included in the leadership path.
What final words would you leave with counselors about their role in increasing access to counseling services and advancing equity?
Butler: I am always drawn to two quotes; I believe that they both represent my stance and what I fight for every day as an advocate for social justice. They are "The only thing necessary for the triumph of evil is for good [people] to do nothing," which is attributed to Edmund Burke, and "Self-knowledge means a gut and an intellectual understanding of one's self in connection to other peoples, cultures, and races. Self-Knowledge, if it is working, means self-love," by Haki Madhubuti.
I believe that these quotes speak for themselves, but I will say that they each highlight the power of community. No clients under the care of culturally competent counselors should ever leave counseling relationships only to return to systems that are broken and ready to cause harm and/or dismantle the good work accomplished through therapy.

Yep: Professional counselors are change agents. They hold the tools, skills, and knowledge to make a change within their communities and the nation. Don't let barriers stop you from making a difference within the profession, and by doing that you will be able to empower your clients, students, and communities. As activist Saul Alinsky said, "If people don't think they have the power to solve their problems, they won't even think about how to solve them."
Because research has shown that individuals with untreated mental health disorders/issues are at a higher risk for premature mortality and chronic disease, professional counselors must work toward increasing access to counseling services and advancing equity. Become aware of what is happening at the local, state, and national levels regarding how mental health services can be improved and supported. Find resources through ACA, as well as through state counseling organizations and consumer groups. Be part of the change.
S. Kent Butler Jr., PhD, NCC, NCSC, LPC Rich Yep, CAE, FASAE
Butler became ACA's 70th president in 2021 after serving as its president-elect. He received the ACA Fellow Award in 2016 and served as an ACA Governing Council representative from 2015–2018. He is a licensed professional counselor (LPC), National Certified Counselor (NCC), and National Certified School Counselor (NCSC). Butler is also a professor of counselor education at the University of Central Florida, where he has served as interim Chief Equity, Inclusion and Diversity Officer and a Faculty Fellow for Inclusive Excellence in the Office of the Provost. In 2020, Butler was selected as a Chief Diversity Officer Fellow in the National Association of Diversity Officers in Higher Education.
He is a former president of the Association for Multicultural Counseling and Development (AMCD), is a member of the AMCD Multicultural and Social Justice Counseling Competencies Revisions Committee, which produced the Multicultural Social Justice Counseling Competencies, and is founder and co-chairperson of the AMCD Writer's Consortium. He is also a member of the Association for Counselor Education, the Association for Spiritual, Ethical and Religious Values in Counseling, and Counselors for Social Justice.
Butler is a faculty advisor to Chi Sigma Iota International Honor Society, the Counselor Education Doctoral Student Organization, Project for Haiti Knights, and the National Association for the Advancement of Colored People. He received his PhD in counseling psychology from the University of Connecticut, and his research and academic interests include multicultural and international counseling, social justice, mentoring, counseling related to African American males, group counseling, school counseling, and multicultural supervision.
Rich Yep, CAE, FASAE
Yep has worked for ACA for more than 30 years, having served as its CEO since 1999. His former roles at ACA include Director of Government Relations, Senior Associate Executive Director of Corporate Planning, and Assistant Executive Director of Public Policy. He is also president of the ACA Foundation. He is a Certified Association Executive (CAE) and the former executive director of the National Association of School Psychologists.
A longtime member of the American Society of Association Executives: The Center for Association Leadership (ASAE), Yep has chaired its board of directors; its Diversity, Equity, and Inclusion committee; and its Diversity Executive Leadership Program selection committee. He was named an ASAE Fellow in 2012 and currently chairs that group. In 2017, Yep received ASAE's Key Award, its highest honor given to exceptional CEOs, and he currently serves on the Key Professional Associations Committee. He has been a member of ASAE's Marketing Council and Certified Association Executive Commission, and the ASAE Foundation's Development Committee.
Yep received his undergraduate degree from the University of California, Santa Barbara, and a master's in public administration from the University of Southern California. For 10 years, he served on the board of trustees of Excelsior College, where he is Chair Emeriti.