inspiring-hope-and-moving-forward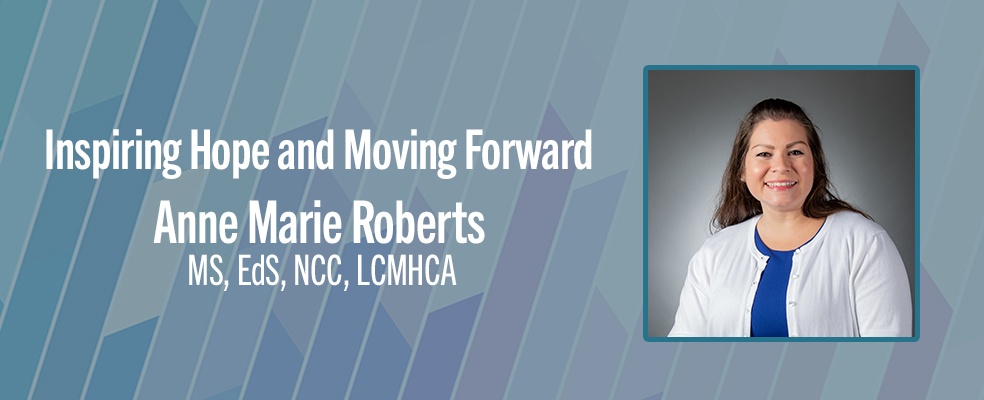 Anne Marie Roberts, MS, EdS, NCC, LCMHCA, is the associate director of Academic Advising at the University of North Carolina at Asheville. She shares her insights and advice on connecting with and continuing to inspire students.
It is difficult to believe it has been six months since shelter-in-place began for many in the United States and the world. It feels like it was both years ago and just yesterday. We have an entirely new vocabulary of common terms now: Zoom fatigue, bandwidth, isolation, quarantine, clusters, social distancing, flattening the curve, pandemic, and community spread. Schools have pivoted to online and hybrid models, with the questions of when and how to go back to campus lingering in everyone's mind.
However it may look, school is now back in session for most students across the country. Teachers, staff, faculty, and student support services are remote and on-site, helping students navigate these new learning territories. Students are facing issues such as taking classes completely from home, feeling isolated from friends and social circles on campus, and worrying about how to pay for school. In addition, some students are having to be called in as caretakers for siblings or older family members, as parents who are essential workers must continue to work and earn money, or in some cases the student becomes the breadwinner for the family.
Universities are grappling with clusters of outbreaks, trying to manage testing, quarantine, and isolation protocols, with some universities having to completely shut down dorms and student dining. This pulls students back to their homelife, which may or may not provide safety and support for the student. It also creates a further level of isolation. Although socialization in college is a key developmental task, students are now spending hours in their room on Zoom calls, which does not foster the true connection of in-person relationships.
The pandemic has furloughed many employees and gutted typical jobs, meaning students may be coming from families that are struggling financially or even losing their own jobs. Many schools report seeing an uptick in financial need for students.
It is no surprise then to see an increase in mental health issues in college students, including depression, anxiety, and panic disorder. Not only is the pandemic a traumatic event, but it creates chronic, and in many cases unresolved, trauma and stress. Students worry about graduating into an unknown and unstable job market. Some may be questioning the value of attending school in the face of a worldwide crisis. Combined with deep racial inequities rising to the surface and political tensions mounting, it is no wonder our students are in a state of crisis.
So how do we help? What can we do when our own world is seemingly crumbling around us? No doubt I have only touched on a few of the major issues I've personally seen and read about. Many counselors, advisors, and teachers have been working non-stop since March, without breaks or vacations. How do we help college students continue on a path to success during these uncertain times? Below are a few suggestions that I am using in my daily work with students. They are by no means exhaustive, scientifically proven, or a cure-all. They do, however, offer hope, concern, and authentic care.
Validate and acknowledge
To use a now-popular phrase, we are in unprecedented times. No graduate program prepared us for this; no manual yet exists for how to make it through. What enhances the complex grief and dread is the unknown timeline. We do not have a sense of when a vaccine will be found or when things will return to "normal," and in fact, in most cases, there will have to be a new normal. Of course this is a very basic concept, but it holds true throughout time. Validating your student's concerns, fears, existential questions, and overall disappointment at how things are lets the student know that yes, this is a difficult time for everyone. They are not alone in what they are feeling, and they are not flawed in any way for the thoughts and feelings they may be experiencing. Let the student know that, within the boundaries of your working hours, you are available and there to talk as they need.
Assess for crisis and critical needs
Students may be in great distress. They may have lost their income or even a family member to COVID-19. Connecting them to a counseling center on campus—or if you are the professional counselor—assessing for signs of crisis, is critically important. We want our students to feel stable and safe when they leave our offices. They may also be lacking basic needs such as food, money to pay utilities, transportation, and even technology. Connecting them with campus and community resources could provide nourishment, bill pay assistance, and a loaner laptop to set the student up for a successful semester. Students are not able to learn if their basic needs are in limbo.
Progress, not perfection
Be realistic with the student about the amount they can accomplish academically and professionally this semester. This may not be the semester to start a brand new research project or even try for the Chancellor's List. And guess what? That is okay. Success, achievement, and "making it" are all quickly being redefined in the face of the pandemic. Priorities may shift to keeping family safe and healthy, and if that is all the student can do in the semester, that is okay. Helping the student separate their identity from their performance as a student, from their job and career, and from their achievements is an important concept that will serve them well the rest of their life.
Be here now
It can be difficult to focus on the future when so much is unknown. Will some careers still be around in a post-COVID world? How can a student find meaning in their degree and career path in such a difficult time? Bringing students back to the present moment using breath work, mindfulness, grounding, and gratitude can help students focus on the present moment, how they are learning and growing right now, and how now is truly all we have. Other physical and meditative activities can help with this. Coloring, going for a walk in nature, going for a run or getting the heart rate up through other exercise, labyrinths, essential oils, a cup of herbal tea, focusing on comforting sensations such as a soft blanket or a pet's fluffy hair, and yoga are all great strategies students can play with.
Inspire hope
Hope, looking forward to the future, excited anticipation. These are all feelings and concepts that may be difficult for us to access right now. How do we create hope in the midst of desolate and desperate situations? Is the student able to make sense or meaning out of their experience and articulate a new perspective or worldview? Help them process their previous six months in a way that provides perspective and grounding. Have the student identify any areas of growth from the last six months, life sessions, self-discovery, or new hobbies they may have picked up. Is there an organization that they can volunteer with, a cause they can throw themselves into?
Inspiring hope does not have to have a religious connotation, but you can tap into that if the student identifies and is open to speaking on spirituality. The most beautiful part of inspiring hope is the reminder that we are not alone in this and that helping each other through these current times means more than any clinical intervention or community resource.
---
Share On Social Media:
---
Read more articles