innatious-and-the-lar-scale-innovative-tools-to-strengthen-emotional-iq-and-improve-your-practice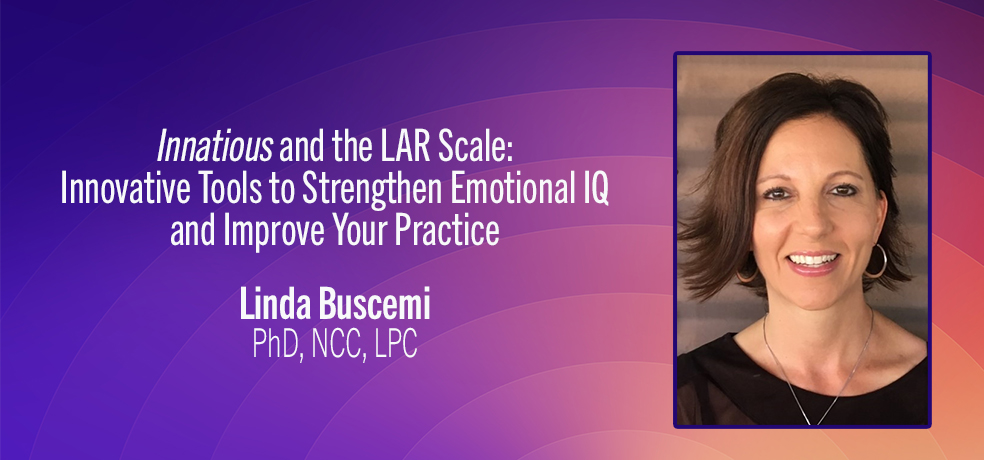 As a therapist for 20 years and having helped hundreds of people across the spectrum of diversity manage and process their situations, I have realized that it is necessary to increase clients' emotional IQ and bring them to greater self-awareness for change to occur. As you know, it takes time to get a client to a place of vulnerability and introspection. It is a process to get through the emotional layers, which I call "peeling back the onion." When you are processing with someone, there are many variables you will encounter, such as their automatic thoughts, defense mechanisms, learned perceptions, and assumptions. To get through these layers, I have come up with tools and so-called "Linda-isms" that allow clients to lower their defenses, enabling them to self-reflect and take accountability. It has helped my clients to "see" their accountability, and we know that you can't change something you are not aware of. We also know we can't change someone else, and we may not be able to change a situation, but what we can change are our reactions, responses, and behaviors to that situation. I like to say that you may not like your options, but you always have a choice.
To help clients gain greater self-awareness, we must explore a deeper understanding of the true motivations for their actions. This is not easy and takes careful consideration of how to probe and ask questions that allow people to feel emotionally safe in attempting to express what is inside of them. Many times, clients want to blame other people or situations for their behavior, and although those variables may be the cause or trigger of the circumstance, the way to move forward is by recognizing and practicing accountability and self-control. It is advantageous to help clients explore and understand why they are in a particular situation, why they stay in that situation, and what part they play in that situation. One way to do this is to explore the origin of their motivations and help them find the words to appropriately express what they are feeling. What underlying intent is driving them that they may not be totally conscious of?
As I attempted to help clients get to a place of introspection, I would often say to them that human beings are self-centered. I used this word in an attempt to get people to look inward; however, "self-centered" is an emotionally charged word and caused my clients to become defensive. My intent was not for them to feel accused, but rather to become in touch with what is driving their actions and reactions. Trying to get them to better understand, I'd share the following: "All people are self-centered. The only difference between a four-year-old and a 40-year-old is that the 40-year-old actually knows the world doesn't revolve around them." After hearing this, I watched my clients, one after another, physically drop their shoulders, with a great sense of relief. I found that when clients reached this level of self-awareness and understanding, their work with me and their therapy reaped the greatest reward. So, I knew I was on to something. I continued to explore how to better explain the foundational insight that we, as humans, are instinctively driven to meet our own needs, even as we love and care for others. I set out to create a new word without the stigma of the word "self-centered." I wanted a word that better defines the dynamic I'd observed in my practice, as the definition of self-centered didn't fit what I was trying to express. Surprisingly, such a word doesn't exist. So, I created a new word: innatious.
I define innatious as an innate, instinctual desire to please ourselves even in the process of serving others; the premise is that our actions, reactions, and behaviors are an innate, often subconscious and even unconscious, desire to fulfill and gratify our inner needs. In simple terms, innatious is the ability to emotionally identify our needs so that we understand what really drives our actions, beliefs, and emotions.
It's important to note, however, that innatious is not synonymous with selfishness. Understanding your innatious intent simply gives you better insight into why you do certain things or feel the way you do. Innatious is also different than intention. Having an intention, by definition, is conceived, planned, and purposeful. Thus, it is intended. It's a direct aim or plan toward something. Innatious intentions, on the other hand, are subconscious or unconscious intentions, which means we aren't consciously aware of them until we make the effort to bring them into consciousness. Because they're outside of our awareness, they can cause us to become stuck in our communications and relationships with others. Becoming aware of our subconscious or unconscious innatious intent or "innatiousness" gets to the root of the reasons for our actions so that we can evaluate them and make changes to improve our relationships and our life. Not realizing our innatiousness leads to an inept attempt to communicate our needs and recognize the needs of others. And, of course, authentic communication is the key to any healthy relationship. Innatious has changed the way I practice, and my clients all know that when we peel back the onion, we are getting to innatious, allowing them to gain greater clarity on their actions.
Love, Acceptance, Respect: The LAR Scale
Another tool that has significantly helped my clients is the LAR Scale. I find that as human beings, our desires tend to be similar. And there are three areas that I believe make up the core of our internal happiness: love, acceptance, and respect. We all want these three things. They are part of our fundamental innatious intentions in relationships. If we don't receive these in a relationship, we will likely feel less fulfilled, and the connection will probably be unhealthy.
This tool is especially helpful for couple/relationship work, as it facilitates a framework for discussion. To assess our levels of love, acceptance, and respect, I have created what I call the LAR Scale. It can help your clients quickly assess their relationship and determine their spectrum of happiness. It isn't scientific; it's simply a practical guide built from years of observing people that quantifies satisfaction level in relationships. A client will simply score from 1–10 (with 10 as the highest/best) their degree of love, acceptance, and respect for the other person. Then, they score the levels of love, acceptance, and respect that they believe the other person feels for them. I have found in my practice that this unearths productive conversations. See the chart below.
| | | | |
| --- | --- | --- | --- |
| Couple | Love | Acceptance | Respect |
| Joe feels for Jen | 10 | 10 | 9 |
| Joe believes Jen feels for him | 7 | 6 | 5 |
| Jen feels for Joe | 10 | 9 | 10 |
| Jen believes Joe feels for her | 10 | 8 | 9 |

Frequently, there is a discrepancy that stimulates communication regarding why each chose a rating. No blaming is allowed, but healthy discussion is encouraged regarding current misalignment and how they as individuals as well as a unit can close the gap (and any understandings) in their relationship.
Bear in mind that people may define these words differently, and those definitions could account for the differences in one's assessment. Just going through the exercise and discussing these differences can be illuminating and help clients communicate more clearly. The LAR Scale score can lead to great insights in one's relationship.
Love can be defined as an all-encompassing feeling of safety and companionship, a sense of trust in the other person, and/or appreciating the way that person treats you. In defining love, there is an underlying innatious intention with regard to the action of love. How are you fulfilled by the other person's love for you? This is important because a lack of fulfillment is the biggest barrier when a relationship begins to be challenged. Sometimes people justify or defend their change of heart by blaming the other person.
How about acceptance? Being able to accept ourselves is an important aspect of happiness. But even if we get to a place of accepting ourselves, it can be painful when others don't accept us. Having acceptance from others can validate and gratify us, especially when we receive acceptance from those we love. It's an essential need in relationships to feel we're accepted for who we are, how we look, our diverse thoughts, and even for who we may love. When we aren't accepted, or the other person appears condescending or negative about us, the relationship will naturally erode and experience a divide.
The final core value of the LAR Scale is respect, which is about having an appreciation for the other person's qualities, skills, abilities, and achievements. It's about respecting who the other person is, as well as what they have to offer. Respect is an important part of any long-standing relationship.
The LAR Scale is just one more tool that helps unearth a client's innatious intention and become more transparent in relationships. The more transparent clients are, the greater the level of intimacy that will be achieved and the better chance they will have of addressing their true issues. The real benefit in using the LAR Scale is the ability to honestly assess the valued relationship in the categories of love, acceptance, and respect. When there is a gap in an area or a discrepancy in the scores, there are points of discussion. Great discussion can happen about how each client can strive to understand what it would take to get to the highest level of 10.
Remember: The scores are about one's feelings, and feelings aren't wrong. They simply are what they are. Feelings may be misguided based on interpretation, but the key to the LAR Scale is to begin talking about why each person is thinking differently and then to explore how they can move toward being on the same page.
You can learn more about Linda's work on innatious and the LAR Scale in her book Innatious: An Innovative Tool to Strengthen Your Emotional IQ and Improve the Quality of Any Relationship. You can also follow her Innatious Facebook page: https://www.facebook.com/innatious1/
---
Share On Social Media:
---
Read more articles