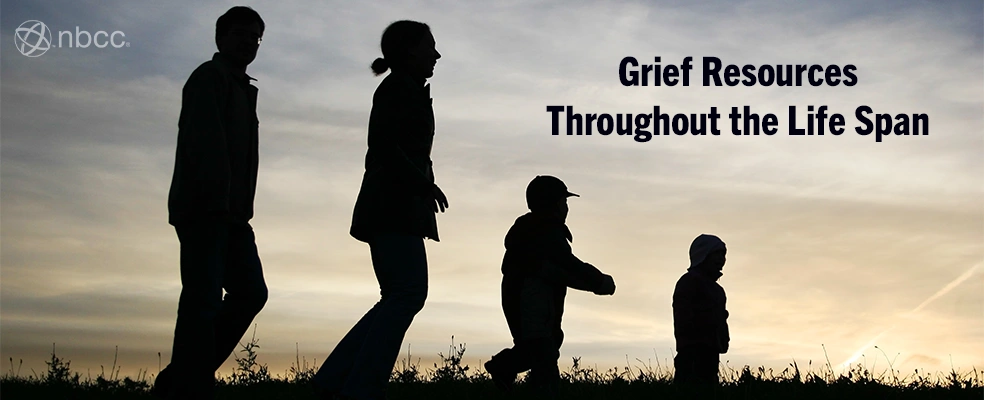 Grief can occur across the lifespan. It takes many forms and can come as a response to many varied causes. People experiencing grief at different ages or for different reasons can require distinct approaches to healing. In this article, we have collected some resources appropriate for different life stages.
"Grief, unfortunately, is one of the few things in life that does not discriminate," says Kirsten Goard, grief counselor with the Kids Path program. "It is something that we will all experience at some point in our lives, and for that reason many people begin to develop the idea that they should just be able to 'get over it.' Support groups can be a great resource for both kids and adults alike. Having your feelings normalized goes a long way in the grief process."
Childhood
"Grief support is critical for any age, but especially with children," says Goard. "Students need to know that their grief is acknowledged, and that they are seen and heard."
Children may experience grief due to the loss of a loved one. Understanding and coping with loss provides unique challenges for children, but these resources are available to help.
The National Alliance for Children's Grief offers continuing education opportunities, facilitates grant programs, and features an extensive resource library. This national network of professionals, institutions, and volunteers promotes "best practices, educational programming, and critical resources to facilitate the mental, emotional, and physical health of grieving children and their families."
Kids Path is a program of Hospice of the Piedmont and Hospice of Randolph, in North Carolina. It provides grief counseling for kids. It is designed to meet the special needs of children and teens who have experienced the death of a loved one. Grief counseling includes short-term individual, family, and group counseling for children and adolescents between the ages of 5–18.
Even the beloved television series Sesame Street offers resources to help grieving children. These storybooks and activities use familiar characters to present lessons in a soothing way that children understand.
Adulthood
Many forms of grief can strike during adulthood. In addition to the grief that comes with loss of a loved one, adults may experience grief over the loss of a job or due to troubles with fertility. Fortunately, many resources are available to help.
The Center for Prolonged Grief at Columbia University provides resources for professionals and the public. Learn more about complicated grief with published studies and usable handouts. The center's mission is to "ensure that all health and mental health professionals know how to recognize prolonged grief and to develop a workforce of therapists who can provide efficacious prolonged grief treatment."
The Center for Grief Recovery and Therapeutic Services offers direct services in person and by telehealth. The center also offers a wealth of resources for both providers and those experiencing grief. It even provides resources for people who wish to support a grieving friend.
The Association for Death Education and Counseling (ADEC) has provided support to clinicians and the public for decades. The primary goal of this interdisciplinary organization is to "enhance the ability of professionals to meet the needs of those with whom they work in death education and grief counseling." The association holds an annual conference and offers specialized certifications in thanatology.
Older Adulthood
Seniors may experience grief for the same reasons as younger adults. As adults age, they are more likely to experience the loss of friends and loved ones and may have to deal with these many times. In addition to the resources listed above for adults, there are resources available specifically for seniors.
The AARP is well known for the many ways it supports older adults. This includes numerous articles and resources on grief, loss, and end-of-life planning.
The Center for Grief and Trauma Therapy was started to provide specialist therapy services for those experiencing grief, trauma, loss, and bereavement. The center offers a guide to the unique needs of grieving seniors.
The National Institute on Aging is a program of the U.S. government and one of the National Institutes of Health. It leads a broad scientific effort to understand the nature of aging and to extend the healthy, active years of life. NIA offers resources specific to grieving seniors, including such difficult topics as mourning the death of a spouse.
Grief is something everyone deals with in their life, yet it is a topic many find difficult to talk about. For those experiencing grief at any stage of life, professional counseling is a vital resource. Each person experiences grief differently, and there is no substitute for the personalized approach counseling offers.