expressive-and-experiential-arts-in-online-group-supervision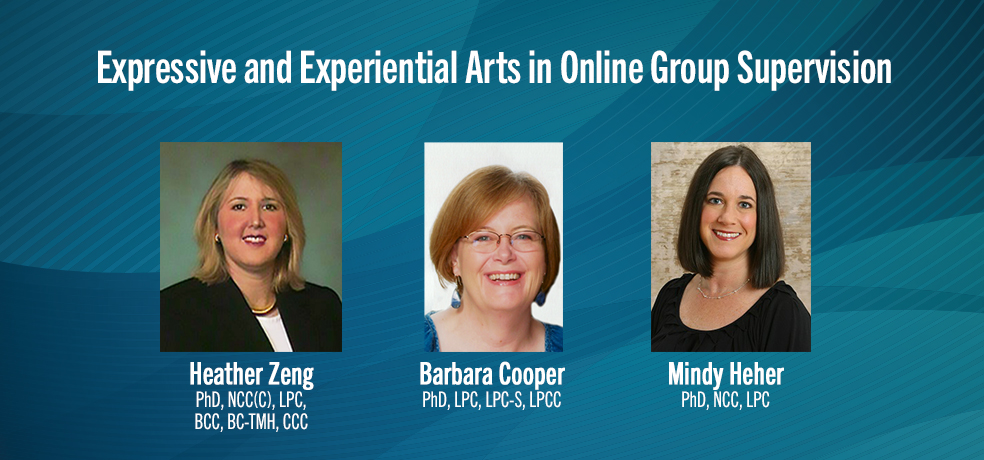 Group supervision is an opportunity for student participants to get support in their clinical work from their supervisor and peer group members in a confidential space. Supervision at a distance with diverse adult group participants, who are exploring counseling training in a range of counseling contexts in different geographies, has the potential to be particularly enriching through the layers of intersectionality brought to the experience. In group processing, the construct of a parallel process is widely used to indicate an intervention, resource, or assessment that the counselor-in-training uses en route to better understanding themselves while also allowing them to tap into these experiences for a prospective client in counseling.
Hoshmond (2004) affirmed that using expressive arts activities in counselor education and supervision can highlight the importance of how counselor education programs may foster a more humanistic focus by emphasizing the development of the personhood of the group participants. And Gibson (2007) confirmed that providing appropriate expressive art activities to parallel counseling experiences can decrease anxiety and encourage students to grow in empathy for their client and even further their ability to conceptualize client issues in the practicum. However, group participants who are not familiar with the use of the arts, such as visual art, books, or film, in the realm of counseling supervision may need further structure and support from the evidence-based literature.
Cook (2018) suggested that another way to include diversity in such activities is to have students introduce fictional characters they know from their own experiences and cultures. As with any intervention, it is important to note that there may be limitations to the applications of the approach that must be considered if supervisors want to replicate this with a group in their clinical work. Checking with their students' on-site supervisor is critical to assure alignment with the salient modalities of focus for their particular population. Sommer et al. (2010) noted in their qualitative study that sharing and discussing stories can be beneficial as a way of stimulating self-reflection in the supervision of master's-level counseling interns. In this piece, we share an experiential exercise, "Implementing a Literary Prompt," which provides a brief overview of two group supervision experiences among counselors-in-training.
Implementing a Literary Prompt: Two Group Supervision Experiences
We gave two groups of participants the same prompt in the second to last group supervision session of their internship experience; thus, all were transitioning to the next experience in their professional journey. Most group participants had been in the same fieldwork group throughout their program, so there was group cohesion, connection, and trust. The weekly topic was "Creativity in Counseling," which aligned well with the established prompt presented below. The prompt was adapted from the constructivist career counseling approach of Savickas (1995), which focuses on a range of early remembrances, including identity stories. To expand on Savickas's contributions of story, Taber et al. (2011) confirmed that attraction to a book can reveal identification with a particular character. There might be gravitation because the character admired by the participant dealt with something challenging and therefore represents an "ego ideal" related to the participant's role model. We provided the following prompt in the beginning of the group supervision on the screen in an Adobe Connect room.
Take a moment to think of your favorite early writing, book, or character that you identified with as a young person. Write this down. Now take a moment to connect with what spoke to you about this. Think about anything that stood out about the story—the character(s) you related to. Remember to avoid screening your first response; what we relate to often speaks to our values, characteristics, or who we are. Group participants are encouraged to share these early writings or characters with the group when ready. Remember you have support from the group and an authentic response may yield much insight.
There were 12 participants in Group One and 11 participants in Group Two. Group One shared nine types of books, and Group Two shared seven different characters. The following are summaries of reflections expressed with the group members and group leader.
My Favorite Early Book: Vignettes From the Books and Reflections
In Group One, in which participants focused on a favorite early book, one participant noted that choosing a book related to their becoming a counselor was an interesting way to see the importance of why they chose this profession in the first place. They felt the activity also could be used with clients to describe themselves and their career choices, but the best part was that the exercise could create a dialogue for those clients who aren't that verbal.
Another participant enjoyed listening to others share their favorite book from childhood or high school. When they heard another participant share their book, it brought back memories, and they realized that they had also selected the same book! This mutually shared book was a favorite because it taught a view of what was important in life as a young person. The intent of this book was to teach readers the proper way to handle confrontation and the consequences for those who don't handle it properly. This resonated with the participant as they worked with clients. They also noted that in addition to this same book selection, they saw a lot of similar characteristics and values with peers in their field of specialization. They stated that this realization made them feel thankful and affirmed their career choice.
One participant shared that it was interesting to reflect on formative literature and characters and hear how others were influenced by particular stories. They noted that they found this topic really helpful because they tended to become rigid in hopes of being a "good" clinician and needed to remember that there is a wide spectrum of how to counsel within the bounds of ethical and appropriate care.
Character Focus: Vignettes From the Characters and Reflections
In Group Two, in which participants focused on a particular literary character, one participant noted a character whose hand was too big to use a spoon. When he attempted to use his spoon, he struggled. But instead of forcing what would be a "normal" way to eat soup, a fellow character meets him in the middle and picks up her bowl and drinks from it like a cup. This participant reflected that they have carried that with them because they have always thought it's a better idea to meet someone where they are instead of trying to push them into something they aren't comfortable with or have trouble doing. As counselors, this is something we do all the time.
Another participant often felt that throughout their life they had been running away from current situations. However, as they get older, this participant reflected that they have learned to allow their heart to "catch" the part of themselves that was the "runaway" character. It is important to continue to seek our future selves and catch any runaway doubts we may have about our future.
One participant noted a character who was always curious about things and wanted to find solutions in order to make things work. In the process, the character was often misunderstood in the cartoon and got into trouble for pushing the envelope and trying to help others. In the end, he is thanked for his helpfulness, but it does not always start out this way. The participant reflected on feeling the same way as a child. There were also some indications of these same qualities in their work with clients, such as working on complex cases and the desire for things to be fixed for the clients.
Finally, a participant related to a character in a writing that focused on the South and the importance of her family, kinship, beliefs, and culture. The participant reflected on how they are self-aware of their own culture and beliefs through this following of the character's journey. It also helped them understand the role of family relationships and how they relate to a person's well-being. They went on to reflect on taking these pieces of themselves when they moved from their hometown and how important that was for their own well-being.
Internship Group Supervision: Concluding a Long Journey
We took the participant responses and identified the following themes, which were analyzed for convergence into four overarching thematic findings. The specific themes from Group One's early book reflections included: the importance of escape, moving in competent ways, the importance of life roles, exploring the merits of companionship, handling difficult situations, the role of fun and adventure in life, respect as a part of community, moral principles such as loyalty and justice, and being open to new experiences. The specific themes from Group Two's character focus reflections included: flexibility in living/lifestyle, finding one's congruence, mediating doubt, seeing reasons for avoidance, broadening perception of normal, understanding individual differences, forging constructive ways of helping, embracing one's own identity, empowering others' abilities, and conceptualizing the role of family. The four overarching thematic findings from both groups were: how openness and identity awareness are central, the importance of community and connections, the role of flexibility in worldview, and growing competence and confidence as a counselor.
Conclusion
Gibson (2007) confirmed that the use of fiction relates well to the developmental nature of learning to counsel. There certainly are some ethical implications to integrating these types of approaches into group supervision, particularly at a distance. According to Newsome et al. (2005), supervisors should take steps to ensure that the boundary between counseling and supervision is not blurred. We found that timing is another critical factor to consider. Group participants who are early on in their fieldwork may have a range of factors that can impede these early recollections or remembrances, particularly when focusing on acculturation to their field site, establishing a relationship with their field supervisor, and growing in confidence in their counseling skills. The vignettes shared here in group supervision toward the capstone of their program affirmed overall positive insights and connections that helped counselors-in-training understand themselves, their values, their identity, and congruence with helping. Overall, it was reinforcing of their career path. Group supervisors who forge experiential activities with participants will grow from their capacity to see intuitive meanings in the participants' shared reflections; likewise, participants will also grow toward professional self-identity as counselors in training.
References
Cook, K., (2018). Brief counseling scenarios from fictional characters for counselors in training. i-manager's Journal on Educational Psychology, 11(3), 43–48.
Gibson, D. M. (2007). Empathizing with Harry Potter: The use of popular literature in counselor education. Journal of Humanistic Counseling, Education and Development, 46(2), 197–210.
Hoshmand, L. T. (2004). The transformative potential of counseling education. The Journal of Humanistic Counseling, Education and Development, 43, 82–90.
Newsome, D. W., Henderson, D. A., & Veach, L. J. (2005). Using expressive arts in group supervision to enhance awareness and foster cohesion. Journal of Humanistic Counseling, Education and Development, 44(2), 145–157.
Savickas, M. (1995). Constructivist counseling for career indecision. The Career Development Quarterly, 43(4), 363–373.
Sommer, C. A., Ward, J. E., & Scofield, T. (2010). Metaphoric stories in supervision of internship: A qualitative study. Journal of Counseling and Development, 88(4), 500–507.
Taber, B. J., Hartung, P. J., Briddick, H., Briddick, W. C., & Rehfuss, M. C. (2011). Career style interview: A contextualized approach to career counseling. The Career Development Quarterly, 59(3), 274–287.
Heather Zeng, PhD, NCC(C), LPC (WY), BCC, BC-TMH, CCC, is a professor at Capella University. She is a licensed professional counselor who bridges specializations with a focus on career counseling and development. She has worked in educational policy, large-scale assessment and data analysis, and career counseling with at-risk youth and adults. She has experience in mediating international development projects and working in international contexts.
Barbara Cooper, PhD, LPC, LPC-S, LPCC, is a professor at Capella University in the Counselor Education and Supervision and Clinical Mental Health Counseling programs. She is a licensed professional counselor and supervisor in Texas and a licensed professional clinical counselor in New Mexico. She has over 13 years of online supervisory experience.
Mindy Heher, PhD, NCC, LPC, is a licensed and board-certified professional counselor and clinical supervisor. As a certified cognitive therapist, she provides psychotherapy for individual adults and has considerable experience treating a variety of issues, including mood, anxiety, and sleep disorders. She is a full-time professor at Capella University where she teaches in the Counselor Education and Supervision and Clinical Mental Health Counseling programs.
---
Share On Social Media:
---
Read more articles