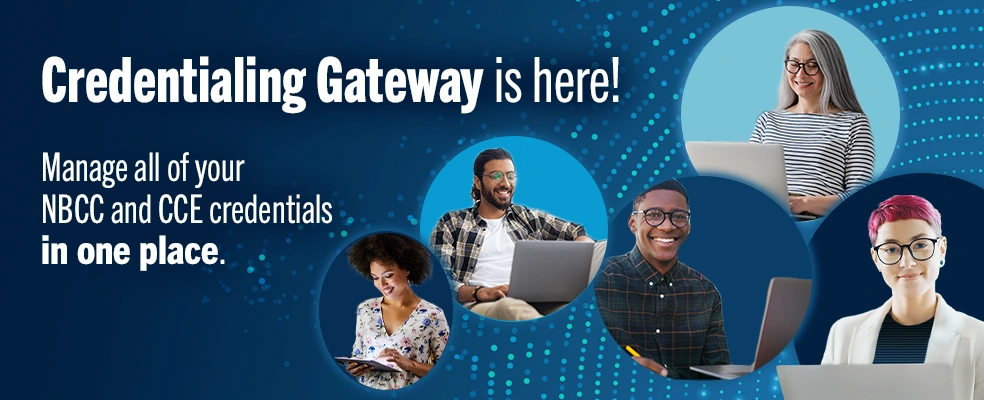 The Credentialing Gateway, a secure portal to manage certificates, credentials, and applications, recently expanded to include all National Certified Counselors and applicants. This online portal makes it easier than ever to apply for and maintain both your NBCC and CCE credentials all in one place. It replaces ProCounselor and offers many improvements, such as being mobile-friendly, so you can conveniently check your certification or application status from anywhere.
The Credentialing Gateway also connects credentials offered by the Center for Credentialing & Education to NBCC credentials so that all can be managed in one place. As an NCC, you have a jump-start on the application process for any CCE credential.
"The Credentialing Gateway offers an enhanced experience for NCCs, applicants, and credential holders," says Callie Marino, Vice President, Credentialing and Quality Assurance. "Having the ability to streamline the process of maintaining multiple credentials all in one place is an incredible benefit. It's more user-friendly than the previous system and offers many new features."
As an NCC, you can view a snapshot of your certification status at any time. Just log in to easily update your contact information, download or print your certificate and other documents, change your certification status, and enjoy other features. You can even upload continuing education documents to the Credentialing Gateway to have everything in one place when it's time to recertify.
It is important to note that all NCCs will need to create a new Credentialing Gateway account. Creating an account using your email address is easy for both NCCs and new applicants. If you already hold a credential, simply provide some verifying personal information to link your account to your existing credential records. If you have any questions about setting up your account, visit nbcc.org/credentialinggateway to view our frequently asked questions.
Visit the Credentialing Gateway today to learn more about updating and organizing your professional information.