essays-on-the-importance-of-in-psychotherapy-and-counseling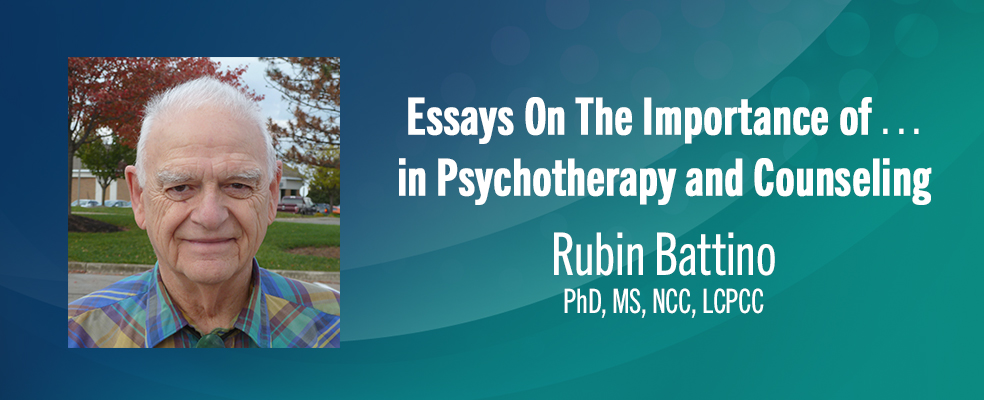 The following is a series of three short essays on the importance of various aspects of doing psychotherapy and counseling. I received my counseling degree in 1978, and I have a small private practice specializing in very brief therapy (mostly single-session), generally using hypnosis based on the work of Milton H. Erickson. I have published 11 books in this field and written many articles, and I have provided workshops, trainings, and presentations in the United States and abroad.
On the Importance of Inclusivity
Clients come to see us because they are stuck; that is, they know only one interpretation for a particular stimulus in their life and that interpretation leads to one response. Although this is a rather simplistic model of psychotherapy, it seems to fit the facts. This means that our main task as therapists is to help clients discover choices in interpretation and choices in responses. Then, they are not stuck!
Also, both we and our clients tend to think about what is troubling them in an either/or fashion. They are depressed, panicked, anxious, obsessive, sad, grieving, unhappy, desperate, blocked, and limited OR they are not. O'Hanlon (2003) found a fascinating way to deal with this stuck state of affairs. He calls it inclusivity, which gets into the realm of both/and. This is oxymoronic technique, using confusion or scrambling of meaning, and is best illustrated by the following statements, generally prefaced by "I wonder how it would feel to be . . ."
happily depressed/depressedly happy
compulsively spontaneous/spontaneously compulsive
obsessively casual/casually obsessive
sadly delighted/delightedly or happily sad
desperately free/freely desperate
actively blocked/blocked actively
grievingly full of warm memories/warmly grieving
calmly panicked/panicky calm
anxiously at peace/ peacefully or calmly anxious
stressedly calm/calmly stressed
openly protective/protectively open
freely dependent/dependently free
Please note that these are all oxymorons, like a "down escalator" or "jumbo shrimp."
Recently, in the support group I facilitate, one of the members was talking about being depressed. This was first normalized by another group member talking about how depressed she had been and how she is still occasionally depressed about having cancer. I pointed out that almost everyone I know who has been diagnosed with a life-challenging disease goes through depression at one time or another. Then, I said, "I wonder what it would be like to be happily depressed?" The confusion that appeared in his face was a wonder to behold. Others in the group got the idea and added many both/and comments. (I leave this to your imagination.) He began to smile with the novelty of these new ideas. How could he be depressedly alive and active? What would it be like to be energetically slothful?
Inclusive statements scramble thinking and provide interesting choices for what had hitherto been restricted. I hope thinking more about the transformation involved in going from either/or to both/and will provide you with choices in your own life and also choices for your clients. You might even become effectively ineffective, for example!


On the Importance of Expectation in Hypnosis and Psychotherapy
Expectation is considered the basis of the placebo effect in both medicine and psychotherapy. Expectation involves hope and anticipation and wishing.
In the beginning, psychoanalysis and psychodynamic approaches were structured for long-term involvement with a client, frequently going on for many years. As psychotherapy developed, the expectation was for fewer and fewer sessions. We now have brief therapy and very brief therapy and single-session therapy. Hoyt (2009) gives an excellent history of brief therapy, along with a scholarly based introduction to the subject. In my practice, I function as a very brief therapist, rarely seeing clients more than one or two times (more if they request). Let me relate how I arrived at this way of working.
I heard the late Steve de Shazer describe a research project carried out at the Brief Family Therapy Center in Milwaukee. Clients were randomly told at intake that their particular presenting problem usually took five or 10 sessions with a therapist. The therapists did not know about this. At follow-up, it was found that the clients who were told 10 sessions began to do "serious" work in their eighth or ninth session, and the clients who were told five sessions did this generally in the fourth session. Having spent most of my life as an academic scientist, I did a simple extrapolation and wondered what would happen if a client were told that their concerns could be resolved to their satisfaction in one session (two if really needed). So I began telling clients that I worked as a very brief therapist who rarely saw clients more than one or two times. My expectation was one or two sessions, and this turned out to be the case with most of my clients. The late Kay Thompson (2004), one of Erickson's best students, was fond of saying something like, "If you do not believe in what you are doing, then why should the client?" I believe. It also undoubtedly helps that my sessions are always open-ended with respect to time. (I believe that the record for this is Erickson's 17-hour session—my record is about three hours.)
Because I have written a book about how I work in this mode (Battino, 2006), I will just mention a few of the things that I do here.
Solution-Focused Brief Therapy (SFBT) – A session frequently involves some use of the SFBT miracle question, with its expectation that the client will create in their post-miracle thinking such realistic and appealing life changes that they cannot help but incorporate these changes into their lives. The trick, if you will, is to get the client to provide as much detail as you can elicit for their post-miracle life. Connected with this is suggesting a number of ways they can act as if their life has changed in a particularly desirable way.
Narrative Therapy – When a client is stuck (why they come to see you), they feel as if they cannot act differently (i.e., they are being controlled in some way by internal forces). Externalization is then used to suggest to the client that the controlling power/entity can be resisted and overcome and even "exorcized." Although describing the externalization process as an exorcism may appear to be strange, my clients liked this description, and we then work out ways for this to happen. When and how have they successfully resisted or overcome this internal demon? Usually, this work is done in the hypnosis segment of the session, but it can be done directly.
Gestalt Therapy, Two-Chair Technique – With a surprising number of clients, the Gestalt therapy two-chair procedure is just the correct thing to do. This is the case with polarities within the client and with conflicts with parents or other relatives or people. When a client really gets into switching roles, they are usually in some level of trance.
Reframing – Suggesting a different meaning to an event, feeling, or experience can be revolutionary. Being stuck means interpreting what is happening in one's life in only one way. Reframing provides alternate meanings and allows the client to view their life from a changed perspective. Thinking of behaviors in different contexts is also a reframing. To perceive one's self differently is change that is lasting.
Stories – Telling stories and building metaphors that contain alternative ways of being and thinking allow the client to discover new ways of living and acting. I tell lots of stories, many of them personal.
Hypnosis for Consolidation – It is generally accepted that people are more receptive to suggestions while they are in a trance state. The hypnosis segment of a session usually occurs at the end and is used to consolidate and repeat the various themes that have emerged during the session. New suggestions are introduced and woven into the tapestry of the session. The client's inner mind can then pick and choose what makes the most sense for them. Many relevant possibilities are introduced here.
Milton H. Erickson was an artist in structuring a session with a client so that various expectations were "seeded" at the beginning of the session and then utilized at later, appropriate times. People anticipate change in various ways. Anticipating going to a hospital for surgery can be scary in terms of the procedure or it can be hopeful in terms of the expected outcome. When I got a full knee replacement, I did not look forward to the surgery or the long rehab period, but I certainly looked forward to being able to walk and hike comfortably. Which aspect do you focus on? When you focus on the hopeful and positive aspects of change, the negative aspects dim and blur and can be quickly forgotten or overlooked. When hoped-for change is seeded, then it is more likely to occur. The placebo effect is about anticipating positive change, healing, and health. The literature shows it to be remarkably effective. That is why my expectation is that therapy will proceed rapidly and effectively.
Expect happiness, health, joy, and the probability of rapid change.


On the Importance of Concerns (vs. Problems) in Hypnosis and Psychotherapy
The development of solution-focused brief therapy (SFBT) by Steve de Shazer and colleagues was a paradigmatic 180-degree shift from the problem-focused therapy that was based initially on the medical model. Yet even with SFBT, the work is still about the "problems" that the clients present. The conversation with the client is about the solutions they have attempted and the solutions that they can attempt. If you ask clients to tell you about their problems, they will do so, and almost ad infinitum. If you ask them what has changed in their life recently that they would like to continue, what has worked for them, and what works for them from time to time, they will tell you that. The emphasis is on solution talk and not problem talk. Stating this another way, the emphasis is not on the organic medical "disease" model but a mental model in which the client has gotten stuck in ways of thinking and behaving that they would like to change.
I have a problem with clients having problems that need solutions. (This is too mathematical!) I prefer thinking about clients being concerned about their thoughts and behaviors (i.e., there are things in their lives that bother them). A concern is of a lesser magnitude than a problem. Problems are serious, and concerns are troubling. Concerns are more easily remedied. I like to think of my clients (and this is my personal belief) as being temporarily troubled. In fact, that is the only diagnosis I am willing to give: being temporarily troubled.
You may think that I am playing games with words here, and I am. Yet in talk therapy, the words we use are the essence of the treatment, the nature of the interaction, and the change agent. Going from a problem to a concern to being temporarily troubled is a major reframe. And reframing is the linguistic mind-changing mechanism of choice for second-order change. Watzlawick et al. (1974) wrote about reframing as the central approach to second-order change, or really changing the system. The goal of therapy is to get the client to do something different, and this occurs via thinking and believing differently about their life and circumstance. They are stuck because they typically have only one way of interpreting or viewing their lives, and this typically leads to only one response. Change comes from changing perspective.
I am simply urging a small change from problem to concern and suggesting that you think about using the diagnosis (if needed) of temporarily troubled.
References

Battino, R. (2006). Expectation: The very brief therapy book. Crown House Publishing Ltd.
Hoyt, M. F. (2009). Brief psychotherapies. Principles & practices. Zeig, Tucker & Theisen Inc.
O'Hanlon. B. (2003). A guide to inclusive therapy: 26 methods of respectful resistance-dissolving therapy. W.W. Norton and Company.
Thompson, K. F. (2004). The art of therapeutic communication. The collected works of Kay F. Thompson. Crown House Publishing Ltd.
Watzlawick, P., Weakland, J., & Fisch, R. (1974). Change: Principles of problem formation and problem resolution. W.W. Norton & Company.
For more information about my work, please visit rubinbattino.com.
**Opinions and thoughts expressed in our Counseling Confab articles belong to the authors and do not necessarily reflect the opinions or practices of NBCC and Affiliates.
---
Share On Social Media:
---
Read more articles