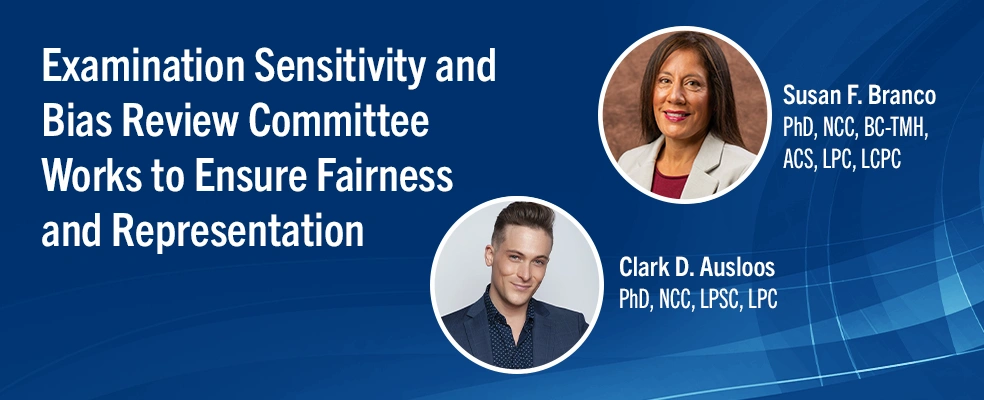 For decades, standardized tests have been evaluated to determine whether they are an objective way to measure an individual's knowledge and progress, considering social injustices, differences in ethnicity, gender, native language, and other characteristics that may have an impact on their results. To ensure that candidates have equal opportunities for success, NBCC's Assessments Department established an Examination Sensitivity and Bias Review (ESBR) Committee in early 2022.
The ESBR Committee is responsible for establishing the guidelines for item writers and narrative writers that ensure that assessment programs offered by NBCC and the Center for Credentialing & Education (CCE) are fair and representative of candidates despite differences in their personal demographic characteristics, including, but not limited to, ethnicity, gender, and native language. Committee members identify examination content that might be offensive or disadvantageous to some individuals or groups and then provide recommendations for revised content and development processes.
We recently interviewed two members about the work that the committee is doing and why it is important.
Susan F. Branco, PhD, NCC, BC-TMH, ACS, LPC, LCPC, is an assistant professor of counselor education at St. Bonaventure University. In 2021–2022 she served as co-vice president and bylaws committee chair of the Native American Concerns group as the Bylaws Committee chair for the Association for Multicultural Counseling and Development (AMCD). Dr. Branco says serving on the ESBR Committee gives her an opportunity to address other areas in which counseling content may further marginalize or alienate future counselors.
"I genuinely appreciate the opportunity to work with colleagues who share the same commitment and passion about creating an equitable testing experience for all future professional counselors," she says. "We have an incredibly knowledgeable committee with a great deal of clinical and lived experiences, and we demonstrate great respect for one another, as evidenced by our efficient and highly productive work together."
Because the National Counselor Examination (NCE) and the National Clinical Mental Health Counseling Examination (NCMHCE) are utilized as part of the certification and state licensure credentialing process, it is crucial that they include culturally responsive questions and content, she says.
"The worst possible scenario is when testing inadvertently gatekeeps out persons from diverse backgrounds because of insensitive, inaccurate, or harmful content, especially given the tremendous need for increased representation within the counseling profession. The ESBR Committee aims to eliminate unnecessary barriers to equitable examinations."
The ESBR Committee offers guidelines for members to consider when reviewing the examination questions.
"In general, we are determining if the language or context of the question could potentially be harmful, disrespectful, or distracting to a potential examinee," Dr. Branco says. "We are particularly vigilant about how persons are identified in terms of racial, ethnic, cultural, gender, sexual orientation, among other statuses. We discern if the terms are respectful and or outdated as well as if the content contains stereotypes, bias, or unnecessary information."
Dr. Branco believes that the committee's work is a step in the right direction.
"Disparities based on racial and ethnic background still exist in schools and college admission exams. Awareness surrounding disparities continues to develop, and actions to address inequities are being undertaken. However, I am hesitant to suggest cultural fairness and representation in standardized testing is improving without more tangible evidence that moves beyond performative slogans. I believe the ESBR Committee represents actionable advocacy, and I am grateful for the opportunity to serve."
Dr. Clark D. Ausloos, PhD, NCC, LPSC, LPC, is a core faculty member at the University of Denver, where he is a clinical assistant professor in the SchoolCounseling@Denver program of the Morgridge College of Education. He joined the ESBR Committee after working as an item writer and subject matter expert for the NCE.
"I have a passion for ensuring fairness and representation in assessment and research, particularly with LGBTQ+ youth and families," he says. "Most of my research and scholarship surrounds queer and trans issues, so it was a natural fit to use my talents in this way. I also strongly support NBCC as they strive toward equity across race, ethnicity, gender, sexual orientation, ability status, and native languages."
Dr. Ausloos says he particularly enjoys the discussions that take place at committee meetings.
"All members are allowed to have an open discussion about any areas of the exam that are sensitive or may be offensive toward certain populations. We have wonderful conversations and learn so much from each other, ultimately, making professional counseling exams fairer and more equitable for future test-takers and counselors. We each contribute areas of specialty to the group, to ensure marginalized, non-dominant populations are represented."
To set proper examination guidelines, we can start by looking inward, he says.
"While I don't believe there is one way of looking at these assessments, I would say it's important for us foundationally as test creators/consultants to examine our own values, biases, and worldviews. We cannot make adjustments to these exams without first honoring our own experiences and the spaces we occupy."
He also believes that raising cultural awareness is an ongoing process.
"One thing to think about is that cultural competence is really not an ending point," he says. "No one is truly 'culturally competent.' We should always be learning, growing, changing, and seeking to better understand our clients. To that end, it's important that today's assessors are doing deep, foundational self-reflection (awareness), doing research to learn about various client cultural factors (knowledge), and are able to work with diverse clients in a multiculturally sensitive way (skills)."