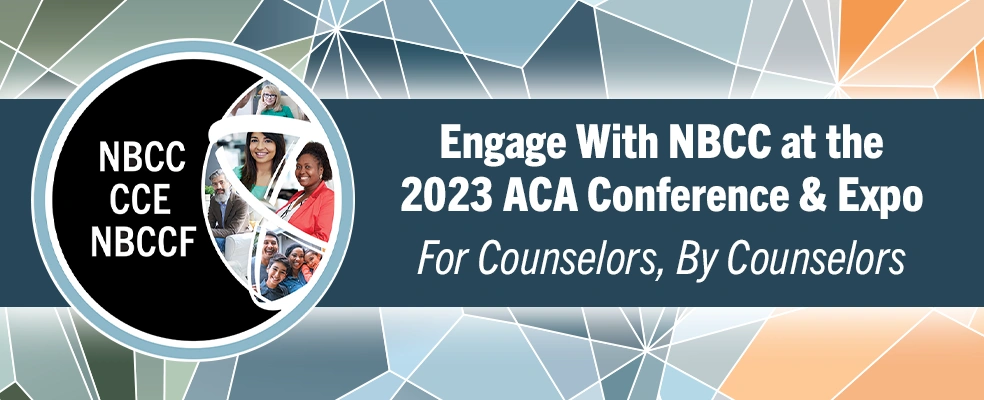 NBCC will be at the 2023 American Counseling Association Conference & Expo, and we hope to see you there! There's still time to sign up for this March 30–April 1 event in Toronto, Canada. Registration is open through March 29. This year's conference offers a fantastic opportunity to connect, engage, and learn how you can transform the counseling profession.
NBCC is a proud sponsor of the conference. You can visit NBCC and Affiliates at booths 414, 415, and 514 in the Expo Hall. These booths represent NBCC and our affiliates, the NBCC Foundation and the Center for Credentialing & Education (CCE). Come by during the Expo Hall coffee break for infused water and cookies!
"We are so excited to attend the 2023 ACA Conference & Expo as a sponsor," says NBCC President and CEO Kylie Dotson-Blake. "It provides such a unique opportunity to engage with credential holders as well as other counselors and counselors-in-training. The connections that we make serve to strengthen our understanding of the needs and dreams of counselors. We also love being able to share all the amazing opportunities that NBCC and our affiliates have to offer."
The ACA Conference & Expo is an exciting professional development and networking opportunity for counselors and counselors-in-training. In addition to more than 240 educational sessions, attendees can earn up to 13.5 continuing education hours and learn from 700 speakers. NBCC Director of Ethics Brenden Hargett will present a session titled "Misconduct: Ethical Responsibilities to Address Behavioral Health Disparities." You can attend this session on March 31 at 9:45 am.
"The most exciting thing is to actually see our stakeholders and meet candidates who are interested in certifications and credentials," says Director of Certification and Credentialing Services Brian Strickland. "It gives us a chance to meet face to face with people. I feel that gives us a better opportunity to make that connection. As a counselor, I really enjoy the chance to talk with students about the experiences they are having, to hear about the new courses they are taking."
This year we are also highlighting the Approved Clinical Supervisor (ACS) and Board Certified-TeleMental Health Provider (BC-TMH) credentials from CCE. These credentials are an ideal way to strengthen your counseling practice. Receive specialized training to build your professional toolkit, enhance your practical skill, showcase your commitment to high national standards, and distinguish yourself among your peers.
Ask us about the ways NBCC supports the counseling community. One such program is our CACREP accreditation grant program. Counselor education programs seeking first-time accreditation from the Council for Accreditation of Counseling and Related Educational Programs (CACREP) can receive up to $9,000 to support their application. Funds are awarded annually.
Be sure to stop by our booths during your time in the Expo Hall. We are happy to answer any questions you have about these or other programs and opportunities, or just to say "hi!"