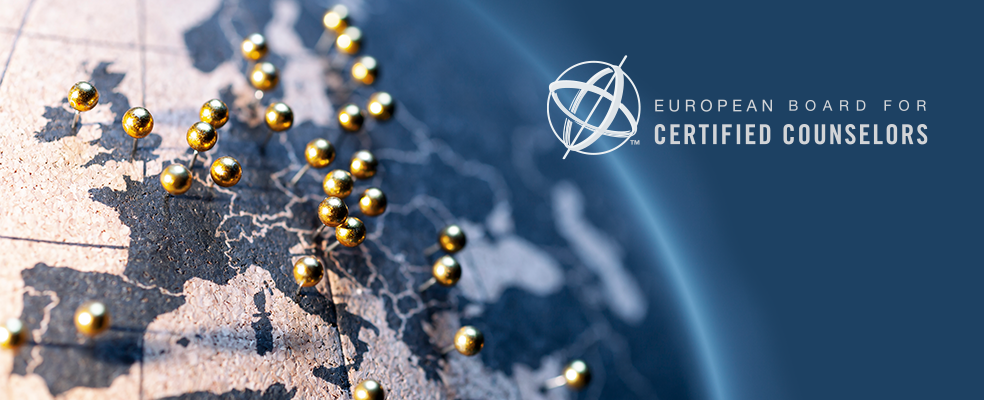 The profession of counseling is in different stages of development across the globe. In the United States, each state has licensure laws in place that define requirements for practice in that state and the national model for certification, the National Certified Counselor (NCC), sets forward national, professional standards for counselors. These regulations and standards are established to ensure quality of care and services and to protect the public. Across European countries, the counseling profession is in varying stages of development. Some countries have strong associations and numerous educational opportunities for counselors.
Since 2010, the European Board for Certified Counselors (EBCC) has worked to develop counseling and professional development standards by partnering with universities, institutions, and organizations to create and implement certification and credentialing programs. Based in Lisbon, Portugal, EBCC is the regional hub for NBCC's work in Europe. EBCC collaborates with NBCC to promote counseling, reduce stigma, and support partners in European countries in their efforts to develop a strong community of credentialed professionals. The team at EBCC, through their work, identified the need for career development training and support as an early step in developing the profession of counseling. With this focus at the heart of the work, EBCC has engaged with partners in Bulgaria, Cyprus, Germany, Greece, Hungary, Portugal, the Republic of North Macedonia, and Romania.
EBCC's International Projects Coordinator, Rita Caeiro, GCDF, ESP, says the first step in the professionalization process is education.
"We educate the public about what counseling is and what counselor education means, because in Europe, counseling does not exist as an established and legally distinct profession," Caeiro says. "We consider having ethical and practice standards to be the foundational step in creating a profession, and we want these standards to become common for anyone who wants to become a counselor here in the future."
When a professional obtains a credential or certification, it sends a message to the public that they are prepared, qualified, and held to high standards. EBCC's programs are aligned with the public awareness, governmental and education systems, and culture of each country where they are implemented, making each partnership unique.
One way that EBCC fulfills its mission is by developing the Global Career Development Facilitator (GCDF) and Mental Health Facilitator (MHF) training programs and helping its partners to establish and implement them.
GCDFs are professionals trained to provide career development services. By using best practices and various assessment tools and career development models, they equip their clients with necessary knowledge and skills. More than 30,000 people have been credentialed as GCDFs in 23 countries.
"In Europe, the area in which there is more need is career counseling and development," Caeiro says. "We can't call it career counseling because counseling as a profession does not yet have full governmental recognition, but we help entities implement the GCDF program, and certain aspects vary depending on the country."
GCDF programs are customized in order to make them meaningful and reflective of the economic and workforce realities of each country.
"This program is country-specific," Caeiro says. "Before it is implemented, it goes through a contextualization process by the local partner. They review the curriculum and submit a proposal to EBCC and NBCC for approval. That is how we ensure that the people who earn the certification will provide quality services, because the curriculum has been contextualized to the specific needs of their country."
The MHF training program is designed to provide individuals with the tools and skills necessary to identify mental health needs, make referrals, and work with and reduce the stigma attached to seeking mental health care. MHFs retain their professional identity and augment their work with MHF skills, complementing existing resources for care. Anyone who wants to make a difference can take the MHF training and be prepared to talk to communities about mental health issues and make appropriate referrals to local resources as needed.
"We really believe in NBCC's goal of broadening the access to mental health care," Caeiro says. "The MHF is an incredible program, and although things are changing in Europe, in many cases, when people with mental health issues reach out to professional services, they already have a disorder. MHFs can work wonders in terms of being proactive to support the efforts of professional mental health resources. The program equips members to be the first line of assistance in their communities and have better skills to identify when a referral is needed, which may speed up the process to receiving specialized care."
The need for care has increased since the onset of the COVID-19 pandemic, and so has the interest in training, Caeiro says. Programs are currently offered online rather than in person.
"Because of the pandemic situation, we are assisting a growing need in the mental health area for people who want to be educated in that area and want to know how they can help. People want to talk more about promoting mental health."
The realities of counseling and career development and the needs in each country are ever-changing, which presents challenges.
"That's why it's so important to consider national realities case by case," says Helda Parreira, GCDF and EBCC's Office Manager. "In addition to the pandemic situation, there are usually great migration waves from country to country, and these phenomena shape these countries' needs and requirements continuously. The needs today will not be the same next year. We keep a view of all the countries as a group and also take into consideration the realities in each of them. In terms of legislation, the gaps also tend to be a bit different when we talk about different countries."
Though the process for creating, contextualizing, and implementing the programs remains the same, the way an organization advances its program may be adapted to serve the local needs, Caeiro says.
"That's also why it's important to invest in continuing education," Parreira continues. "That ensures that locally, practitioners develop, study, and continue to work on and improve their skills."
The response to EBCC's work from its partners and those who have completed training programs has been favorable.
"People continue to want to recertify, and that tells us that it is valuable to them," Caeiro says, "and each and every one of our partners have made huge efforts to advocate with us for the establishment of these credentialing systems. Some have more resources than others, but even those who have struggled have managed to do it. Even during the pandemic with all the challenges they have faced, they're still with us and advancing these programs. They are still providing the services and continue to do the work, and we will continue to support them."
The professionalization process can take years, but EBCC remains dedicated to its mission and looks forward to the future.
"We are profoundly committed, and our partners are committed," Caeiro says. "A profession may take several decades to be established. It's a long journey, but when the time comes, countries will have such a critical mass that have these common standards and adhere to the same code of ethics, answer to the same entities, follow the same criteria for practice and recertification, governments do recognize the value, and eventually the profession becomes established with its own legal identity.
"We look forward to working together among all the countries in our network and growing," Caeiro adds. "We see everyone's potential, and we want to see professionalization growing in Europe. We will continue to direct our efforts toward advocating for what counseling is, what it means, and how people can benefit from it."