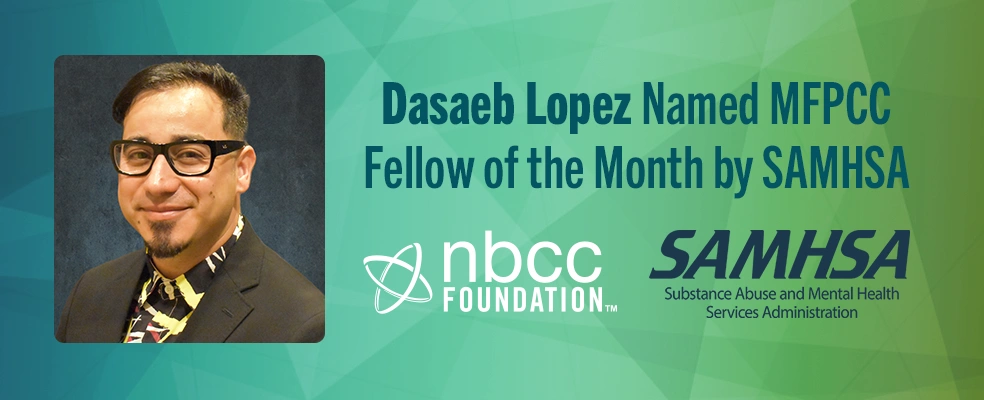 Dasaeb Lopez, a 2022–2023 NBCC Foundation Minority Fellowship Program Addictions Counseling Master's Fellow (MFP-AC), was recently named MFPCC Fellow of the Month for December by the Substance Abuse and Mental Health Services Administration (SAMHSA).
Lopez earned his bachelor's degree in psychology from the Universidad Autonoma de Tamaulipas in Tamaulipas, Mexico, and is pursuing his master's in clinical mental health counseling from St. Edward's University in Austin, Texas.
"I am incredibly grateful for the training, mentorship, and support provided by the NAADAC/NBCC staff and program," Lopez says. "It is a life-changing experience for students that are selected for the program, which enables fellows to find the resources needed to help minority communities. The clients are best served when clinicians provide appropriate, relational, culturally competent care. For that reason, the MFP fills a crucial need by preparing the behavioral health services workforce to reduce health disparities among racial/ethnic persons of color in the United States.
"Applying for the MFP was the brightest decision ever!" he continues. "The MFP allows students to integrate their goals into the program to nurture their specific needs! The program is helping individuals build their skills, access resources, and receive mentorship to make a difference within their community."
"The NBCC Foundation is honored to administer the SAMHSA Minority Fellowship Program (MFP) for mental health counseling (MHC) and addictions counseling (AC)," says Isabel Gomez, NBCC Vice President of Foundation and Professional Services. "We are very privileged to have Dasaeb and the other 112 Fellows in our program. They are preparing to do incredible work in the underserved communities they have identified. Dasaeb has taken advantage of all the benefits, trainings, networking opportunities, and building strong mentor/mentee relationships, of the program."
The MFP-AC is administered by the NBCC Foundation in collaboration with NAADAC, the Association for Addiction Professionals.
Learn more about the MFP Program here. Award amounts range from $10,000–$20,000 and are available for current master's- and doctoral-level counseling students. Specific award requirements and eligibility can be found in each award application listing. The 2023 NBCC MFP application is open until December 31, 2022, and we encourage counselor educators to share this information with their students.