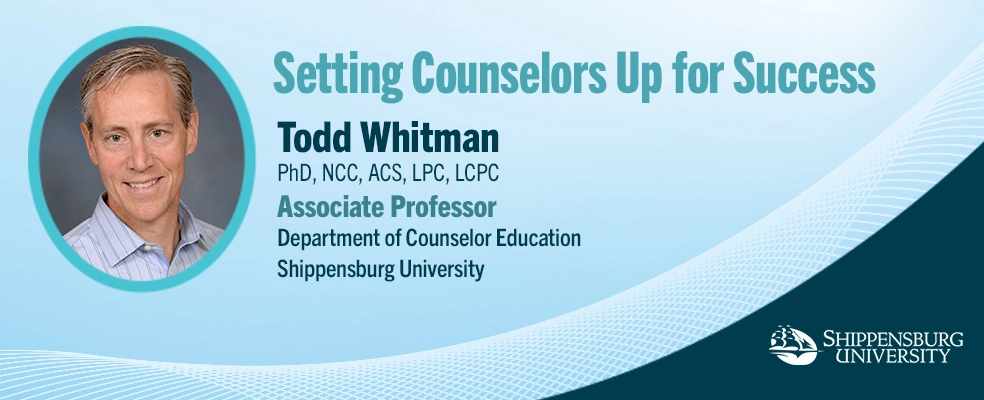 Counselor education programs are designed to prepare students to be responsible, ethical, and professional as they serve the public, and though each program is unique, they are all building blocks for a solid foundation. This month we interviewed Todd Whitman, PhD, NCC, ACS, LPC, LCPC, about his work as an associate professor in the Department of Counselor Education at Shippensburg University in Pennsylvania and setting counselors up for success. Dr. Whitman currently teaches in the school counseling and clinical mental health specializations.
Counselor education has seen many changes over the years, Dr. Whitman says.
"There is more emphasis on cultural competence and a greater realization that some bedrock research may not be applicable to today's world," he says. "There is a greater need to substantiate through data that counseling is an effective intervention. It's not enough to say you're working hard or putting in long hours. How does what you do make a difference? Also, higher ed is experiencing a funding and enrollment crisis, which trickles down to CES programs. There are fewer tenure track positions now and more adjuncts. There are greater expectations from accrediting bodies like CACREP to embrace assessment and measure learning outcomes with data points like key performance indicators (KPIs) too, and credentialing and licensure is essential too."
A large part of a counselor educator's work involves the assessment of students' professional competence—a complex process incorporating several measures—and recognizing the roadblocks that may impede a student's ability to function in the role.
"We look at how students perform on KPIs that are anchored to specific CACREP standards; ratings from quantitative rubrics anchored to trainees' ability to use microskills adequately, as shown on submitted counseling videos; trainees' performance during candidacy evaluations; how students perform on nationally standardized exams like the CPCE and NCE; and how site supervisors rate their trainees' ability to perform the roles and tasks expected of them on site," Dr. Whitman says.
As for roadblocks that hamper a student's ability to perform adequately as a professional counselor, they are sometimes rooted in the past, but not always, and the students' progress is closely monitored to ensure that they are on track.
"Most are things like conflicts with prior learning (e.g., 'I was raised an evangelical Christian, so I believe homosexuality is a sin and wrong …'); impairment from alcohol, medications, or drugs; impairment from pre-existing psychiatric trauma or mental illness that interferes with the trainee's ability to be present during clinical work; and burnout from weak or amorphous personal boundaries."
Time management is a huge challenge that is essential for success in a graduate program, Dr. Whitman says, with students often working full or part time, having graduate assistantships, social lives, and family responsibilities. They also need to commit to continued learning on their own, staying aware of best practices.
"Today's counselors also need to become attuned to the influences imposed by managed care, the nuances of billing codes and diagnostic labels, and working within a system that often emphasizes pharmacological interventions in lieu of counseling. Counselors seeking licensure after graduating from their programs may have to pay for their own supervision, which can create additional costs for individuals who are trying to get started in their careers and likely have considerable student loan debt.
"School counselors also need to recognize the importance of working not only with students, but also with parents, teachers, administrators, and support staff. Lastly, burnout is always a concern in any helping profession. Learning to maintain boundaries and practice adequate self-care is critical."
Finally, he offers some advice to students who may be considering a career in counseling education.
"Do your research before investing in a doctoral program in CES. They're expensive, so it's an important decision financially as much as personally and vocationally. Shop around and see if funding opportunities are available.
"Many people have unrealistic and idealistic impressions about life as a faculty member. It's not as rosy and idyllic as many people think. There's a lot of pressure to perform, and there are institutional pressures about program sustainability, enrollment, and faculty-to-student ratios, for example. When one transitions from practice to teaching, the scope of one's work changes dramatically. When I left my counseling job, I missed the interactions with clients, and those needs were eventually eclipsed by working directly with students, but it's not the same thing. Education and clinical work are two different things and require different skillsets."